Bosch SpeedXtreme SDS-Max Rotary Hammer Bits Crush it in Performance
When a product has descriptors like "Xtreme", you expect a lot from it. So the Bosch SpeedXtreme SDS-Max Rotary Hammer Drill Bit, with its 100% Bosch-made carbide head, has a lot of swagger and the specs to back it up. The company describes the bits' manufacturing process as a high-heat, high-pressure solid-state welding process using proprietary diffusion-bonding technology which bonds carbide and steel at a molecular level. That sounds great (and pretty technical) – but can these bits pulverize some tough concrete?
That's all I really care about.
Pros
Fast drilling, even in rebar
Full carbide cutter head
Centering tip gives you accurate starting
Cons
Premium pricing to go with its premium performance
Recommendation
Bosch SpeedXtreme bits are easily a premium Pro-level product for your SDS-Max rotary hammer. Grab them if you're willing to pay more to optimize your concrete tools and gain speed, accuracy, and life.
Feature Set
100% carbide head and four-cutter design for drilling in reinforced concrete and hard aggregate
Diffusion-bonding technology
Four-cutter head design provides 180° cutting diameter
Four symmetrical 90° side angles cut through tough material like concrete with rebar
Active-centering tip with a wear mark delivers precision hole-diameter tolerance
Bosch-made carbide
Four-flute design pulls dust away from the work and keeps the tip cooler
Bosch SpeedXtreme Performance
From the very first pull of my rotary hammer's trigger, I could tell that the Bosch SpeedXtreme SDS-Max Rotary Hammer Drill Bit meant business. It just melted into the concrete and made a nice pile of dust around the hole.
We have to anchor into concrete all the time, but even I don't get around to drilling 1-inch holes very often. That's usually tough work, but the four-flute, full carbide head made it look easy.
These bits don't even seem to slow down in rebar reinforced concrete. It's pretty impressive. After each hole, the bit just seemed to ask, "what else ya got?"
Concrete holes don't always have to be precise but then again, sometimes there are some pretty tight tolerances. For those tight times, and every other time, really, Bosch's Active-Centering tip works exceptionally well. Where I put the tip is precisely where the bit makes the hole. It's nice to have that kind of confidence in your tools when you don't get a re-do!
Bosch touts the life of these bits and it will take a lot more testing to wear it out. However, Bosch's internal testing shows that they're able to take 5x more hits in rebar. That's comparing it to Hilti, Milwaukee, and DeWalt.
Price & Value
There's a lot of competition for the Bosch SpeedXtreme SDS-Max Rotary Hammer Drill Bit. You'll fork over about $60 for the 5/8-inch bit. Compare that to the Makita T-00290 at about the same price and the DeWalt DW 5809 at about $39, to highlight just a couple. Bosch gives you a pretty clear advantage in speed and accuracy. If that's important to you, this a premium bit worth spending the extra money on.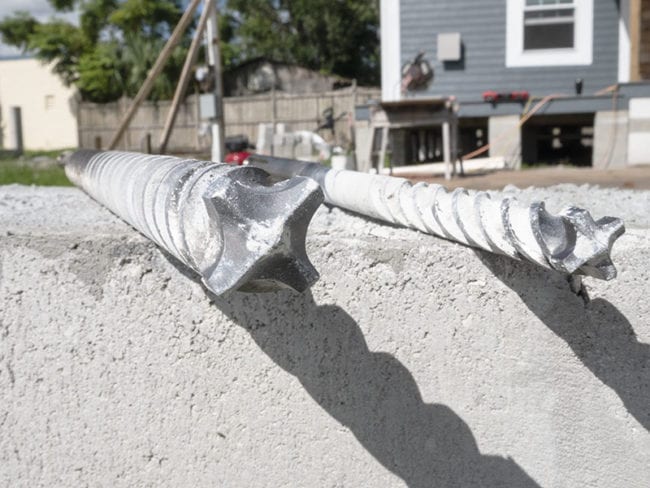 The Bottom Line
You get no-nonsense, brute force with the Bosch SpeedXtreme SDS-Max Rotary Hammer Drill Bit. It works so quickly and accurately, it'll leave you with a precise hole and some extra time on your hands!
Bosch SpeedXtreme SDS-Max Rotary Hammer Drill Bit Specifications
Item numbers:

5/8-inch: HCFC5021
1-inch: HCFC5051D
Other lengths and diameters available

Price:

HCFC5021: $60
HCFC5051D: $78
Shop Amazon
This article originally published on Oct 3, 2018.