DeWalt DCS310 12V Max Pivot Reciprocating Saw Is Due for a Brushless Upgrade
12V tools are gaining in popularity and the DeWalt DCS310 12V Pivot Reciprocating Saw finds a niche with those looking for a more versatile, and extremely portable, recip saw. It's not that the DCS310 attempts to replace the larger 18V demo saws. Rather, like the emerging 12V impact drivers and hammer drills, it serves as a more portable solution for those looking to get a job done that doesn't require a full-sized heavy-duty tool. As we're finding out, that's starting to fit a lot of job descriptions in and around the construction trades.
Pros
Pivoting handle helps get into tighter spots
Excellent size and weight
Cons
Needs some help in vibration control
Overpriced for what you get compared to other 12V models
I knew the world was changing when I went an entire week without using a single 18V tool. Now, that's not to say that I haven't since whipped out my heavier-duty 18V tools for use on tougher assignments, but my handful of 12V cordless tools is really starting to do well for around 75% of the work I need to get done on punch lists and more common construction jobsite related tasks. One tool we hadn't seen fully replaced, however, is the reciprocating saw. For demo and the odd PVC or copper cutting tasks, we've had to carry along a more traditional 18V recip saw. It's only in recent years that we've been able to reach for a 12V reciprocating saw for lighter-duty cutting applications.
DeWalt DCS310 Build Quality and Design
Unlike some of the other products on the market, it seems clear that the DeWalt DCS310 is meant to be held with two hands. In that sort of way, it's very different in form factor than the one-handed solutions from Milwaukee, Bosch, Ridgid, and others. We're not saying that you can't use it with one hand. Certainly, the trigger and safety are all within reach. No, it's just that the tool achieves the best stability and control when your forward hand grips the rubberized overmold surrounding the blade clamp. DeWalt also went with a more traditional look and feel for this tool. Indeed, the DCS310 kinda looks like a slimmed-down, reduced-scale version of the company's full-sized DeWalt DCS380B 18V recip saw. That is until you bend it at the pivot point.
So while other manufacturers have opted to redesign what the best cordless reciprocating saw can be, DeWalt has put out a 12V reduced-size reciprocating saw that stays closer to the design of a full-size version, minus the D-handle. And then it adds the 3-position pivoting option to make it more versatile. This is a move that is, well, bold in its very simplicity.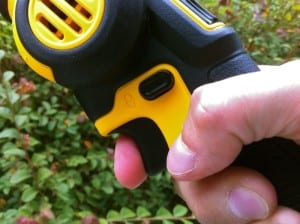 Ergonomically, the DCS310 feels good in the hands. We liked the rubber overmold that, unlike the similar-but-different Porter-Cable PCL120CRC-2 saw, covered the blade clamp completely. This gives you a bit more control right up at the blade – where you need it. It also more closely mimics the handling of a larger reciprocating saw, with the exception that the trigger is mounted along the handle, rather than at the back (and there is a trigger lock, which will make the guys as OSHA just giggle with delight).
Engaging the pivoting action was very straightforward, and we found we could do it with one hand if needed, though it's certainly more precise to select from one of the three pivoting positions with two hands. The pivoting action cuts the length of the tool, but increases its height, while putting the trigger into a more "drill-like" position. One advantage is that you are able to securely hold the tool directly in front of you while cutting, giving you precise control over the angle and speed of the cut.
Testing and Use
So what do you do with a lighter-duty 12V pivoting reciprocating saw? Well, for one, you don't expect to demo a house with it. What the new DCS310 excels at is its ability to provide a much smaller, portable solution for light-duty cutting tasks such as cutting PVC, metal conduit or copper pipe. We had some plumbing work we were doing to upgrade the bathroom in a garage remodel. This required fitting and adapting some new 2″ PVC pipe for a sink drain.
Cutting the pieces to length was a simple process for the DeWalt Pivot Reciprocating Saw and, with the included metal blade, we had our pieces ready in no time. What was also nice, was that the saw was perfect for "cut-in-place" applications where we needed to trim back some pipe and remove older PVC fittings. Its compact nature and pivoting action allowed us to get in close while still maintaining good control over the saw, so that we could get a nice square cut.
Having made quick work of 2″ PVC, we also cut through some dimensional 2x4s to prep them for a lean-to we were building off of a shed. This wouldn't be the normal tool we'd go-to for this type of work, but it represented a nice simulation of an impromptu small wood demo application. With the included blade this proved to be a tad difficult, partly because our lumber had some knots in it. After swapping out to a different bi-metal blade we found the saw to cut through the wood much more quickly. Control was good and we liked how the entire tool could be held out front with ample downward pressure from your forward hand, while the rear trigger hand allowed you to maintain a clean, square cut each and every time.
Swapping blades was simple and quick, due to the very familiar lever lock. The front-mounted LED light also made it easy to use this tool in areas that lacked ample lighting. The pivoting shoe also worked well, though we thought the clamp function of the Porter-Cable pivoting recip saw was a nice convenience feature that we missed on DeWalt's similar-looking tool.
Battery life seemed pretty good, though we again missed not having a charge level indicator on the tool or battery – an oversight we hope DeWalt fixes on its next-gen tools. The battery was also a bit loose in the shoe, so we went to the store to see if others exhibited similar behavior. They did, though the battery never seemed in danger of actually dislodging. It's just something to consider, particularly with a tool that endures lots of vibration.
DeWalt DCS310 Conclusion
So will the DeWalt DCS310 12V Pivoting Reciprocating Saw replace your 18V or corded model anytime soon? No, but it doesn't aim to, either. Rather, this tool turned out to be a very nice "Mini-Me" adaptation of its bigger, and more aggressive, brother. 12V tools are becoming the lighter, faster tool to carry around for odd jobs and certainly for the tradesmen looking to maximize his effectiveness in the field. The DeWalt DCS310 is going to fill a nice niche for plumbers and electricians in particular, but it's also going to come in handy for the guy doing punch lists and general construction. Provided you don't attempt to tear apart a house with it, you're going to find it useful and consistent in its performance. And while there are finally a lot of handheld 12V recip saw options on the market, if you're already loading up on DeWalt 12V tools, it's a no-brainer addition that will pay itself off quickly in convenience and time saved.