Fein invented the handheld oscillating multi-tool and released their MultiMaster back in 1986. At the time they decided to focus entirely on creating products of the highest quality possible. 23 years later they are retaining that attitude and have the most robust, easily usable handheld oscillating multi-tool on the market. The Fein MultiMaster Top FMM 250Q system is quite simply the most well thought out, ergonomic and feature-rich oscillating tool on the market, even though Fein's competitors have had over a decade to drool and tool up their own products now that the patent has expired.
Fein actually has 4 corded models on the market and one 9.6V (800-mAh) cordless version. The different models are designated by the names "Basic", "Start", "Select" and their high-end package, the "Top". All models except the "Start" system feature the FMM 250Q MultiMaster with the QuickIN tool-less accessory changing system. Since we're reviewing the "Top" corded model I thought a chart might be nice to help you decide which one to purchase.
| | | | | |
| --- | --- | --- | --- | --- |
| | FMM 250Q Basic | FMM 250 Start | FMM 250Q Select | FMM 250Q Top |
| MultiMaster FMM250 Multi-tool | | X | | |
| QuickIN tool-free system | X | | X | X |
| Universal 29mm E-CUT saw blade | | X | X | X |
| 5 each: sanding sheets (60, 80, 120, 180) | | X | X | X |
| 5 each: perforated sanding sheets (60, 80, 120, 180) | | | | X |
| Rigid scraper blade | | X | X | X |
| Key and mounting bolts | | X | X | X |
| Sanding pad | | X | X | X |
| Perforated sanding pad | | | | X |
| Carbide-tip segment saw blade | | | X | X |
| HSS segment saw blade | | | X | X |
| Sanding set | | | | X |
| Dust extraction device | | | | X |
| Carbide rasp (triangular) | | | | X |
| Carrying case | X | | | X |
Essentially you can get the Fein MultiMaster FMM 250Q solo with no accessories (called the "Basic" kit) or you can get one of three kits that come with various levels of accessories. For review, we received the Top system that comes with just about everything you could wish for (though Fein offers a whole lot more in terms of specialized accessories). It's also the only kit that comes with the Dustex II dust extraction device.
Fein MultiMaster Top Build Quality & Accessories
We've handled just about all of the multi-tools on the market and the Fein is definitely the heaviest product on the market. They didn't, however, strap a couple of lead weights to the inside of the housing – this tool is simply built like a tank. We liked the fiberglas-reinforced ABS plastic housing that covered up the majority of the tool. The rubber overmold surrounds the on/off switch and provides a solid grip whether you are holding the tool straight or rotated 90 degrees. Unlike many of the other oscillating tools now on the market, the Fein MultiMaster is definitely not a one-handed tool. Its ample weight makes it a serious tool that does best when guided with both hands.
The thumb switch is easily activated, though it is a bit stiffer than much of the competition. Once activated, the Fein's soft-start motor ramps up to speed, a feature that not only protects the motor from premature wear, but also sounds really cool. These German engineers really know how to make a nice tool. There is a magnesium die-cast gear housing which is bolted to the body of the tool with four torx head screws. At the base of the Fein MultiMaster Top is the speed dial which offers a continuously-variable speed control, allowing the tool's oscillation to vary from 12,000 to 21,000 OPM (oscillations per minute).
Cord length is something that is often taken for granted, but the Fein provides one that is 16 feet long! This is the longest cord of any of the multi-tools we've tested. While on the jobsite you're sure to have an extension cord handy, it's likely that around the home you simply won't need one.
Changing Accessories
Now we come to the real differentiator between Fein and the competition. We already know it's heavier and has a nice soft-start motor. It has an extra-long power cord and the case is nicer than just about anything we've seen. The QuickIN accessory changing system, however, is revolutionary… and tool-less. That's correct; you simply flip over the quick-clamping lever located on the top of the FMM 250Q multi-tool a full 180 degrees and you can pull out the fastening element. This is a one-piece bolt/washer system that clamps the accessory to the tool holder. It has ridges that are grabbed onto and secured into place by the action of the lever. It's a rather nifty design that makes changing accessories a snap – for those with some hand strength. The quick-clamping lever isn't as easy to activate as it is to re-secure, but you do get the hang of it over time. It also lets you know that the tool is really holding onto the accessory and won't let go – even under excessive force.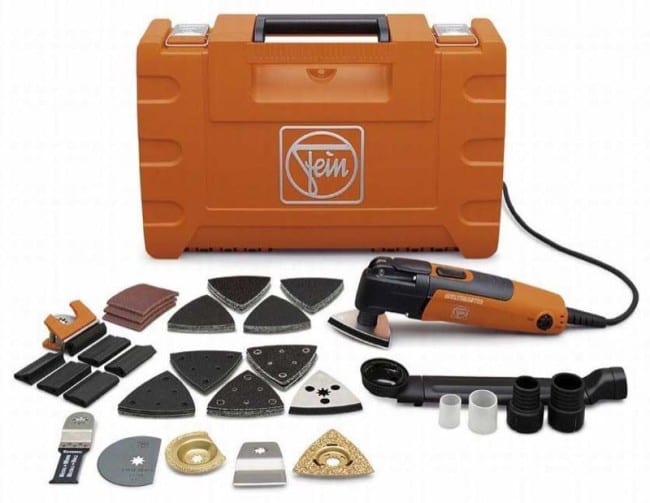 When placing a new accessory onto the tool holder, we noted that the fastening element can be snapped into place and will hold the blade or sanding pad quite securely – even before the quick-clamping lever is re-secured. This means you don't have to be terribly dexterous to get a new accessory placed into the tool. There is no reason to hold the blade in place, for example, while you are flipping the lever back into place (that is, unless you plan on shaking the tool in the process).
Accessories have an 8-star pattern and thus can be adjusted in 45 degree increments. This is less precise than some other tools we've seen, but reduced angles also means a more solid grip on the blade or scraper – a trade-off we can at least see the logic on. The MultiMaster Top system we had in for review came with an almost unbelievable amount of accessories, which I think it is best to show visually:
The Profile Sanding Set is unique to Fein and is a god-send to those working with wood siding, molding or furniture that has unique curves and edges. The system uses a single clamp and a series of rubber inserts that form a unique shape. You simply wrap small pieces of sandpaper over the insert and secure it into the clamp. The clamp fits neatly into the tool holder and oscillates as you'd expect, making quick work of even tough detail sanding jobs.
Testing and Use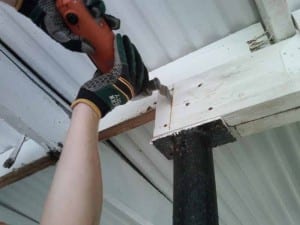 The Fein MultiMaster Top FMM 250Q was a pleasure to use. It quickly became our go-to tool for odd jobs that required an unusual cut, or for detail sanding work that needed something smaller than an orbital sander. First up was a job that involved replacing an offset beam that held up the roof of a carport. We needed to cut back on of the joists in order to allow a secondary piece to rest on the support. Using the Fein MultiMaster and the included Metal + Wood blade, we made quick work of the "offending" 2×6. The Fein cut through the piece of lumber like butter and, even though the work was overhead, it didn't take long to secure an inch-and-three-quarter cutout that gave us the access we needed. Of course, the Fein MultiMaster Cordless Kit AFMM 14 would make even quicker work of this type of task, but sometimes a corded tool is nice in that it offers all of the power with none of the run-time issues.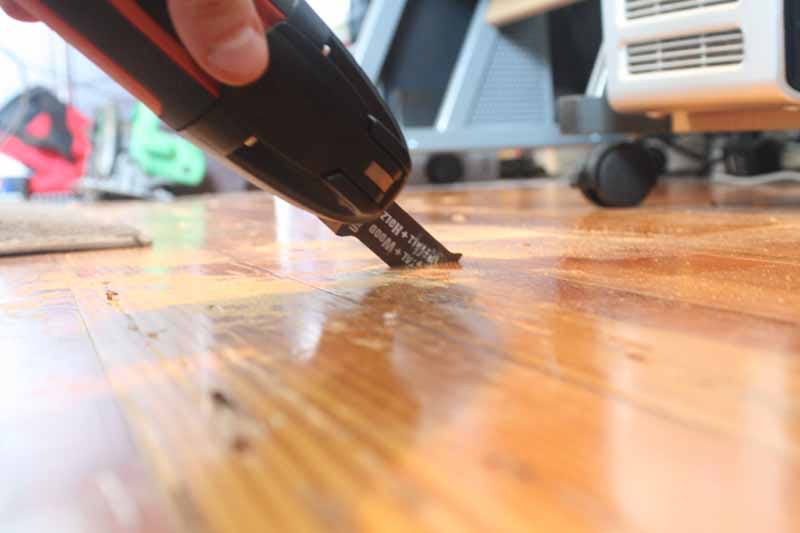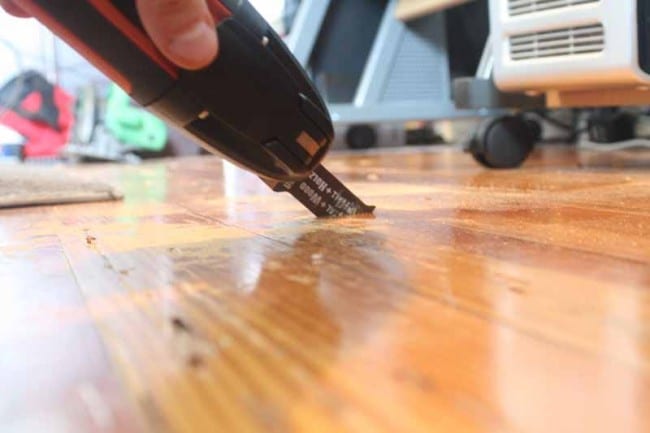 Another job involved replacing a piece of old pine flooring to repair some holes that existed due to old termite damage. The Fein plunged quickly into the dense pine wood (which was over 80 years old) and we were able to guide it accurately so as to not cut too far and damage the surrounding wood. We were surprised at how much control this tool offered us and it was a real pleasure to use. In terms of raw power, the MultiMaster FMM 250Q multi-tool cuts quickly and easily through even some of the toughest wood we've ever come across. Anyone who has worked on older frame houses knows that the older wood found in the walls and floors will make quick work of cheap blades and bits. The Fein was a consistent performer.
The Fein measured 95dB SPL on our meter from 3 feet away. This is about 3dB above the other corded multi-tools we've tested to date, but nothing that we would consider excessive. Since the tool ramps up and down with its soft-start motor, the sound is actually quite unobtrusive on its own.
Conclusion
Now that cordless oscillating multi-tools are hitting the market it may seem like a difficult choice when selecting one of these tools for your use. The Fein really does sit squarely at the top of the pile, however. If you want the best you're going to want to pony up the dough and get this tool. It can be found for at least $50 under the MSRP if you shop around and it provides the best user experience in a corded model. For those who are more budget conscious or who don't intend to use their multi-tool in a professional setting, there are other choices that will save you quite a bit of money and deliver similar results. Because the Fein has such excellent build quality, lots of accessories, a unique tool-less clamping system and a ton of other above-average features it is in the unique position to get both our top-rated performance rating and also score well in our value rating, even though it's not an inexpensive tool. Sometimes you really do get what you pay for. Of course, if you're a commercial user you can also check out Fein's souped-up SuperCut system or the Festool Vecturo OS 400 Multitool which is based on it which provides even more power and accessories for those who really need the power.