Greenworks Commercial 25″ Lawn Mower Self-Propels Hard-Working Twins
Greenworks has a lot of variety for homeowners, but if you're looking for an option to kick the gas can on a professional level, Greenworks Commercial is for you. The Greenworks 82V Commercial 25″ Lawn Mower and its lineup family have quite a few differences compared to what you see in the residential lines.
Editor's note: There's now a residential version of this mower. To learn more about it, click here for our review!
Pros
Ability to cut thick, deep grass
Outstanding runtime
Adjusts blade speed to the load
Self-propelled drive
Single point height adjustment
Two active battery ports
Cons
No side discharge may be an irritation for some users
Greenworks Commercial 25″ Lawn Mower Performance
Power and Speed
The Greenworks Commercial 25″ Lawn Mower uses two 12.25″ counter-rotating blades to cover a 23.75″ cutting swath. Gearing keeps the blade tips from hitting each other and their rotation pulls the grass clippings into the middle for bagging.
Using two small blades, the RPMs are quite a bit higher than most cordless mowers. We see no-load speeds anywhere from 2500 RPM to 3000 RPM or so on most single-blade cordless mowers. The Greenworks Commercial spins at nearly 3800 RPM no-load, giving the blades a 138 MPH tip speed.
While that's a bit lower than even their 60V 21″ self-propelled mower's 167 MPH tip speed, the blades have a much lower mass and stand a better chance at maintaining that speed in tough cuts. It also has the ability to kick up the RPMs. More on that in a second.
While Clint was at the Greenworks event in Charlotte, they mowed through field grass more than 12″ tall in places and this mower was cutting it.
On a more realistic note, there's plenty of power to handle grass that missed its regular weekly cut. When you hit higher or thicker grass, that's when Greenworks' "SmartCut" kicks in. It senses the increased load and kicks the RPMs up to better handle it, bringing that 138 MPH tip speed higher. When the load drops, the motor returns to its lower RPMs.
Runtime
Runtime can be an issue for some cordless lawn mowers, but you're in pretty good shape with this model. Working with a 5.0Ah battery gives you 410Wh of energy and we measured 108 minutes of no-load runtime with the wheels at full speed.
Putting under a load, we started with a pair of 5.0Ah batteries and 9 healthy acres of St. Augustine grass. At a light cut, it ran for nearly 3 hours (2 hours, 50 minutes). Digging a little deeper, we were just shy of 2 hours at a medium cut (1 hour, 54 minutes) and 40 minutes on a heavy cut. Even in the worst conditions, one set of batteries can handle 1/3 of an acre. For most regular cutting, expect to cover an acre of true lawn (not just lot size with a house)
Noise
One of the major reasons to buy a cordless lawn mower is noise reduction. The Greenworks Commercial 25″ Lawn Mower generates 79 decibels on its own and kicks up a little higher while you're cutting. It's significantly quieter than the mid-90s of our gas mowers.
Greenworks 82V Commercial 25″ Self-Propelled Lawn Mower Design
Single Lever Height Adjustment
Even with a steel deck and one 5.0Ah battery, this mower weighs in at 79.47 pounds. That's well under the 90–110 pounds of gas mowers and on the heavier side for cordless. It's not a huge surprise since it has a 25″ steel deck, though.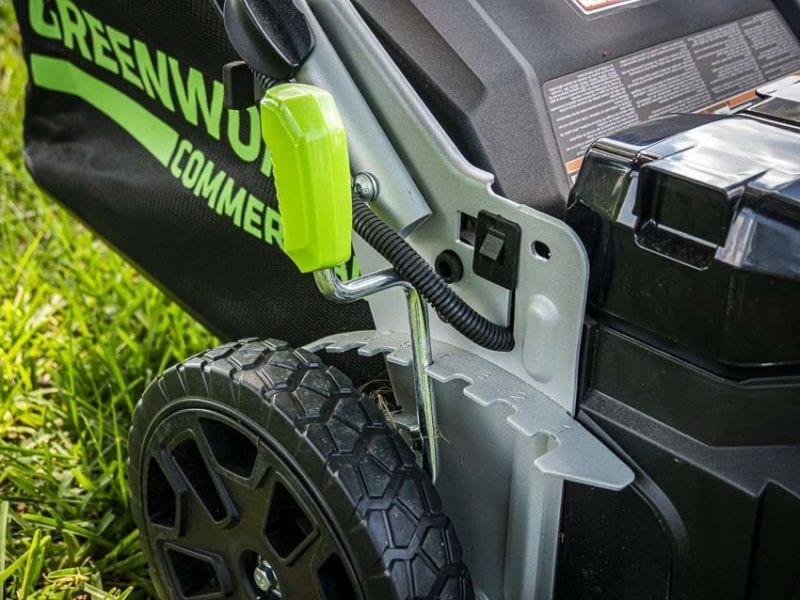 Despite that, Greenworks is still able to go with a single lever height adjustment—something our heavier gas mowers forgo. Its 7 positions get you as low as 1-3/8″ or up to 3-3/4″.
Dual Port Power Supply
Plenty of mowers have two battery ports now and it's hit or miss if the second is storage or active. Greenworks goes the more convenient route with two active ports that automatically switch, leaving you free to mow without stopping.
Rear-Wheel Self-Propelled Drive
Rear-wheel drive lets the mower's brushless motor system take care of most of the work for you. The speed adjustment ranges from roughly 1.1 MPH to 3.3 MPH, though there some variance in thicker grass. The top speed is high enough that I can mow as quick a pace as I want with some leftover speed to spare.
Storage
One of the great secondary benefits of no gas and oil is the ability to stand a cordless mower up for storage. For this model, just release the handle and push it fully forward and lock it back. Then stand it up out of the way anywhere it's convenient.
Additional Features
Push-button startup
Zero engine emissions
Low maintenance
Battery level gauges are visible through the battery doors
What's Missing
There's no side discharge option, just mulching and bagging. Our team exclusively mulches here in central Florida and we run into very few people who side discharge. From our perspective, the missing side discharge isn't a big deal.
Greenworks 82V Commercial 25″ Self-Propelled Lawn Mower Price
As a bare tool, the Greenworks GMS250 runs $649.99. Batteries and chargers are sold separately. You can see if there's a retailer near you at their dealer finder page or purchase directly online. With the two 5.0Ah battery configuration we tested, the total price is $1249.97 plus another $79.99 for a dual-port rapid charger.
While the pricing structure seems high compared to some of the other cordless mowers out there, keep in mind that Greenworks Commercial is targeting the Pro market here. Commercial self-propelled and push mowers easily run $1000–$1200 or more, so they're not out of line with that market.
The Bottom Line
As far as battery-powered lawn mowers go, the Greenworks Commercial 25″ Lawn Mower has a lot going for it. It's proven itself to cut through some pretty thick, deep grass and there isn't much to complain about in the overall design. It may look a little odd, even for a cordless mower, but it has the chops to get the job done.
There's still a gap to the power of gas, though. As far as we've seen, this model sets itself apart from others with the power and runtime to offer Pros a reasonable option when the situation calls for a walk-behind instead of a stand-on or zero turn. In case you're wondering, Greenworks has those, too.
Greenworks Commercial 25″ Lawn Mower Specifications
Model Number: Greenworks Commercial GMS250
Power Source: Greenworks Commercial 82V batteries
Brushless Motor: Yes
Deck: Steel
Cutting Width: 25″
Cutting Height: 1-3/8″ – 3-3/4″
Push-Button Startup: Yes
Dual Cutting Blades: Yes
Warranty: 2-Year on batteries and tool
MSRP: $649 bare, $1329.96 as tested