I might have thought you were pulling my leg if you told me just a few years ago that I could get work done with a cordless SDS Max rotary hammer. But here I am today with the Milwaukee M18 Fuel SDS Max Rotary Hammer in hand. It's the Milwaukee 9.0 amp hour battery that makes it possible because smaller packs just can't provide the power to do such tough work for any significant amount of time. The company claims it can handle 20 minutes of continuous chipping on a charge so I set out to see if this hammer would let me keep my corded one in the truck.
First Impressions
The Milwaukee M18 Fuel SDS Max Rotary Hammer boasts all of Milwaukee's ingenuity in one place: a PowerState brushless motor, a RedLithium 9.0 High Demand battery, and RedLink Plus electronics. As you've probably read on Pro Tool Reviews, the combination of brushless motors and the necessity for electronics to run them allow smarter brushless tools that can protect themselves against damage from overheating, which is quite common in rotary hammers and a major hurdle in going cordless.
Weight
If you read my review of either the Bosch RH1255VC or the Metabo HPT DH52MEY, you know the double-edged sword that is a rotary hammer's weight. It works in your favor for breaking and chipping concrete but works against you since you've got to hold the thing! It needs to be hefty without tiring you out so quickly that it's difficult and dangerous to hold.
Fortunately, at just over 12 pounds bare, this rotary hammer seems to be just the right weight. The big 9.0 amp hour battery will add 2.4 pounds to that weight, but it still won't make someone balk who's held a comparable tool. It feels well balanced and the overmold grip and auxiliary handle are comfortable, too.
Controls
The M18 Fuel has two standard rotary hammer modes: hammering and hammer with rotation. A third mode is for adjusting your chisel angle before returning to the hammering mode to work. The mode selector is a large dial on top of the tool body. The modes are clearly marked with a hammer icon, a drill bit plus a hammer icon, and an "0" at 12 and 6 o'clock that indicates chiseling positioning mode.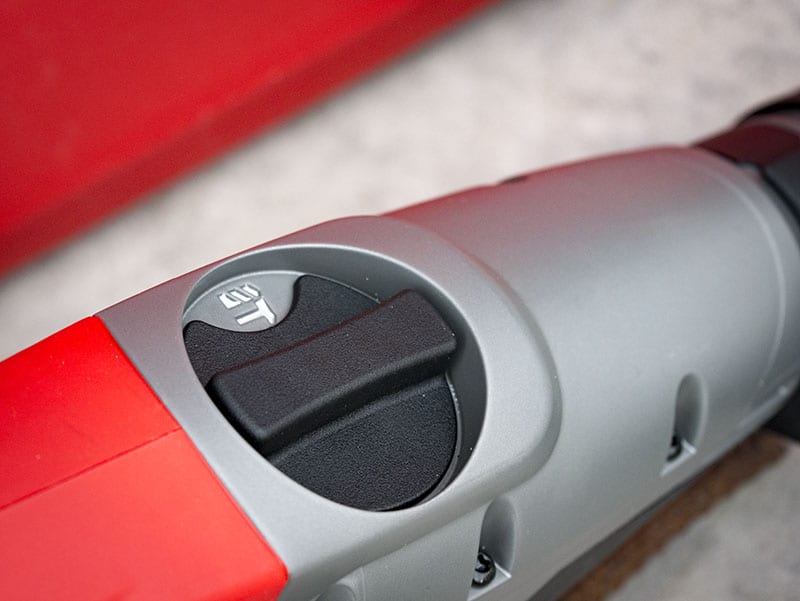 It also has a bright work light similar to the one on Scott Strollo's Super Hawg and a trigger lock for safety.
On Deck
Just by pulling the variable speed trigger you'll observe this rotary hammer is in the big leagues – it's got some torque! But of course, I hadn't put a bit to concrete yet. The question always remains: can it hack it on the job site or will it make me reach for another tool?
With an impact energy of 5.1 foot-pounds (6.9 joules) and BPM of 0-3,000, I had high expectations for what this tool can do.
High Demand: A Recount
Can Cordless Keep Up?
If there was any worry that this battery-powered beast wouldn't have the power to do the drilling, chipping or the general busting-stuff-up that I need it to do, it was quickly put to rest after just a couple of minutes. The M18 Fuel's power in my hands felt like any of the most powerful corded rotary hammers I've used in this 1-9/16-inch SDS Max class. It can make holes in concrete without a problem. Of course, for larger jobs of with many holes or holes of larger diameter, you'll get less runtime, but it's still remarkable that cordless technology has come this far.
One thing to keep in mind is that there are several levels of rotary hammers within the SDS Max class. The big boys, like my Bosch RH1255VC and Metabo HPT DH52MEYM, deliver more than 16 foot-pounds of impact energy – but at a cost of double the weight or more. Smaller corded models can be near the same weight but start with a little more than 6 foot-pounds of impact energy. These new cordless models still have some catching up to do.
However, the real-world performance of what the Milwaukee M18 Fuel SDS Max Rotary Hammer does with its 5.1 foot-pounds is impressive. Part of the way Milwaukee makes up for the lower impact energy is with a higher speed (450 RPM) and impact rate (3000 IPM) than many of the corded 1-9/16-inch hammers out there.
Can it Really Do the Same Work?
The SDS Max chuck slides back easily for bit insertion and removal. You might think that since this tool is smaller than some of the other rotary hammers that it's meant for smaller jobs, but it takes the same 1-9/16-inch SDS Max bit as those with larger form factors. So it's meant to take on the same jobs.
After about 90 minutes of consistent (but not constant) use, the Milwaukee M18 Fuel SDS Max Rotary Hammer got pretty warm and hit thermal shutdown. Although getting too warm to use is certainly not unique to this rotary hammer, the shutdown mode is by the design of Milwaukee's RedLink Plus which protects the motor and battery. There's a lot of friction happening inside the tool body and unless the heat dissipates, it can cause permanent damage to the components. Work stoppage is inconvenient but not nearly as much as catastrophic tool failure! Plus it was time for a break anyway. As soon as it finished cooling off, I was back to work.
The grips are as excellent and comfortable in use as I found them in my first impressions.
Cordless Considerations
As more tools turn to cordless power, there's one thing for rotary hammer users to note. Milwaukee now has hammers across both major bit designs – from 5/8-inch SDS Plus to 1-9/16-inch SDS Max – so you've got a full range without leaving the M18 battery platform. That's something to keep in mind if you're thinking about going the cordless route.
The only other cordless SDS-Max rotary hammer available as of this review is the DeWalt DCH481 FlexVolt model. On paper, that one moves the bar forward in speed and impact rate, but with lower impact energy. It's at the same price point, but we'll have to wait until we get it in our hands to make any real conclusions. For now, it's pretty clear that this is a very elite category for cordless tools.
The Bottom Line
The Milwaukee M18 Fuel SDS Max Rotary Hammer is really made possible by Milwaukee's 9.0 amp-hour High Demand battery pack. With 5.1 foot-pounds of impact energy, it can get the job done whether you're chipping or drilling.
At about 14.5 pounds with the 9.0 amp-hour battery, it has the requisite heft to get the job done without wearing you out too quickly and ergonomics are pretty solid. The grip and handle are comfortable and the vibration is acceptable. However, there's no separated tool body or other obvious vibration control, so there's room for improvement.
After about 90 minutes of consistent (but not continuous) use, the hammer hit thermal shutdown on me. I'd rather take a break than risk burning up the motor, though. It's got a smaller profile than some corded 1-9/16-inch SDS Max hammers, but similar bits mean you can task it to similar jobs, so don't be afraid to ask a lot of the Milwaukee – it can certainly handle it.
Overall this rotary hammer is great for those jobs where there's no power available or where the scope of work doesn't require you to drag out a long cord. It packs a big punch in a relatively small body and is remarkably convenient to have in my tool collection. The trade-off is that you do lose some impact energy from the corded models in the 1-9/16-inch class. By kicking up the speed and impact rate, Milwaukee closes the gap and I don't consider this model to be underpowered by any means.
Milwaukee M18 Fuel SDS Max Rotary Hammer Features
Milwaukee PowerState Brushless Motor
The Milwaukee RedLithium Battery Pack
RedLink Plus Electronic Intelligence
Milwaukee M18 Fuel SDS Max Rotary Hammer Specifications
Voltage: 18V
Battery: M18 RedLithium
Battery warranty: 3 years
Length: 18.75 inches
Weight: 12.15 pounds (bare)
No-load RPM: 0-450
Height: 10.1 inches
Width: 3 inches
Blow energy 5.1 foot-pounds
BPM: 0-3,000
Solid bit capacity: 1-9/16 inches
Handle style: D-style
Tool warranty: 5 years
Price: