Imagine, if you will, trade work in pre-1951 America. If you needed to make a cut, elbow grease made it happen. It was hard, slow work. That was every tradesman's reality until Milwaukee Tool introduced the motorized hacksaw in 1951. Construction, demolition, and remodeling were forever changed. The Sawzall, as Milwaukee called it, quickly became a "household" name. Now you won't find a jobsite or tradesman without one. While some tools might be nice to have, we think the reciprocating saw is a need to have tool. We wanted to help Pros with choosing the best reciprocating saw by providing a guide to key features you need to have.
Choosing the Best Reciprocating Saw Motor
It wasn't long ago that battery-powered tools were only supplementary to more powerful corded tools. But technology has quickly changed that. Now many battery-powered tools can work just as hard or harder. This allows tradesmen the freedom to move about the job without looking for a plug. You can still pick up corded reciprocating saws with 7.5, 10, 12, 13, and even 15 amp motors with 15 amps doing the toughest work.
If you're going cordless, we suggest you consider a cordless reciprocating saw with a brushless motor. Brushless motors are electronically commutated, which means that no brushes make contact with the motor's commutator as they do with a brushed motor. Although brushless motors are more expensive, they confer several benefits to the user: longer life, greater efficiency, and "smart" tool circuitry whereby the motor and battery communicate to optimize performance and prevent thermal overload. This circuitry also allows impressive innovation like Milwaukee One-Key.
Selecting a Reciprocating Saw Battery Platform
Just as you can find corded tool motors with several different amperages, you can find reciprocating saw batteries with several different voltages: 12V, 18V/20V, 24V, 36V, and 60V. Some of these voltage differences are simply marketing (e.g., 20V Max equals 18V) but some represent a material difference in force.
Nominal voltage only tells part of the story of how much work a battery can perform. Even the amp-hours, a measure of electrical charge, isn't the full picture. Only watt-hours are the common denominator of power among batteries. To find watt-hours (if it's not printed on the battery), multiply the nominal voltage by the amp-hours. In this way, you can fairly compare how much work a battery can do.
Stroke Length and Stroke Speed
Other things equal, a reciprocating saw's cutting speed is a function of the stroke length and the stroke speed. Stroke length averages about 1-1/8 inches, with a fairly narrow range of 1 to 1-1/4. Cutting speeds vary from around 2,600 to 3,300 strokes per minute. To compare cutting speeds between saws, take the linear inches per minute by multiplying stroke length and stroke speed. Ideally, go with at least 1-1/8″ stroke length and 3000 SPM.
There are also compact cordless reciprocating saws with designs like the Makita Sub-Compact and Milwaukee Hackzall models. These will be lower in the stroke length and speed but will help you get into much tighter places. Plumbers and landscapers working on irrigation really love them.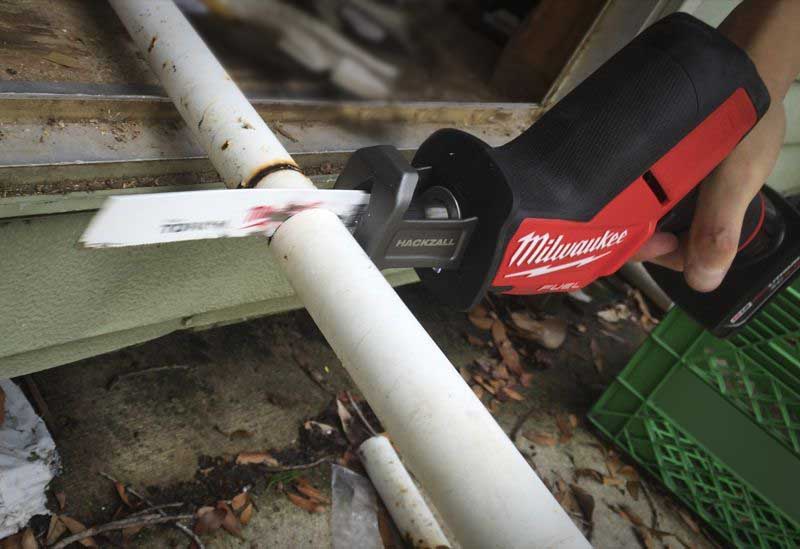 Look for Orbital Action for Demo Work
Even if linear inches per minute measures a reciprocating saw's cutting speed, orbital action throws a monkey wrench into the equation. A saw featuring orbital action can outpace another saw capable of more linear inches per minute. We saw this in our best cordless reciprocating saw shootout where the Ridgid Gen5X with only a middle-of-the-pack cutting speed but orbital action bested the Makita XRJ06M by several seconds. It had the highest cutting speed but lacked orbital action. If you want the fastest cuts, be sure to consider a saw with orbital action. Just note that you don't use orbital action for metal cutting applications.
Hands-free Blade Changes
We can't think of a reciprocating saw made in the last few years that requires a tool to change the blade. If you find one, run away—don't walk. These days, reciprocating saw manufacturers have reliable, tool-free blade change mechanisms. Now, we look for hands-free solutions that keep your hands off the hot blade.
Some blade change systems allow the blade lock to remain open when you twist it and automatically close when you insert a blade. You may also get one with a spring to eject the blade when you twist the lock. That's particularly handy at the end of a cut when the blade is hot. We also prefer levers to anything that makes us reach in and twist the blade clamp.
Recip Saws with an Adjustable Shoe
As we go through our choosing the best reciprocating saw list, the shoe matters. Indeed, the reciprocating saw's shoe—the metal apparatus surrounding the blade—often gets overlooked. If not overlooked, it certainly remains underused. Primarily, it stabilizes the saw against the workpiece and reduces vibration caused by the reciprocating action. The flat face of the shoe should pivot slightly back and forth to account for changes in the blade angle throughout the cut. It also acts as the fulcrum for plunge cuts.
We suggest you look for an adjustable shoe that can extend and retract. It helps you get more life out of your blades. By extending the shoe, you get to use more teeth on the blade. Some shoes still require a hex wrench while others are tool-free.
Variable Speed Trigger
We mentioned strokes per minute above, but that number refers to the maximum speed. There are times when you won't want the reciprocating saw going full bore. That's why a variable speed trigger is important. You should be able to modulate the tool's speed with the trigger to choose a stroke per minute rate somewhere between 0 and its top speed. Choose a slower speed for metal cutting and a faster one for wood. Nearly every Pro-level reciprocating saw will have a variable speed trigger and some will include a variable speed dial.
Anti-Vibe and Ergonomics
When choosing the best reciprocating saw, we care a lot about vibration. Given the nature of a reciprocating saw's movement, some vibration or "chatter" is just a fact of life. Solid control in the hand and the shoe pushed squarely against the material goes a long way to eliminating it. Even so, some manufacturers have built-in features to further soften the chatter.
The most basic vibration control separates the handle from the main body. More sophisticated systems provide counterbalancing weights inside the tool body. In either case, for the most comfortable experience, consider a reciprocating saw with effective anti-vibe features. Skilsaw's Buzzkill technology is one of the best at controlling vibration.
Relatedly, you should feel comfortable with the tool in your hand. This is pretty subjective, but after using a few different ones, you'll learn what feels right and what doesn't. A good bit of rubberized overmold in the grips will make the saw feel right at home in your hands.
Choosing the Best Reciprocating Saw – Last Thoughts
That's what our Pros look for when choosing the best reciprocating saw. Not every feature needs to come on the saw—but many seem mandatory. What are the features you can't live without? Add them in the comments below!