Last Updated on July 23, 2022
Carbide changes the game when it comes to saw blade life and durability. And when you move into demo blades like the Diablo Demo Demon with Tracking Point Amped, carbide allows you to cut materials unthinkable previously. It's one thing to get the titanium carbide on the blade, but small changes make a big difference when it comes to cutting performance.
Tracking Point Amped
The Diablo Demo Demon with Tracking Point Amped primarily takes advantage of the new Tracking Point. With a typical ATB (alternate tooth bevel) configuration, one tooth grind goes left and the next one goes right. You can see the effect in the scratch the Bosch Reaxx Table Saw left in my hand when we tested it.
Diablo modifies this grind and adds a third tooth sticking straight up between the left and right. According to Diablo, it helps in tracking and cutting efficiency for cordless saws.
Other Innovations
Dura-Blend TiCo Carbide
One of the reasons Diablo blades last as long as they do is the carbide they use. That advantage comes because Diablo keeps their carbide development in house. So when you see the name Dura-Blend TiCo, it's one that Diablo's engineers came up with rather than a blend they buy in bulk from someone else.
There's a real benefit here that we found during testing. When making some pretty abusive demo cuts, we examined each blade once it lost its initial cutting speed. Sure enough, Diablo's teeth retained their grind longer than the other blades in our test.
Lock-Tooth Design
Diablo claims to have the strongest connection between carbide tooth and blade body. While we don't have a way to measure that, we didn't lose any teeth on any of the cuts we performed. Of course, none of the other blades we used did, either.
Enhanced Anti-Vibration Design
You'll notice laser cuts in the side of most any circular saw blade these days. They vary from brand to brand and for different applications. These help to reduce vibration and you can get away with more when you're only cutting clean wood. But when you're cutting through nails, shingles, bolts, and other tough material, the size and shape of those cuts have to carry a more careful design. The Diablo Demo Demon with Tracking Point Amped features an enhancement over Diablo's previous designs.
We didn't have any vibration issues that transferred to the saw with any of our blades. Again, none of the other blades we tested did, either. But even small vibrations can affect your cutting speed, performance, and efficiency. It's entirely possible that what we couldn't feel with our hands still had an effect on the results.
Cutting Speed and Durability
Most Pros consider two major points when it comes to circular saw blade performance – durability and cutting speed. Durability usually gets the nod over speed if there's a choice. We brought in a couple of popular competitors with the Irwin WeldTec and DeWalt 2X Demo Blade for comparison.
Clean Wood
For our initial testing, we had each blade make several simple 48-inch cross cuts in 1-1/2 inches of OSB to get an average cut speed. In the end, DeWalt made it in 9.70 seconds, Irwin in 9.33 seconds, and Diablo in 8.61 seconds. That's roughly an 8% advantage over Irwin and 11% over DeWalt.
Demo Sandwich
But that's clean wood. To test the cutting speed and durability, we made a sandwich of 2X PT, 3/8-inch MDF, asphalt shingles, and 1/4-inch plywood. To that, we added a dozen 1/4-inch lag screws to cut through.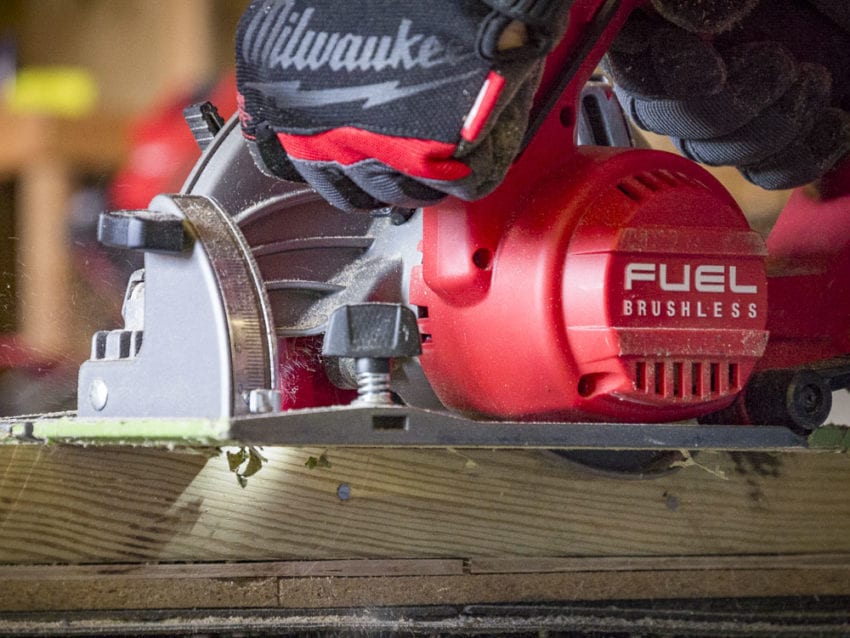 We stopped DeWalt when it slowed to the point that our saw was in danger of damage if we kept moving forward. That was 55-1/2 inches and 27.55 seconds into the cut. After a few minutes to cool down, we were able to complete the cut at a much slower rate.
Irwin's WeldTec completed the cut in 28.46 seconds and started throwing some significant sparks over the last few lag screws.
The Diablo Demo Demon with Tracking Point Amped made it through in 26.93 seconds to take the win.
Durability
Inspection shows why DeWalt slowed as much as it did. Several tooth grinds were significantly degraded. Irwin had a few teeth with worn down grinds and slowed to the point that it was clear it wasn't at its best.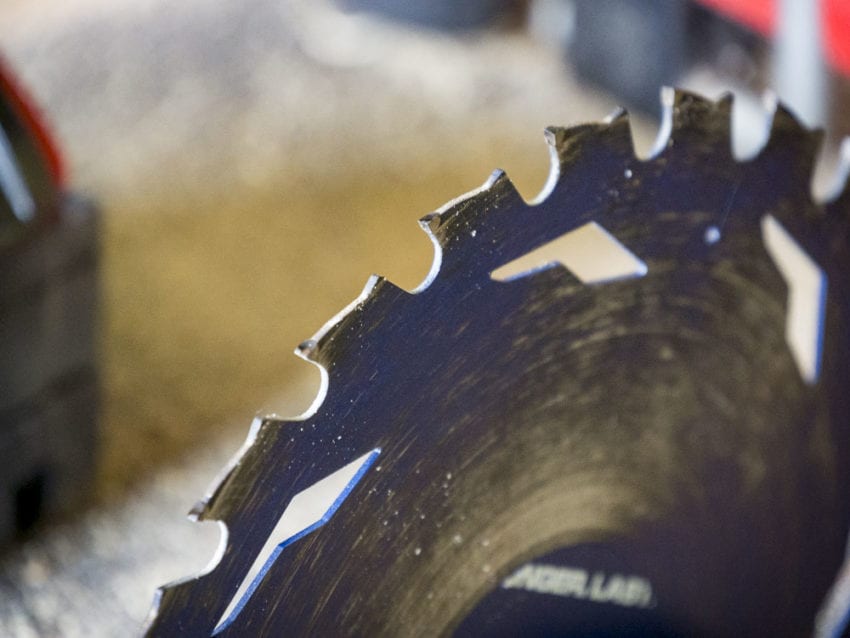 None of Diablo's teeth showed any damage. Even though it slowed slightly near the end, we could have kept cutting without risking our saw.
The Bottom Line
Diablo makes some impressive claims about the durability of their newest demo blade. But in their defense, the Diablo Demo Demon with Tracking Point Amped is outperforming the other demo blades we use. It's both faster in framing and demo applications and shows itself to be more durable.
Normally, Diablo will have the highest price in comparison to other blades in the category, but it comes in the middle this time. Still, we always like to compare cost over the life of the blade and the Diablo Demo Demon with Tracking Point Amped is winning that category as well.
It looks like Diablo will continue to lead the class of demo circular saw blades for a while. At least until someone else decides to try and play king of the hill them and we get to test it all over again.
Related Content
Diablo Demo Demon with Tracking Point Amped Key Features
New Tracking Point Amped, a high-performance 3-tooth grind sequence for unmatched durability and superior tracking control
New Tracking Point Amped tooth design also delivers extreme cutting efficiency in corded and cordless saws (65% more cuts per battery charge in cordless saws versus other blades)
Special DURA-BLEND TiCo carbide delivers extreme impact resistance and durability
LOCK-TOOTH design – Strongest tip-to-blade connection for extreme impact resistance
Newly Enhanced Anti-Vibration design provides the ideal combination of stability and rigidity
Diablo Demo Demon with Tracking Point Amped Specifications
Model: Diablo D0724D
Blade Diameter: 7-1/4″
Tooth Count: 24
Arbor: 5/8″
Kerf: 0.059″
Ideal For: Extreme framing and demolition
Tool Use: Circular saw
Rated Materials: Wood cutting
Price: $14.99