Hitachi is producing some impressive tools these days. You may have read our reviews on their newer rotary hammer, impact driver, and several others. I've had the good fortune to a review few of them myself. Concurrent to the test of the Hitachi 2‑1/2-Inch Coil Siding Nailer, I also tested its big brother, the Hitachi 3-1/2-Inch Coil Framing Nailer. It's no surprise there are some design similarities, but will the big gun be as much of a hit as the small one?
I'm ready to find out.
First Impressions
The Hitachi 3-1/2-Inch Coil Framing Nailer is a handsome gun. It's surprisingly light at 7.7 pounds. Of course, that size is necessary to generate the force at 70-120 PSI to drive the 1-3/4- to 3-1/2-inch, 0.099- to 0.131-inch diameter framing nails.
The side-loading magazine tilts out slightly for easy loading just like the Hitachi Siding Nailer and accommodates 200-300 wire collated nails. Unlike the siding nailer, however, the magazine isn't transparent so it's not possible to see how many nails are left on the coil.
It has the same selective actuation switch I like so much on the NV65AH2 that allows the user to change between sequential (single) and continuous (bump fire) actuation. Another echo of the siding nailer is the depth of drive dial. In the old days, I'd just adjust the pressure on my compressor if nails were sinking too deep or standing too proud, but that's not very convenient if I'm up on a roof or ladder! So this is a helpful feature that's become an industry standard.
Finally, the overmold grip seems comfortable at first blush. It includes some textured bumps for added control. Of course, the real test is having a magazine full of 300 heavy framing nails!
What's In A Frame
As I mentioned, a framing nailer must be larger than its siding or roofing brethren to generate the force it takes to drive the longer, thicker nails used in building the wooden bones of a building. That's why framing nailers typically go with a stick magazine design. The plastic collated strip is lighter than a coil full of nails. The weight trade-off for the typical stick framing nailer is that work must stop more frequently for reloading.
But because the Hitachi 3-1/2-Inch Coil Framing Nailer is so light, it can incorporate the coil design to give the user the best of both worlds. It has the power to drive large framing nails with the nail capacity of a siding or roofing nailer. Still, a fully loaded magazine certainly won't be a featherweight by any means, so have an extra protein shake in the morning and enjoy the uninterrupted workflow.
Loading
Loading and adjusting the magazine for nail length is a breeze. The side-loading magazine has a tilting feature that makes putting a new coil in very convenient. It's much easier than the clumsy design of older nailers. The caveat here is the same with the siding nailer: the magazine just feels flimsy compared to the rigid stick magazines. I haven't had one break, but it just doesn't inspire confidence. Time will tell if it holds up.
Early Performance
I usually use the bump fire actuation, which has been flawless over these first few weeks. I didn't have any jams or misfires. As I mentioned, the depth of drive dial on the gun is a time and effort saving feature – no more adapting the regulator dials for depth. Perhaps best of all, the gun is well-balanced which makes even the full magazine seem lighter. The overmolded handle is comfortable to hold and the trigger pull is easy.
Moving from a stick to coil framing nailer means you'll have to give up your dry fire lockout. Comparable models from Bostitch, DeWalt, and others don't include them, either, so it's not a standard feature. Just realize it's not there.

Being Nosey
I especially like the claw style nose that bites into the wood, making toenailing easy. The nose design is open underneath, which Hitachi tells us will make clearing jams easier. I'll let you know once I finally have my first one. As it is, it at least appears to make it easier to access the jam.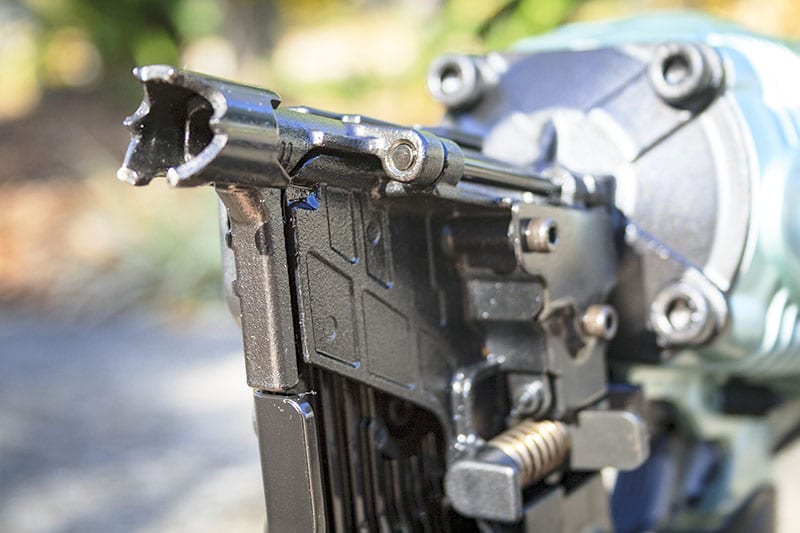 Room for Improvement
For improvements, I'd like to see a swivel air inlet to accommodate hose movement. I'm grateful that Hitachi provides an inlet connector since some manufacturers don't, but I do love my swivel connectors. On the more significant side, I'd add a rafter/belt hook. It would make working at height much easier while climbing.
There's also the issue of knowing how many nails I have left. Adding a window to the magazine like we see in the siding nailer would handle that well. Finally, I'd prefer an adjustable exhaust port for those awkward positions when it's directed right at me.
The Bottom Line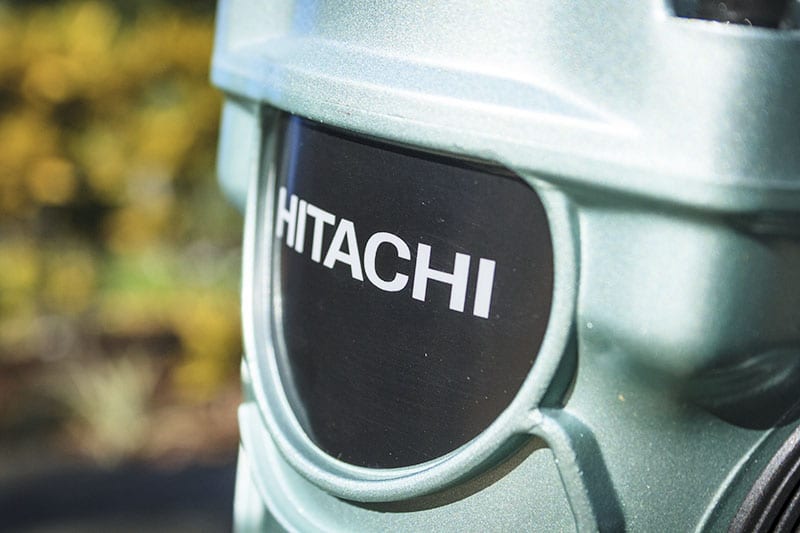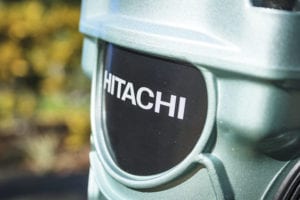 Coming in at 7.7 pounds and boasting up to 300 nails takes framing to another level. Of course, a fully loaded magazine is going to be heavier than the traditional stick designs, but you won't stop to reload as often.
From a performance standpoint, the Hitachi NV90AG(S) has performed flawlessly in my first few weeks of testing. Ergonomically, the nailer is balanced well around the idea of having a heavy magazine load and offers a secure grip.
A few features are missing that I'd like to see on the next generation including a rafter hook, adjustable exhaust, and magazine window. And yes, if you're going to provide an inlet connector, please include a swivel model. While these stand out to me as areas for improvement, neither individually nor as a group are they a deal breaker in my opinion. The performance, ergonomics, and capacity outweigh them.
The Hitachi 3-1/2-Inch Coil Framing Nailer comes in at $279 with a 5-year warranty. That's not the cheapest framing nailer you'll buy, but it's not bad for the coil framing class. Given Hitachi's reputation in the nailer category and the performance I've experienced, I can recommend this one for other Pros.
Hitachi 3-1/2-Inch Coil Framing Nailer Features
New head guard design allows for quicker disassembly during tool maintenance
Lightweight at 7.7 lbs and well-balanced for ease of maneuverability and less user fatigue
Selective actuation switch allows for quick transitions between sequential and contact nailing with the simple flip of a switch
Accepts 1-3/4″ up to 3-1/2″ wire collated coil framing nails
Tool-less depth adjustment dial allows the user to countersink or flush drive nails into a variety of materials without having to adjust the pressure at the compressor
Convenient side load, tilt bottom magazine allows for quick and easy fastener replenishment
Open nose design provides easy access to clear nail jams
Rubber grip provides comfort and ensures a secure hold
Hitachi 3-1/2-Inch Coil Framing Nailer Specifications
Model Number: Hitachi NV90AG(S)
Collation Type: wire coil
Magazine Angle: 16 degree +/- 1 degree
Fastener Length Range: 1-3/4 to 3-1/2-inches
Fastener Diameter Range: 0.099-0.131
Magazine Capacity: 200-300
Operating pressure: 70-120 PSI
Air consumption @ 100 PSI: 0.09 SCFM
Depth Adjustment: tool-free
Actuation: selective
Jam Clearing: open nose
Dry Fire Lockout: no
Adjustable Exhaust Port: no
Rubber Overmold: yes
LxWxH: 13-1/4 x 5-15/16 x 13-1/16-inch
Weight: 7.7 pounds
Warranty: 5 year
Price: $495.95
Shop Amazon