Like every other tradesman on Earth, I'm on my feet all day. And it's not as if I'm walking around on soft carpet or rubberized floors, either. No, I'm on concrete, asphalt, up and down ladder rungs, squatting, bending, and kneeling – not what anyone would consider easy on the feet or any other body part. That's to say nothing of the hazards in the form of heavy stuff that can fall or be dropped and cause painful injuries and lost time at work. You expect boots like the Keen Utility Davenport to protect your feet from those hazards.
A lot of guys neglect footwear, but feet are just too precious to our quality of life and work to take for granted. The stress that starts in your feet can reverberate through the rest of the body. My old safety boots are finally starting to show a glint of steel and potentially making me part of a circuit, so it's high time to replace them. I get to test out the Keen Utility Davenport Mid AL Waterproof Composite Toe Boot. That's a mouthful for a boot name, but then again, I've been known to put my foot in my mouth once in a while.
Editor's Note: Check out our best work boots review article for our favorite products for all applications.
Top Features
Keen Utility packs a lot of proprietary innovation into their work boots and you can read the list below. But what all of that boils down to for you is a waterproof, yet breathable boot. Its non-metallic construction means you won't become part of a circuit if you wear through the toe. That's a tall order given Keen's classic toe that wraps the outsole around to give an extra layer of protection before you get to the leather.
Keen uses asymmetric safety toes – they're left and right specific for a better fit and they also use an extra-wide toe box. You get an oil and slip resistant non-marring outsole. The bond to the midsole is cement (glue) with a polyurethane midsole. When it comes to construction strength, that's the weakest bond with direct attachment and welting being stronger. The benefit of the cement bond is that it's more flexible and offers your feet a better feel of the surface you're on.
On the inside, you'll find a removable dual-density EVA footbed to help on the comfort side of things. What you can't see is the TPU stability shank that does exactly what it says – improves the stability.
One of the things I really like about the Keen Utility Davenport AL model (All Leather upper) is the style. The coloring and design make it look more like a hiking boot than a work boot. That's a plus in my book.
Keen Utility Davenport Mid AL Waterproof Composite Toe Boot Features
100% Non-metallic construction
90-degree heel
Waterproof nubuck leather upper
Oil and slip resistant non-marking rubber outsole
PU midsole
KEEN.Dry waterproof breathable membrane
KEEN.Grip outsole
Left and right asymmetrical composite toe
TPU stability shank
I Got Sole
The Keens gave me a solid first impression when the laces tightened up around the metal hooks. Every new pair of footwear feels odd, but the Keen Utility Davenport Boot was still fairly comfortable from early on. The fit is accurate to the size I normally wear and the width is just right.
It took me about ten days before I felt like they were mine, but not because I experienced discomfort. They're boots, and the stiffness that gives you stability and protection also takes some acclimation.
During the course of the review, I did a lot of tough work in the Davenports and they held up remarkably well. They even got covered in wet concrete but they cleaned up easily.
Pro Tip: Your work boots take a beating, and cleaning them is only part of the job. Be sure to use a leather cleaner and conditioner to keep the upper in great shape.
Outsole
One of my favorite features is the outsole that wraps upward around the toe, giving the leather and safety toe more protection and durability. Often when you're kneeling, the toe of your boots scrape the ground and eventually wear through. That's what happened to my old boots and it's a nice touch. It does take away a few style points, though. But these boots are made to work.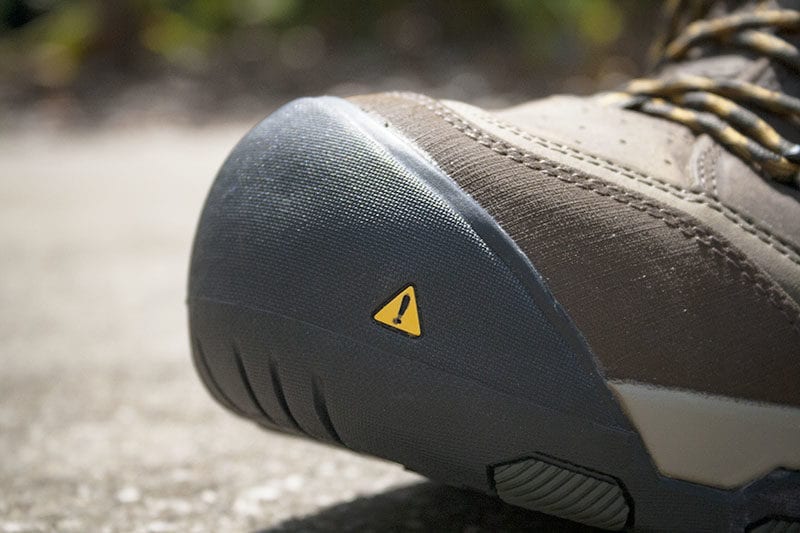 Speaking of the outsole, the traction is outstanding. I walked into a pizza place for lunch one day (that sounds like the start of a joke) and the floor was greasy and slippery but I walked confidently. I realize that's not a jobsite, but greasy tile is a reasonable substitute for oily polished concrete.
Composite Toe
Of course, the major safety feature of the Keen Utility Davenport Boot is the composite toe keeping electricians from becoming conductive on the off chance you expose it. The move from steel to composite makes the boot a lighter but you don't feel like you're sacrificing protection because the toes are as hard as steel. In fact, I dropped a big crescent wrench on my foot right on my foot while wearing the boots and I didn't feel a thing!
An additional bonus is that the composite toe doesn't transfer heat and cold the same way steel does, so your feet are more comfortable in extreme weather.
Waterproof and Breathable?
The KEEN.Dry waterproofing has also been put to the maximum test. After a record-breaking drought during the first part of the year here in Florida, the tables turned and we experienced what must have been record-breaking rainfall.
The rain and wetness have been inescapable as I worked, but the water never penetrated my boots. The boots are made to wick sweat outward, but that's a very tall order… I still sweat a bit in the boots but not unreasonably so. These are great boots, but they aren't two miracles that you put on your feet – you're going to have slightly damp feet after wearing leather boots outside in the Florida summer, and that's all there is to it.
The Bottom Line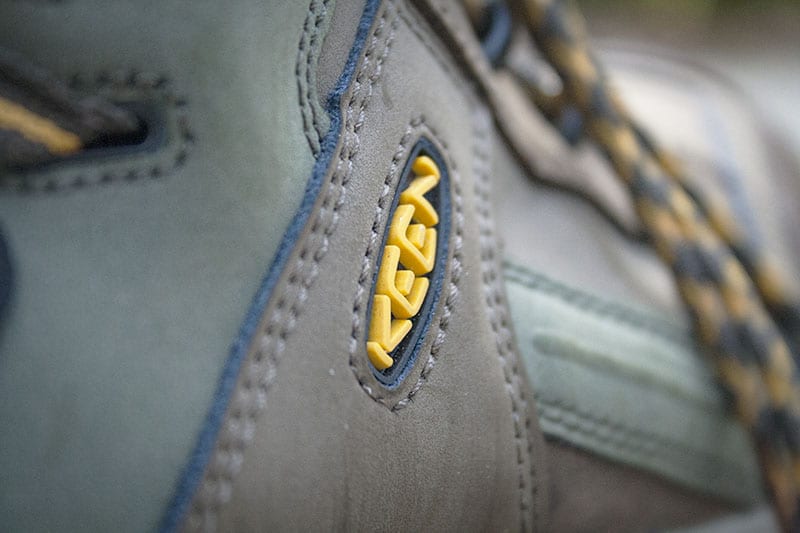 Keen Utility Davenport Mid AL Waterproof Composite Toe Boots are great, but I'd like to feel a bit more cushion in the bottom. I notice the bottoms of my feet are slightly sore at the end of the day. But they're keeping me safe and stable and that's priority number one.
They do a nice job of keeping moisture out but my feet sweat enough during the summer to have some moisture left in them. As an electrician, the non-conductive composite toe adds a layer of safety along with the non-slip outsole.
Most Keen Utility Work Boots carry a premium price that goes along with the premium materials. Keen Utility Davenport Boots are no different at $185. With all products that carry a high price point, you have to consider whether they'll last long enough to justify the additional cost. In this case, there's a good chance they'll outlast several pairs of cheap boots and fare well against other top brands. I'd like to see welting add an additional layer of durability at this price point, though.
Related Reviews
Keen Men's Davenport Mid AL Waterproof Composite Toe Boot Specifications
Item Number: 1016962
Meets or exceeds ASTM F1677-96 Mark II non-slip testing standards
Meets or exceeds ASTM F2412-11 and F2413-11 I/75 C/75 EH standards
Weight: 27.6 oz / 782.4 g
Price: $164.50 – $190