Having recently moved to a new home, the previous owners had let the landscape and lawn sort of return to the way that nature intended. What should have been trimmed grass in the back section near the drainage easement looked more like a jungle. I could not even tell if there was a drainage ditch under it at all. The closest grass had been trimmed around the trees. Shrubs had been "trimmed" with a zero-turn mower by a guy rushing to move on to the next lawn. I planned to see if the Makita EM2650LH 4-stroke string trimmer could get me straightened out.
If you're in the market for a new straight shaft string trimmer, Makita might not be the first company that comes to mind—unless you're a Pro who's been paying attention. It certainly wasn't what I was thinking. After using it for several weeks, I can say that it should be moved towards the top of your list. The new Makita EM2650LH 4-stroke string trimmer is just one part of a new generation of outdoor power equipment that warrants serious consideration.
Editor's Note: Check out our best gas string trimmer article for our top recommendations.
First Impressions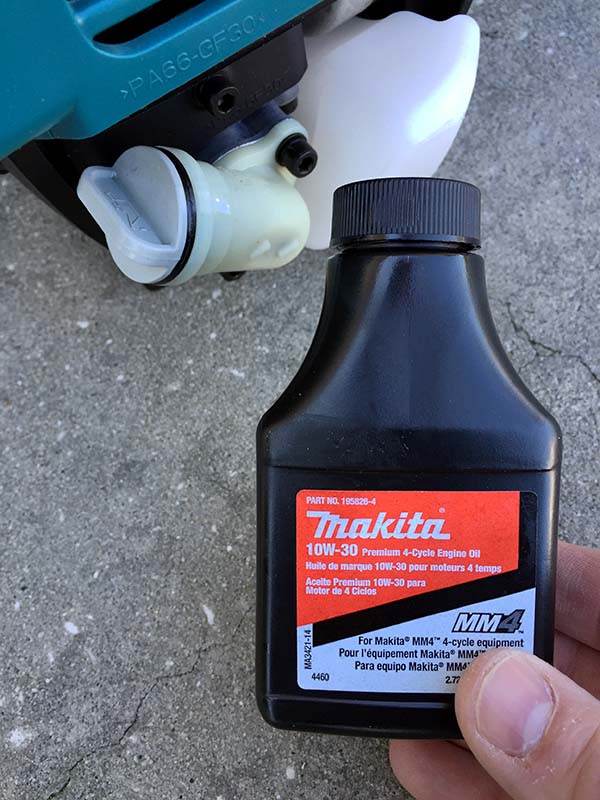 The Makita EM2650LH 4-stroke string trimmer arrived at my shop in its regular retail box. The trimmer comes fully assembled except for the D-handle, string guard, and the bump-and-feed trimmer string head. As you'd expect, there's no need to assemble the engine to the shaft or any other major components.
There is one other key component included that didn't come with my old 2-stroke trimmer (I lent it to a friend, and he failed to put the right mix into it—as a result, he got to keep it), and that was the engine oil. Yep, this is a 4-stroke motor, and it takes good old 10W-30 SAE motor oil. Only a scant amount is needed. Just the same, there is an oil fill cap and a crankcase drain plug.
Having thoroughly read the instructions, I assembled the parts that needed to be added to the tool, installed the bump-and-feed trimmer string head, and dumped the little bottle of oil into the crankcase. I fueled it with standard grade gas from my local Shell station, though I hear ethanol-free gas is probably a better choice for long-term use. I moved the choke lever up, primed the carburetor bulb, and gave the pull cord a yank. There was a little pop. I moved the choke down, gave the pull cord another yank, and the engine sprung to life. Two pulls is all it took to start this baby out of the box!
Well-Balanced Ergonomics
The eye-openers didn't end there. I found that when holding the handle on the shaft (where the throttle control is), the natural balance of the tool is perfect with just a little basis towards the string head (which is where you want it). With your second hand on the D-handle for control, trimming vegetation is a well-balanced and simple task.
Fully fueled up, the trimmer weighed in just shy of 13-pounds. This puts this 4-stroke tool in the same size/weight neighborhood as its 2-stroke brethren.
Some Initial Concerns About 4-Stroke Motors
The convenience of not having to mix fuel and oil was an initial draw for me, and it only got better. My past experience with manufacturers that tried to use 4-stroke engine technology for outdoor power tools are such that the size of the engines became an issue in relation to the power-to-weight ratio of similar 2-stroke models. No Pro wants to carry a heavier tool than they have to, especially when the workday lengthens, and the heat rises during the summer…and summer in Florida is hot.
Editor's Note: See our article on 2-cycle vs 4-cycle engines.
There's also the issue of having oil in a crankcase and what happens to lubrication if the tool is used in ways that are less than optimal (which we know never happens). There's also the concern of storing a 4-stroke tool. If it is not sitting "just so", the oil can drain out past the piston into either the carburetor or out the muffler, making it nearly impossible to start.
Comparing Power
My landscaping friends asked how much power the Makita EM2650LH 4-stroke string trimmer had. The reason is that the typical assumption is that 4-stroke engines are about half as powerful a comparable 2-stroke models. This paradox might have been true at one time before the technology was available to squeeze out all the power possible. I've used a lot of 2-cycle trimmers in the past, and I wanted to display some data comparing a couple of manufacturers' products. In particular, I was interested in professional-grade tools with similar characteristics. This is just one company, but I found similar results from other manufactures as well:
Specifications
Makita EM2650LH
(4-stroke)
Stihl FS 94 R
(2-stroke)
Displacement
25.4 cc
27.2 cc
Power
1.1 hp
1.2 hp
Weight*
10.9 lbs.
10.6 lbs.
Fuel Capacity
20.3 oz.
11.5 oz.
Cutting Swath
17 in.
16.5 in.
* Dry weight without cutting attachments or deflector.
A quick glance at this table shows some very interesting things. The biggest difference is in the displacement with the 2-stroke being larger. Yet the smaller displacement Makita only has 0.1 less horsepower. With the 4-stroke naysayers telling us that 4-stroke engines are larger, the Makita trimmer only weighed 0.3 pounds more total than the 2-stroke model.
Sipping Fuel
It's worth mentioning that the fuel consumption is also much less with a 4-stroke engine. Given that the tank is nearly twice as big on Makita's, you can do a whole lot more trimming between refueling. Makita's 4-stroke engine technology has caught up with the small size, power, and weight benefits that 2-stroke engines have traditionally brought to the market. Add in the super low emissions and low fuel consumption, and it seems to me that going 4-stroke has finally come full circle. It's not surprising that such fuel-savings and emissions-friendly features have come out of a company whose U.S. base of operations is in California.
Performance
There are a lot of things going on behind the scenes with this string trimmer. Starting and restarting the engine is easier and quicker thanks to the Mechanical Automatic Engine Decompression System. While I wasn't able to tear open the tool to visually inspect how this system works, the ease in which I was able to consistently start the trimmer reveals that it's not just a marketing gimmick.
Hidden from view is the multi-position lubrication system that enables the engine to be inclined to any angle, even during continuous operation. I experimented with this extensively by running the tool on its side as an edger around the driveway and sidewalks. And, in a "don't try this at home" moment, I ran it for a period of time upside down as well (you know, to trim the Spanish Moss dangling from my live oaks). Not once did I notice the engine sound change or any smoke from the exhaust that would indicate there was an issue with oil making its way into places it shouldn't be.
Oil and Storing the EM2650LH Makita String Trimmer
Unlike my past experience with 4-stroke handheld power tools, the Makita EM2650LH suffered none of the negative aspects I had encountered previously. One of the big issues is storage and what happens to the oil inside the engine. The manual discussed storing the tool horizontally (which makes sense as most landscape trailers are set up this way).
In my shop, horizontal space is limited, so I followed the directions and propped my trimmer up in the corner with the engine down and the trimmer head up. Makita specifically states not to store the tool with the engine up and the head down, as this can result in oil leakage. When I stored the trimmer vertically, I didn't experience any leakage, nor did I have any starting problems when it came time to manicure my yard once again.
MM4 Engine Technology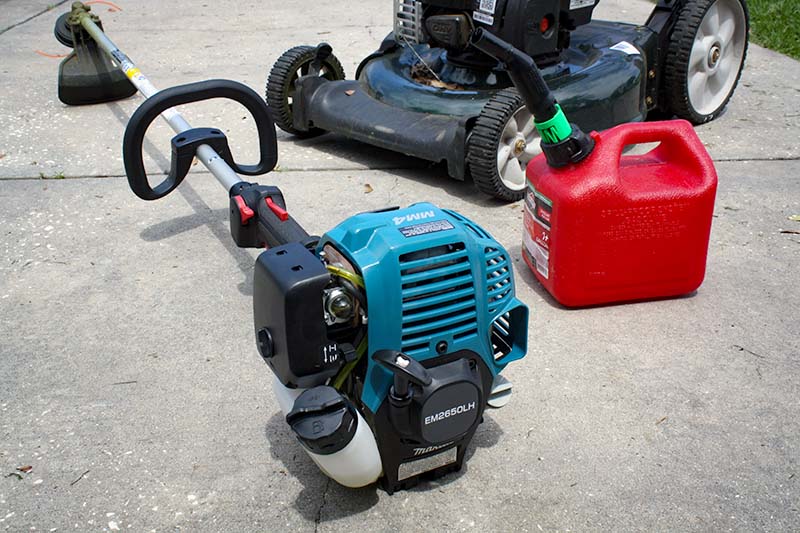 The Makita Mini 4-Stroke Engine (MM4) on the EM2650LH features high fuel efficiency and clean exhaust emissions. In fact, the emissions are about ten times lower when compared to a conventional 2-stroke engine. There's also a huge boost in fuel efficiency compared to 2-stroke models—consumption is about 40% less.
This means more run time between tank refills. And speaking of tank refills, you can now share the same fuel with your mowers and not have to mix gas. This should come as a huge advantage as fuel mixes can vary, and it eliminates the potential that one of your friends or crew members might not refuel with the correct mixture. It's also a whole lot less expensive.
Aside from the internal engine advances, there are many other features throughout the tool that enhance its performance and usefulness. The included trimmer head is a high capacity, easy loading, bump-and-feed style that comes pre-loaded with string. I have yet to experience any string feed problems, and it holds up to .095 in. line.
Low Vibration
The shaft and driveshaft are both steel which helps negate vibrations and should yield long-term durability. The D-handle position was easily adjusted for a perfect fit. The two-finger trigger is large which I found helped minimize fatigue, and the shut-off lever is manipulated with a simple flick of the thumb.
When it comes to maintenance, the Makita EM2650LH 4-stroke string trimmer uses a heavy-duty, dual-stage air filter, and the oil fill and drain plug can be accessed easily. There's even an oil-level view window and a translucent fuel tank, so you know exactly where you stand at all times.
Felt vibration was minimal. Even after extended use, I did not feel fatigued. Also noticeably better than my previous trimmer was the noise level. While it's always commendable and recommended to wear both eye and ear protection, we all know that ear protection is sometimes neglected. This new 4-stroke Makita is nearly 7 dB SPL lower than their previous generation 2-stroke string trimmer. That's approaching half as loud.
Power to Spare
On paper, the 25.4 cc engine is below where most commercial 2-stroke models come in. Add in that 4-stroke engines tend to have lower power thanks to the engine cycle, and this may be what turns some Pros away. However, I feel the Makita EM2650LH has power to spare for this class of engine. Trimmers also require more speed than power, and most users will be surprised at how well a tool like this cuts when it has the required torque.
Makita EM2650LH 4-Stroke String Trimmer Specifications
Model: Makita EM2650LH
Engine Displacement: 25.4 cc
Engine Power: 1.1 HP
Cutting Capacity (diameter): 17 in.
Max line diameter: .095 in.
Fuel Type: Unleaded gas
Fuel Tank Capacity: 20.3 oz.
Oil Type: 10W-30
Crank Case Capacity: 2.7 oz.
Overall Length 69-1/2 in.
Dry Weight: 10.9 lbs.
Warranty: 1-Year
Final Thoughts
I love tool innovation, and the new Makita EM2650LH 4-stroke string trimmer shows off quite a bit. It was not at all what I had tentatively expected from a 4-stroke engine. I felt like I was using a 2-stroke trimmer because of how light and agile it felt. Even the engine is fast-revving, and it never lacked in power for the tasks I put it through.
The one downside is the 1-year warranty. Some of the competition has better warranties, even when used in commercial applications. Distribution is fairly limited as well. You'll have to search your area to find a retailer nearby or online. Still, this new generation of outdoor power equipment from Makita deserves serious consideration, and it proves that 4-stroke can bring the power of 2-stroke while adding some major benefits in the process.