Last Updated on July 11, 2023
Milwaukee Adds Packout Solutions to Transform Your Shop or Garage
We loved adding Milwaukee Packout wall mounts to our shop to make better use of the space we have and see what's inside each box more easily. The Packout team has taken the idea of shop customization and run with it on a wider-reaching scale than they hinted at initially.
Milwaukee Packout Shop Storage and Customization | The Big Deal
With storage systems such as Ryobi's Link and Hart's storage rail systems making waves, we wondered if any of the premium professional brands would see value in adding their own flavor. Milwaukee responded with a resounding "Yes!" with a Packout shop customization system that's genuinely impressive in scope.
The system adds more than 20 new products, starting with Packout wall mounts as the foundation. We now have the original wall mount, one that's 1/2 the size, and one that's 1 1/2 times the size. In terms of capacity, the compact mount can support 50 pounds, the standard holds 100 pounds, and the large plate holds 150 pounds.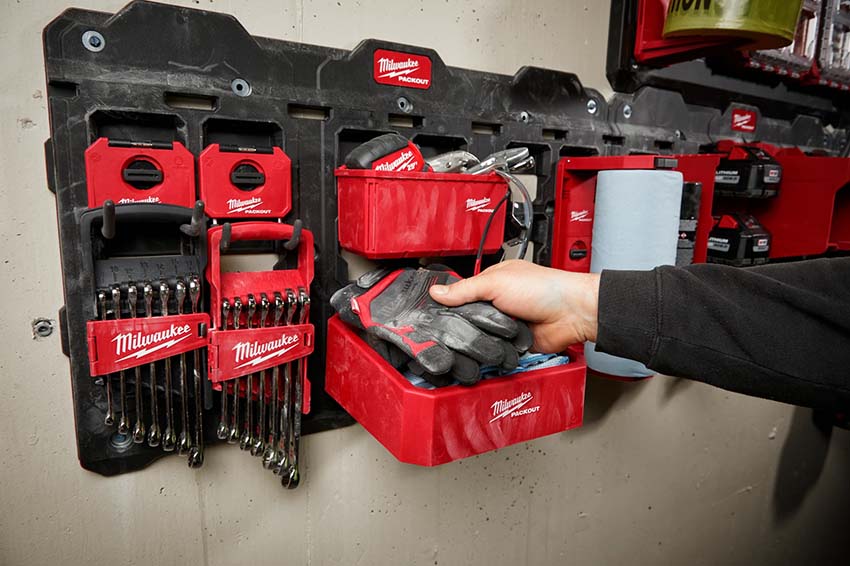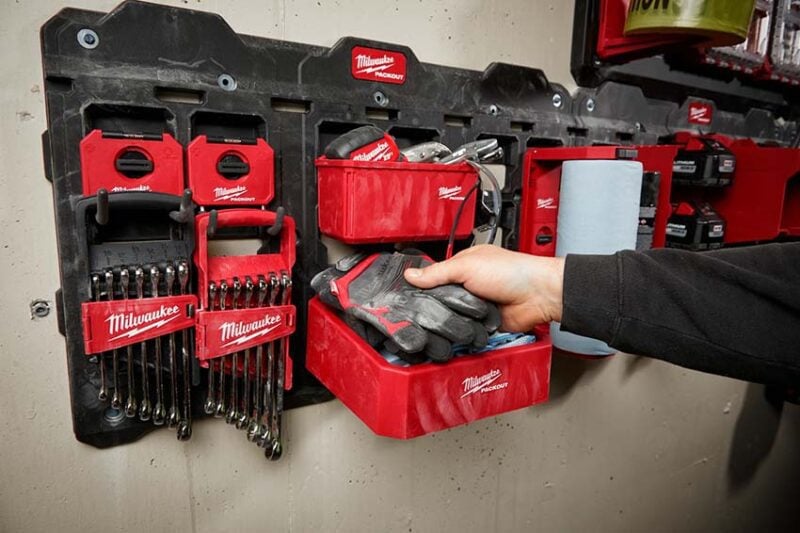 Add in the new pieces listed below and you can customize your shop, garage, or work area in a much more versatile way. In addition to the hooks, racks, and bins, several additions made us open our eyes a little wider. Battery racks specific to M12 and M18 batteries are a welcome addition while the power tool rack is great for easy access. Then there's the cabinet that's the envy of everyone else in our office who installed other systems.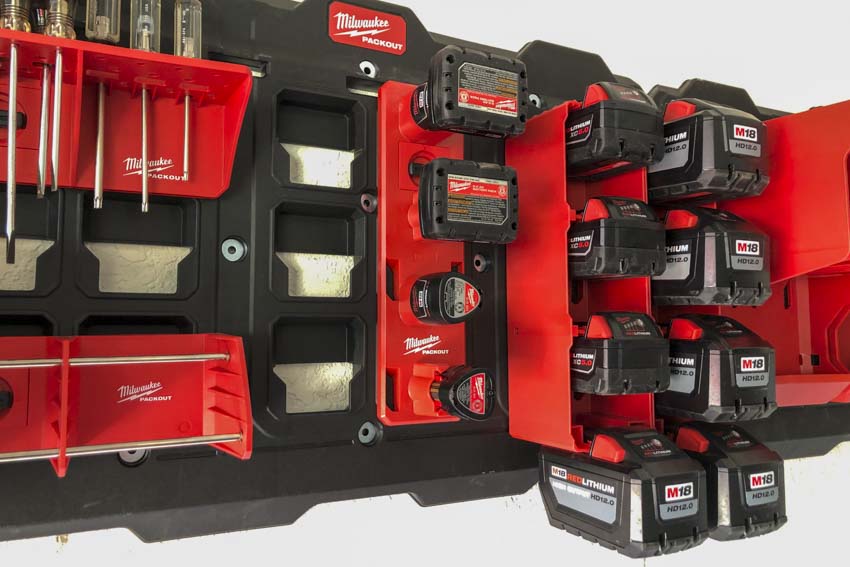 Of course, every wall plate is still compatible with Milwaukee Packout toolboxes, crates, the radio, the LED work light, and other Packout products.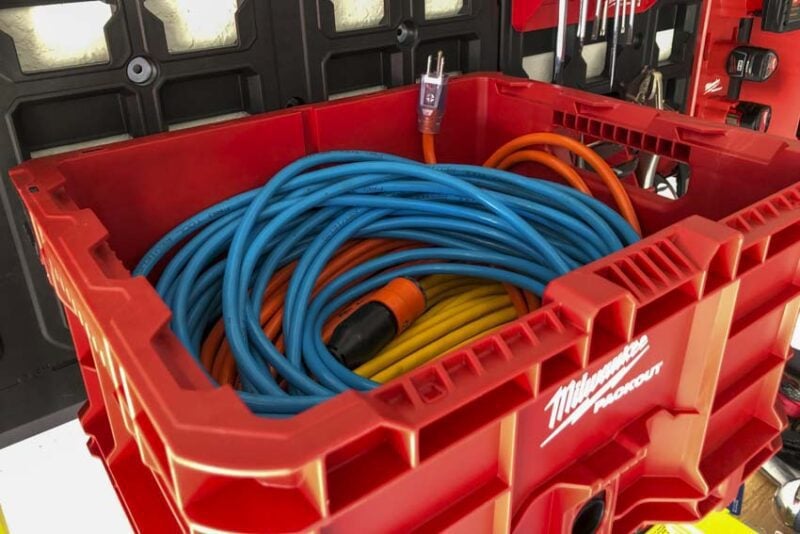 Milwaukee Packout Shop Storage and Customization Makeover
Plate Installation
I was the lucky winner in our office and happily made my garage available as a testing space for the new system additions.
First of all, if you haven't installed the wall mounts yet, it's not a particularly complicated process. Take the time to get the first mount set correctly, and the others are very easy to install from there. In fact, of the four wall organizer brands we've installed so far, I think Milwaukee's wall mounts were the easiest overall to install.
A Quick Note About Concrete Fastener Selection
My Milwaukee Packout wall is in concrete block and there was surprisingly little information to help with fastener size. There's a video that says 1 x 1 1/4-inch concrete fasteners, but that's not correct. I tried a couple of different sizes and found that 1/4 x 2 1/4-inch gave me the security I was looking for with a head size that works well with the wall plates' reinforcement washers. You can probably get away with 1 3/4-inch, but 1 1/4-inch is definitely too short.
Pro Tip: For an installation when you don't need the concrete fastener tops to sit flush, hex heads are easier to work with than Phillips or slotted heads.
As for the installation itself, I used a green cross line laser to get my vertical and horizontal orientation correct without having to manage a level along with the plate and pen. Note the hole size on the plates is somewhat small, so you need a thinner pen/pencil to mark your drilling location.
Once I had the first plate up, the rest went very quickly. The interface on each side offers a little bit of wiggle room, but not a ton. By lining up my laser through the center of the top holes, I was able to mark, drill, and install each subsequent plate quickly.
Accessories
Each of the Milwaukee Packout shop storage and customization accessories is super-easy to install and move around. Some simply seat directly on the mounting points while others have a knob to twist and lock in place. Because it's so simple, you play with different orientations until you get the function and look you're going for.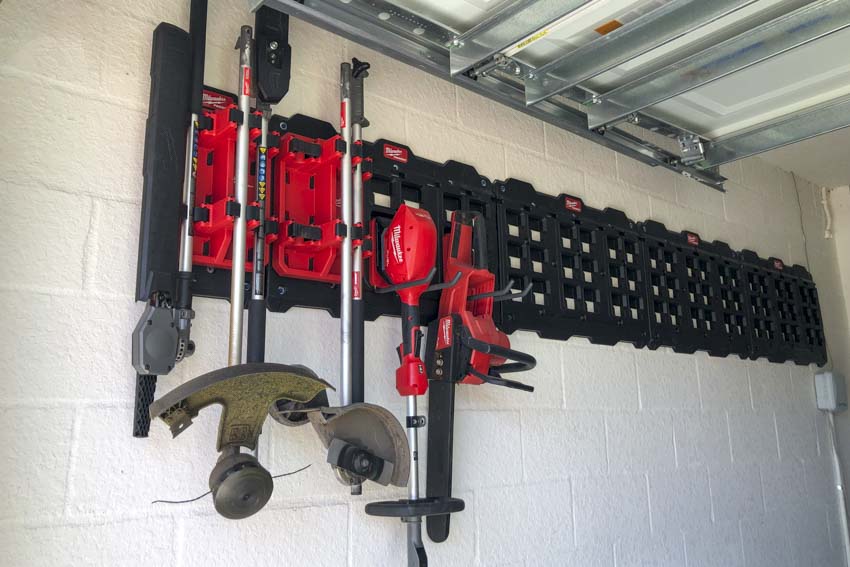 Some of the accessories are obvious in their function. However, there are some that make customizing your Milwaukee Packout wall better than other options:
M12 and M18 battery holders: batteries click into place and can easily go from storage on your wall to the top of your Packout stack when it's time to go to work.
Paper towel holder: simple, yet absolutely necessary.
Long handle tool holder: absolute game-changer that I'm using to keep my M18 Fuel Quik-Lok system organized.
Cabinet: there are SOOOO many ways to use this!
Tool station: slides pistol grip tools upside down with room for larger tools (think circular saws) to sit on top.
Crate: my extension cord storage has never been easier.
Milwaukee Packout Shop Storage and Customization Price
Mounting Plates
48-22-8487 PACKOUT Large Wall Plate: $39.97
48-22-8485 PACKOUT Standard Wall Plate: $29.97
48-22-8486 PACKOUT Compact Wall Plate: $19.97
Shop Customization Accessories
48-22-8445 PACKOUT Cabinet: $139.00
48-22-8330 PACKOUT 9-inch Straight Hook: $19.97
48-22-8334 PACKOUT 4-inch Straight Hook: $12.97
48-22-8331 PACKOUT 6-inch Curved Hook: $19.97
48-22-8335 PACKOUT 3-inch Curved Hook: $12.97
48-22-8333 PACKOUT 4-inch S-Hook: $14.97
48-22-8332 PACKOUT Wide Hook: $19.97
48-22-8349 PACKOUT Long Handle Tool Rack: $39.97
48-22-8343 PACKOUT Tool Station: $39.97
48-22-8339 PACKOUT M18 Battery Rack: $24.97
48-22-8338 PACKOUT M12 Battery Rack: $19.97
48-22-8340 PACKOUT Tool Rack: $14.97
48-22-8341 PACKOUT Screwdriver Rack: $14.97
48-22-8347 PACKOUT Compact Shelf: $19.97
48-22-8337 PACKOUT Roll Holder: $24.97
48-22-8336 PACKOUT Organizer Cup: $12.97
48-22-8063 2PK Large Bin Set for PACKOUT: $14.97
48-22-8063 2PK Bin Set for PACKOUT: $9.97