So you're about to show up on the jobsite for your very first day of work. Maybe you're young and the construction industry is completely new to you or maybe you're coming in from a different trade. Suddenly it hits you—I don't want to look like a total newbie on my first day! So what are the top 5 cordless drill accessories every Pro must own?
We cover everything from the best drill bits to driver bit sets and nut drivers. Even if you already have 10-20 years in construction, our recommendations come from having hand-tested dozens of different products.
Twist Drill Bits
It goes without saying that every Pro should own a good set of drill bits. But that's kind of the catchall phrase. What most people mean when they say drill bits are the standard twist bits we use in our drills for creating holes in wood or metal. Many drill bits are made from steel and feature a black oxide coating. These are great for general tasks, but are inexpensive and need to be replaced frequently.
For the professional, two popular upgrades are worth your hard-earned dollar. The first is titanium bits. Titanium is also a bit of a misnomer—at least for OCD chemists who will tell you that it is actually a titanium nitride coating. This ceramic material increases hardness and creates a thermal barrier which gives the bit longer life in tough materials. These might be the best drill bits for metal if you factor in the budget. They do really well for drilling in wood, iron, steel, aluminum, and magnesium among other metals.
However, since the titanium drill bit only uses titanium coating, it will eventually wear off and need to be replaced. This is the base with everything from Bosch impact titanium bits to Milwaukee Red Helix bits.
When you need to go through tough materials like cast iron and stainless steel, it's time to turn to cobalt drill bits. Cobalt is an additive in the metal that is used to produce the drill bit, so its characteristics are throughout the entire bit as opposed to just a coating over the top of it. Of course, they also work fine in wood and other metals. Cobalt bits come at a higher price point, so you'll want to pull them out only when you need the very best drill bits for metal applications.
Some of Our Favorites
Spade Bits
You reach the end of a standard twist bit's capacity—somewhere around a diameter of half an inch. After that, turn to spade bits to make bigger holes. These paddle-shaped bits typically have a brad point or a self-feed tip to get the hole started under control. From there, it shaves the wood out, creating larger chips that the paddle's design will then eject from the hole.
Many professional-level corded drills are capable of running spade bits up to about an inch and a half. However, you'll need to check the ratings on your cordless drills. Often, these are only rated to handle spade bits up to an inch or an inch and a quarter.
Some of Our Favorites
Hole Saws
Beyond the capability and capacity of spade bits, you'll find hole saws. Hole saws use a pilot bit for a controlled start and then a wide cup to cut out a hole up to six inches in diameter. Several types of hole saws currently exist on the market. Which one you buy depends on your budget and need.
You've got general-purpose bi-metal hole saws that work for both metal and wood. Carbide hole saws with 2-4 teeth provide excellent wood-drilling and also tackle the occasional buried nail. They also do much better when drilling through cement board, shingles, plaster, and stucco. Thin-wall metal hole saws do great for putting holes in sheet metal—a favorite for electricians. They also typically work with impact drivers thanks to their hex shanks.
Last, but not least, diamond-coated hole saws take care of anything from porcelain and ceramic tile to granite and other stone material.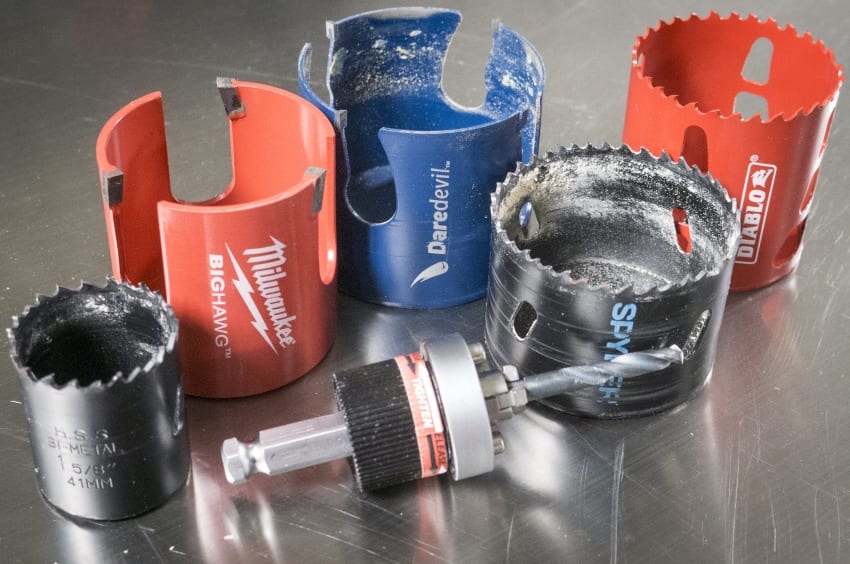 It's important to know the limitations of your drill when using a hole saw. For cordless drills, you'll often need to drop into low-speed in order to use hole saws more than about two inches in diameter. It's also not uncommon for a cordless drill to have a hole saw capacity of fewer than three inches.
Our Recommendations
Driver Bit Set
For most Pros, the drill is used to create holes and the impact driver is used for driving screws and other fasteners. However, sometimes you only have one tool with you. Often, it's a cordless drill. In that case, you want to have a good driver bit set on hand. You'll want to carry driver bits at least two inches long so they don't get lost in the chuck as you tighten it down. This also gives the chuck more surface area to grab so the bit won't slip.
It's also easy to use the common one-inch bits by employing a magnetic bit holder. Some driver bit sets come with a magnetic sleeve that will hold a screw in place while you start the drive.
You can get impact-rated bits if you really want to, but it's not always necessary. They're optimized for an impact driver fastening into metal. Standard bits are just fine for work in wood and can often outperform the impact bits in that use. Be sure to grab a set that includes square and Torx bits in addition to slotted and Phillips sizes.
Check Out These Options
Nut Drivers
Nut drivers are invaluable for applications where you would normally turn to use a wrench by hand. They'll help you easily tighten or loosen a nut or bolt when using a wrench would require so much force that you're likely to bang your knuckles in the process.
They're helpful in a lot of applications around the jobsite, but they do have limitations. Understand that most nut drivers as a drill accessory are going to be fairly shallow. In most cases, your limit will be less than an inch of depth. They're also going to do their best work in wood. Use an impact driver when bolting down against metal.
The Bottom Line
Top 5 Cordless Drill Accessories Every Pro Must Own
Twist Bits
Spade Bits
Hole Saws
Driver Bit Set
Nut Drivers
So now that you know the top 5 cordless drill accessories every Pro must own, go out and make sure you look like a Pro on your first day! While these are great for general construction, every trade is different. What's on your Top 5?
Tell us about it in the comments below or hit us up on Facebook, Instagram, or Twitter!