Last Updated on August 16, 2022
Milwaukee announced its M12 FUEL brushless tools at a media event back in 2012. In 2013 we reviewed one of the earliest samples in the very first print issue of the limited-run Pro Tool Reviews Magazine. These were the industry's first brushless 12V tools to hit the market, and it didn't take long before other manufacturers took note. Fast forward to 2017, and the company announced the release of, among other things, an updated Milwaukee M12 FUEL impact driver and Milwaukee M12 brushless hammer drill. Both make for welcome additions to the FUEL line of tools, and both deliver much-needed size reductions.
Is 12V About Power or Size?
At about the same time the original brushless M12 impact driver and other tools were announced, DeWalt released its DCF895B 20V Max brushless 3-speed impact driver. Why was this significant? Well, the 12V Milwaukee FUEL was priced lower and weighed just 1 lb 14 ounces, but the 20V DeWalt DCF895B was a full 3/4-inches shorter in length!
Fast forward to today, and the new Milwaukee FUEL 1/4" impact driver (2553-20) shrinks its length down to just 5.1-inches. It's finally shorter and also shaves 1.2 ounces off the weight. It's been a long time coming, but Milwaukee seems to have found the special sauce for a ripe combination of size and strength in its M12 drills and drivers.
See our article on Drill vs Impact Driver and Speed vs Torque in drills and impact drivers
Milwaukee FUEL vs 1st-Gen Models
Let's get down to brass tacks. What you should want to know, above all, is what's changed between the first-generation tools and the newest Milwaukee M12 FUEL impact driver and M12 FUEL hammer drill. The first-generation M12 tools performed well. The Milwaukee M12 hammer drill came in third in our best 12V cordless drill roundup, and the M12 impact driver won our best 12V impact driver review comparison.
Milwaukee 2504-20 vs 2404-20 Hammer Drill: Size Matters
Never mind what Yoda says in The Empire Strikes Back, size does matter. It matters quite a bit when you're choosing 12V tools to handle your everyday jobs. For me, I've found that 12V tools can tackle the same tasks 18V NiCd tools did a scant decade ago (see our article 12V vs 18V tools). With that being the case, opting for less size and weight makes for a more nimble tool belt or bag. That certainly appeals to me, though I always have my 18V tools handy when they're needed.
Viewed side-by-side, the difference in length between the original Milwaukee M12 hammer drill and the updated Milwaukee M12 hammer drill is nothing short of impressive:
Milwaukee shaved quite a bit off the length of the 2504-20 hammer drill compared to the 2404-20. We measured 6-9/16″ down from 7-3/4″. That's a 1-3/16″ reduction in length! The way they did it was to redesign the brushless motor assembly so they could inline the mode switch and clutch into the twist ring. They also moved the cooling fins to the very rear of the driver. All of this works together to save space. For weight, Milwaukee dropped 2.4 ounces. That may not sound like much, but it matters over the long haul, particularly if you're working above eye level or doing repetitive tasks.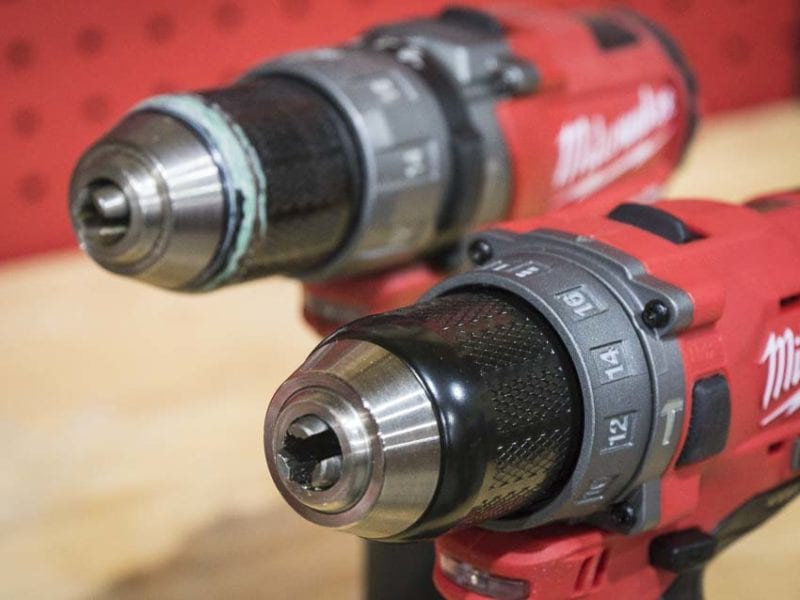 Updated Milwaukee M12 FUEL Impact Driver vs 2453-20
Looking at the nose of the new Milwaukee 2553-20 impact driver, you can see how the impact mechanism and chuck are set further back towards the brushless motor. The fact that Milwaukee did this while increasing torque by 100 inch-pounds testifies to the apparent soundness of the design. The 0.9" reduction in length also makes for a much smaller footprint on the new FUEL impact driver. Since Milwaukee re-centered the mass, it still feels quite comfortable in the hand.
While the space savings on the Milwaukee 2553-20 impact driver is significant, Milwaukee didn't stop there. They also added a 4-mode drive control which offers a bit more flexibility in speed and torque control. In addition to having three speeds, the Milwaukee 2553-20 impact driver also adds a Self-Tapping Screw Mode. In this mode, the tool will drive at full RPM until the impact mechanism is engaged. Then the tool slows down the RPMs to allow for better control as you drive the screw the rest of the way in. It's designed for fastening metal so you don't sheer the head off by driving too fast.
Milwaukee opted to keep the same raked angle on both their M12 FUEL impact driver and brushless FUEL hammer drill. That means your grip won't change, and the balance—which we already felt was good—remained excellent. The new M12 tools ship with either one or both Milwaukee RedLithium 2.0 or RedLithium 4.0 XC battery packs. Our 2-piece kit came with one of each. That kit (2598-22) is priced at around $229.
Build Quality
The build quality of these new tools is excellent as far as we can tell. Within the stator on the Milwaukee 2553-20 and new 2504-20 hammer drill, for example, you can find a large 7-point star-driveshaft that moves the gear assembly. All of the PCBAs (printed circuit board assemblies) are securely nestled into the glass-reinforced nylon body. That includes the mainboard and selector switch assembly. Having experienced more than one assembly line where products like this are made, the wiring assemblies and "trap" locations seemed intelligently placed to keep them from moving parts. The tool seems like it can take some drops and keep running. The housing cover alone uses seven 16mm T-10 Torx screws.
Milwaukee M12 FUEL Impact Driver and Drill Specs Compared
To give you a quick side-by-side on specs, here are the differences between the new tools:
| | 2404-20 | 2504-20 |  2453-20 | 2553-20 |
| --- | --- | --- | --- | --- |
| Torque | 350 in-lbs | 350 in-lbs | 1,200 in-lbs | 1,300 in-lbs |
| Speed (Low) | 0-450 | 0-450 | 0-1,200 | 0-1,300 |
| Speed (Med) | – – | – – | – – | 0-2,400 |
| Speed (High) | 0-1,700 | 0-1,700 | 0-2,650 | 0-3,300 |
| BPM/IPM (Max) | 25,500 | 25,500 | 3,550 | 4,000 |
| Length | 7-3/4 in. | 6-9/16 in. | 6 in. | 5.1 in. |
| Weight (no battery) | 2 lbs 8 oz | 2 lbs 5.6 oz | 1 lb 14 oz | 1 lb 12 oz |
What About the Milwaukee 2503-20 M12 FUEL Drill? Interestingly, the Milwaukee 2503-20 drill comes with the exact same specs and size as the 2504-20 hammer drill—just without the hammer function. Since the mode switch integrates into the clutch mechanism, you don't shave any more length off the tool.
Milwaukee M12 FUEL Hammer Drill and Impact Driver Performance
Performance matters. Carrying around 12V tools as your "everyday carry" only works of those same tools can get the job done. These can. We put both M12 hammer drills into our torque testers and measured the following:
Milwaukee 2504-20 Max "hard stop" torque: 27.1 ft-lbs (325.2 in-lbs)
Milwaukee 2404-20 Max "hard stop" torque: 26.0 ft-lbs (312.0 in-lbs)
While our numbers didn't perfectly match those of Milwaukee, the fact is—we've got a different setup than they do. It's also in flux as we build a more permanent and robust testing apparatus. Needless to say, both drills are within 4% of each other and within 7% of the manufacturer's claims. Our next test told us a bit more.
Decking and More Decking
We had a children's playground that desperately needed an update. It had a rotten wood beam and decking that you could just about put your foot through. Needless to say, it didn't pass our safety standards. Rather than replace the decking with 5/4 boards, we went straight to pressure-treated 2×6's. Grabbing the updated Milwaukee M12 impact driver and some decking screws, we set to work. It not only did a great job removing the old deck boards, it speedily drove in over a pound of new 3-inch decking screws. I like the new M12 for its better ergonomics. Both it and the former model have a good balance, but the space savings of the Milwaukee 2553-20 make it easier to fit into tight spots.
If I had one complaint about the new updated Milwaukee M12 FUEL impact driver and hammer drill it would be with regard to the belt clips. While perfectly placed for pocket-carrying your tool, the clips do get in the way during aggressive use. As a right-hander, I tend to place my left hand on the back of the tool. That puts the meat of my lower thumb right on the top of the belt clip. After a few uses, it gets rather sore. The solution—if this bothers you—is to reverse or remove the belt clip.
The new combination chuck and clutch on the Milwaukee 2504-20 hammer drill rotates easily, and speedily goes in and out of hammer mode as needed. I loved this over the separate hammer mode dial on the 2404-20. Whenever possible, I'll take fewer moving parts. The new drill is simply quick to chuck up and use.
Conclusion
The conclusion can only be that the newly updated Milwaukee M12 FUEL impact driver and hammer drill are superior to the older models in nearly every way. While power seems relatively unchanged, the increased ergonomics and features make for a tremendous upgrade. It's been roughly five years since these tools debuted, so early M12 adopters, for one reason or another, could be back on the market. Milwaukee has re-entered the 12V game with some highly-competitive tools. Add to that their extensive M12 platform and the decision to pick up either the 2504-20 or 2553-20 becomes an easy one. These tools certainly get our recommendation (for the best value, go for the combo kit).
Pricing and options: