Milwaukee is releasing another charging option for M18 battery users. The Milwaukee Dual Bay Simultaneous Rapid Charger can charge two M18 batteries at once, and Milwaukee says it does it 3X faster than standard sequential chargers.
10-Second Summary
Model Number: 48-59-1802
Capable of charging 2 packs at the same time at a rapid charge speed
Internal fan
Integrated hang holes
Compatible with all M18 batteries
80% charge indicator
Warranty: 5 years
Price: $139
What's the Big Deal?
Most of the important information that you need to know about the M18 Dual Bay Simultaneous Rapid Charger is summed up in its title. It has two charging ports, it charges both packs simultaneously (as opposed to sequentially), and it does its job quickly.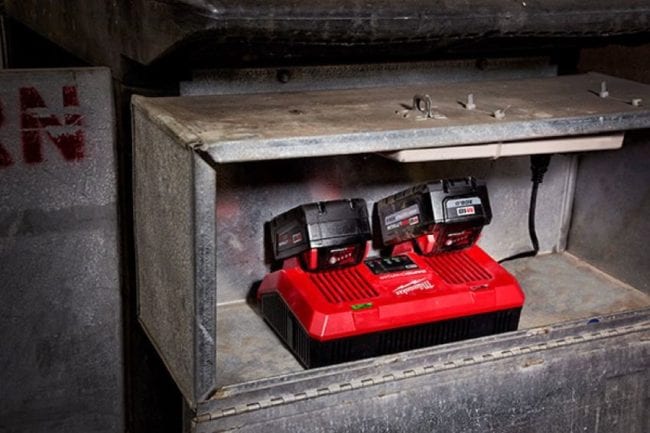 Internal software communicates with the battery software to monitor cell voltage, temperature, and charge status while an internal fan keeps the battery cool for optimal charging performance. It then determines how to best go about charging the battery to extend the pack lifespan. The result is a charger that can charge both packs 3x faster than standard sequential chargers.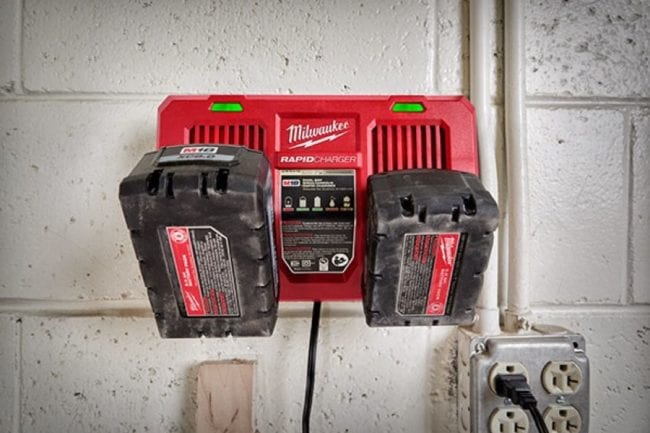 The M18 Dual Bay Simultaneous Rapid Charger works with any M18 battery pack. It features a charge indicator that flashes green when the battery reaches an 80% charge state. Integrated hang holes let you mount it to your wall, keeping your work surfaces free of clutter.
You can expect the Milwaukee Dual Bay Simultaneous Rapid Charger to hit stores mid-February 2020. The retail price is $139 and it comes with a 5-year warranty.
Thoughts on Milwaukee's Dual Port Rapid Charger
Milwaukee's list of M18 charging options is growing. You can see a list of the full inventory below. The big deal isn't the dual ports, it's the simultaneous charging. Keeping in mind that it's Rapid Charger rates, not Super Charger rates, you can charge a pair of 5.0Ah batteries in 60 minutes. That's a big deal if you're working with a power-hungry tool like a rotary hammer.
This isn't the only simultaneous rapid charger Milwaukee has. Their M18/M12 Rapid Charge Station holds up to three batteries of each voltage and charges either voltage side simultaneously. It has a bigger footprint and higher price point, though.
With the Dual Bay model, you now have the option for a single, dual, or triple bay rapid charger to go with your M18 batteries.
Super Charger
Rapid Charger
48-59-1808 M18 and M12 Rapid Charger – $79.00
48-59-1802 M18 Dual Bay Simultaneous Rapid Charger – $139.00
48-59-1807 M18 and M12 Rapid Charge Station – $199.00
Standard Charger
48-59-1812 M18 and M12 Multi-Voltage Charger – $59.00
48-59-1810 M18 and M12 Vehicle Charger – $119.00
48-59-1806 M18 Six Pack Sequential Charger – $119.00
And don't forget about the Packout Radio and Charger at $299
Milwaukee Dual Bay Simultaneous Rapid Charger Specs
Model Number: Milwaukee 48-59-1802
Voltage: 18V
Battery System: M18
Length: 10.83″
Width: 7.24″
Height: 3.62″
Weight: 3.54 lbs
Warranty: 5-year warranty
Price: $139