If you're reading this article, that probably means one of two things—either you're still trying to find the best tool gifts for the handyman in your life or you're looking for what to buy yourself with the money you make from returning the gifts you didn't like. Either way, we're here for you!
12 Best Tools Gifts for the Handyman or Handywoman
Spyder Tarantula Framing Blades
We've been using Spyder framing blades for our testing and projects all year and we're very pleased with the quality and cutting performance. They use a tungsten carbide blend for the teeth that features nickel and cobalt to improve life and reduce corrosion. Pick them up at Lowe's for $9.99 each.
Carhartt Midweight Hooded Logo Sweatshirt
There's nothing like a comfortable sweatshirt for lounging around in—even better when it's tough enough to wear on the jobsite. Grab a Carhartt Midweight Hooded Logo Sweatshirt to get the comfort you're looking for and the Carhartt name that's a recognized leader on the jobsite. Already have a favorite sweatshirt? With 14 colors to choose from, there's always room for one more. Grab one for $49.99.
Wurth Zebra PowerDriv Ratcheting Combination Wrench Set
Wurth's Zebra PowerDriv Ratcheting Wrench set is unlike most others you may have used. The closed end operates exactly how you expect, but the open end features a ratcheting mechanism as well. It's understandable to be skeptical with something that's new to you. However, we tested them and they work great! Pick up the metric set at Wurth for $81.75.
Hart 20V Cordless Sander Kit
If the woodworker on your list is ready to cut the cord on a random orbit sander, the Hart 20V cordless sander kit is a great way to get started without breaking the bank. It boasts variable speeds up to 10,000 OPM to remove material quickly with a hook and loop pad that makes switching grits quick and easy. Grab the sander with a battery and charger from Walmart for $79.
Southwire 2000-Lumen Rechargeable Work Light
Southwire's 2000-lumen rechargeable LED work light is built for the toughest environments and is high on the list of best tool gifts for a handyman. With a 1-meter drop and IP67 ratings, it can take just about anything you can throw at it. 5 brightness settings let you dial in the amount of light you need for the job at hand and a USB port even lets you share the battery with your phone. This one runs $129.99 at Acme Tools.
Ryobi HP Compact Drill and Impact Driver Kit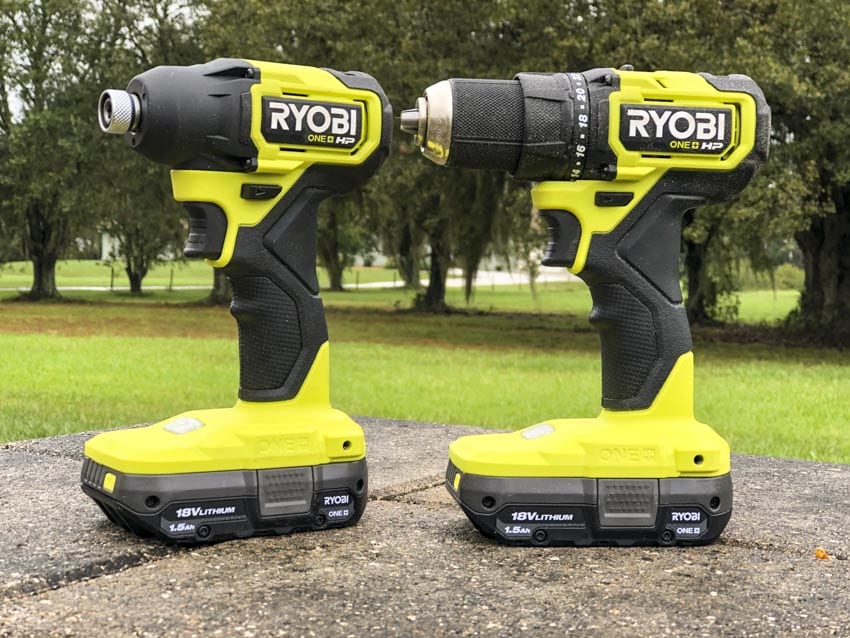 If you have a DIYer on your shopping list, they'll love the compact versatility of Ryobi's HP Compact Drill and Impact Driver kit. With a legitimately compact, lightweight design, these tools don't slouch in performance. They're a great set for any homeowner's to-do list or DIYer's weekend projects. Find it at the Home Depot with tools, two batteries, and a charger for $139.
Makita XRM11 Bluetooth Speaker
One of the most frequent questions we get—oddly enough—involves the sound quality of jobsite speakers. For small-form models, there's none better than the Makita XRM11, and it only gets better when you add more. With two, you get true stereo sound—and you can link up to 10 of them. Running on AC, 12V CXT, or 18V LXT batteries, their perfect synching and quality sound makes for a fantastic listening experience. Get them for $139.99 each at Acme Tools.
Metabo HPT "Tank" Air Compressor
Metabo HPT thinks you should expect more from your pancake compressor, and their "Tank" model is capable of running two framing or roofing nailers at the same time! It's rated for 200 PSI and produces a monster 4 CFM at 90 PSI—making it an incredibly high-performing compressor for its size and one of the best tool gifts you can get for a handyman. You can find it on Amazon for $199.
Greenworks 60V Chainsaw Kit
Whether you're maintaining trees on your property or preparing for storm cleanup, having a battery-powered chainsaw is a HUGE convenience. When you go with the Greenworks 60V chainsaw, you'll be wielding a saw capable of producing more torque and cutting speed than a 42cc gas engine powered saw, but without the noise, emissions, and hassles of a gas engine. You can find this one at the Home Depot with an 18-inch bar, 4.0Ah battery, and charger for $249.
Skil 15-Amp Table Saw
Upgrade your favorite DIYer's table saw with Skil's latest model this year. We love its rack and pinion fence system and the built-in stand. Plus, its 15-amp motor helps it perform at a level that makes this the overall best bang for your buck we've seen in a long time. Grab it on Amazon for $299.
DeWalt FlexVolt Advantage Hammer Drill Combo Kit
DeWalt's FlexVolt Advantage hammer drill is a solid performer when you pair it with a 5.0Ah battery. But stick a FlexVolt battery on it and it's like a whole new tool with drilling speeds that torched the PTR Test Track in its time trial. You can grab it as a bare tool or kit, but you can crank up the value rating even higher when you pick up the combo kit. It includes the hammer drill, the brushless impact driver, a 5.0Ah battery, and FlexVolt battery, and a charger for $299.
Milwaukee M12 Green Cross Line Laser
Milwaukee disrupted the line laser space in a big way. There are 5 models to choose from, and our favorite is the M12 cross line laser with points as a great all-around choice. It has a green beam that's easier to see than red, pivots on its plumb spot to make setup easier, and even the target card has a pattern that we found easier to see than most. Packed with a 3.0Ah M12 battery that lasts up to 15 hours, you can find it at Acme Tools for $499.
What About Other Best Tool Gifts for a Handyman?
Hammers, tape measures, and all the other basics? Yeah, we know we skipped those. We wanted to focus on some of the tools and gear that might not be so obvious and that we'd really like to receive (*hint, hint*). After all, getting the unexpected is what makes someone's face light up more than just another tie.
So those are our 12 best tool gifts for the handyman or handywoman—we hope you found it helpful! What are you hoping jolly ole' St. Nick is going to leave under the tree for you this year? Let us know in the comments below, and have a Merry Christmas!