Our Pro Guide series continues now with a spotlight on miter saws. If the table saw is the cornerstone of the workshop and jobsite, then a miter saw might well be the keystone. It can make crosscuts, miters, and bevels in trim that locks everything in place, so to speak. Although table and miter saws share some functions, you can't substitute one for the other. A miter saw performs intricate work more precisely and safely than a table saw – and does it quickly. It's so handy that it's one of those tools that every general contractor must own. So if you're buying a miter saw, let's bump up your knowledge level.
The miter saw has been motorized and electrified since the late 1970s, but its manual pedigree existed for at least three centuries before that. Carpenters would often make their own miter boxes out of scrap wood for 45° and 90° cuts. Leander Langdon introduced the first cast-iron miter box to antebellum America, and although the Langdon Mitre Box Company didn't last long, the stage was set for more durable and accurate miters.
Editor's Note: Check out our best miter saw article for our top recommendations.
Before buying, make sure you understand the types of miter saws so you match your required features and capacity. Miter saws fall into three categories: stationary compound, sliding compound, and sliding dual compound (also called double or dual bevel). As you might guess, the price increases with a saw's design sophistication. Stationary compound miter saws can make miter cuts to the right and left but bevel cuts in only one direction. Sliding compound miter saws have the added capability of moving forward and back along rails. More capable still is the sliding dual compound miter saw that can do everything the other saws can do plus bevel cuts to the right and left.
The two sliding designs are the most popular because the rails increase a blade's crosscut capacity. For example, picture a miter saw blade 12 inches in diameter. If the saw doesn't slide, the maximum crosscut capacity for a 90° cut is the blade diameter – 12 inches. Well, short of 12 inches thanks to the arbor getting in the way. But a sliding feature can increase the crosscut by several inches – up to 16 inches or so. For a 10-inch or smaller miter saw, it can get you a crosscut capacity equal to or greater than a stationary 12-inch model.
Now you might be thinking that you've seen saws that resemble a miter saw but neither miter nor bevel. You need to understand the difference between chop saws vs miter saws. You typically use chops saws with abrasive cutting wheels for metal cutting. While there are a few multi-purpose saws out there, most are either dedicated to woodcutting or metal cutting. The chop and miter saws are best considered as two separate tools given that most run at different RPM and the chop saw is sealed to withstand the hot metal waste produced during the cut.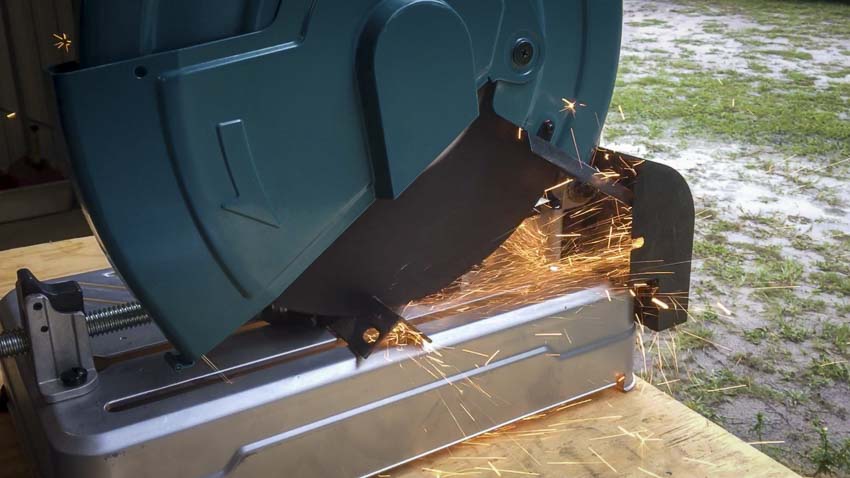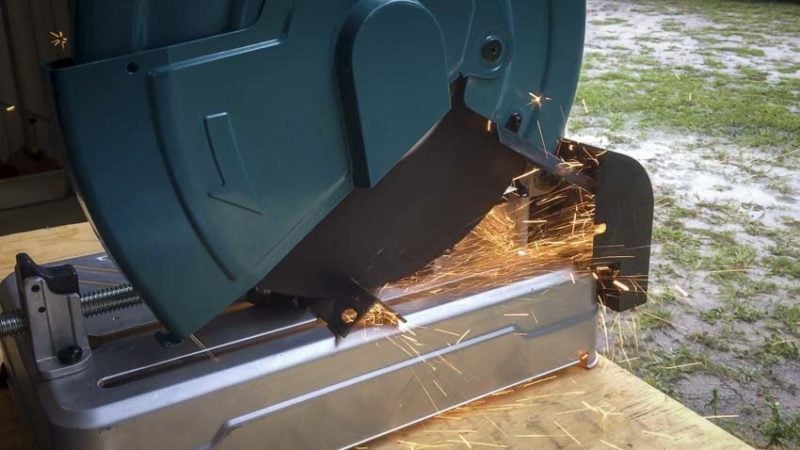 What Are Miter Saws Used For?
If you want to know what are miter saws used for—we can break that down in two directions. First, we can discuss what kind of cuts a miter saw makes in wood or other materials. Second, we can talk about the types of projects you might want a miter saw around for.
Miter was are used to make cross cuts. That means you can lay a piece of wood across the table or fence and cut it in half. Depending upon the miter saw you own or buy, that cut can be straight, mitered, beveled, or mitered and beveled (a compound cut). In a nutshell—that's the role of a miter saw. It makes accurate cuts across a piece of material (typically wood).
You don't typically use miter saws with large pieces of lumber—though you technically can. Miter saws excel when used on trim projects with 1x material or similar. Basically, if it's more work to get the material to the miter saw, then you probably want to use a good quality circular saw or similar tool (like a track saw).
When we talk about the types of projects you might use a miter saw on—we can go on for days. Cutting baseboard or crown molding benefits from the use of a miter saw. You might use these saws when making small shelves or a homemade picture frame. I used one when making raised garden beds.
Want a Battery or Corded Miter Saw?
Most miter saws are corded tools with 10-, 12-, or 15-amp motors. Consider a more powerful motor if you'll be making a lot of wide crosscuts or using hardwoods. If the saw will cut thinner trim made of pine or composite material, a less powerful motor is adequate.
But corded miter saws are no longer the only option. Viable battery-powered options like the Makita 10-inch 18V miter saw or the Milwaukee M18 FUEL 7-1/4″ miter saw give tradesmen and DIYers reason to rejoice. It's not necessary to be tethered to a cord. Today's cordless miter saws are smaller, lighter, and exceedingly useful for medium-duty and punch list work. Even better: they typically have brushless motors that offer longer life, lower maintenance, and several more benefits.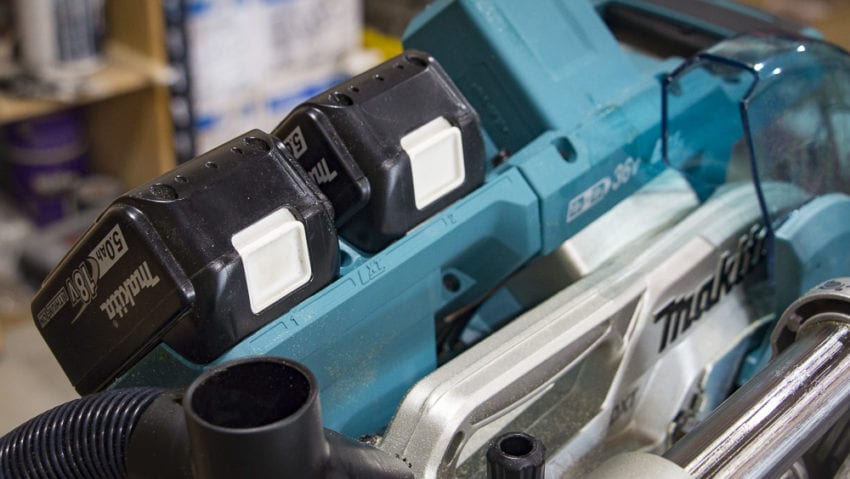 For quieter, smoother startup operation, consider a miter saw with a soft start motor.
What Type of Blade & Crosscut Capacity Do You Need?
We talked briefly about the crosscut capacity already, but there's more to be said (and we've never been short on words!). Miter saw blades have traditionally been made in 8-1/4-, 8-1/2-, 10-, and 12-inch diameters. A bigger blade diameter allows a longer cut – in other words, a bigger crosscut, miter, and bevel capability. If you intend to cut wide molding or dimensional lumber, make sure either the blade or the combination of the blade and slide capacity exceeds that width.
An advantage of the 10-inch blade diameter is the interchangeability with a table saw. You won't need to buy two sets of circular blades if you don't mind taking the time to swap the blades between your table and miter saws. The same holds true for your circular saw and cordless miter saws that use 7-1/4-inch blades. The 7-1/4-inch blades are more readily available, which is a big advantage in a pinch.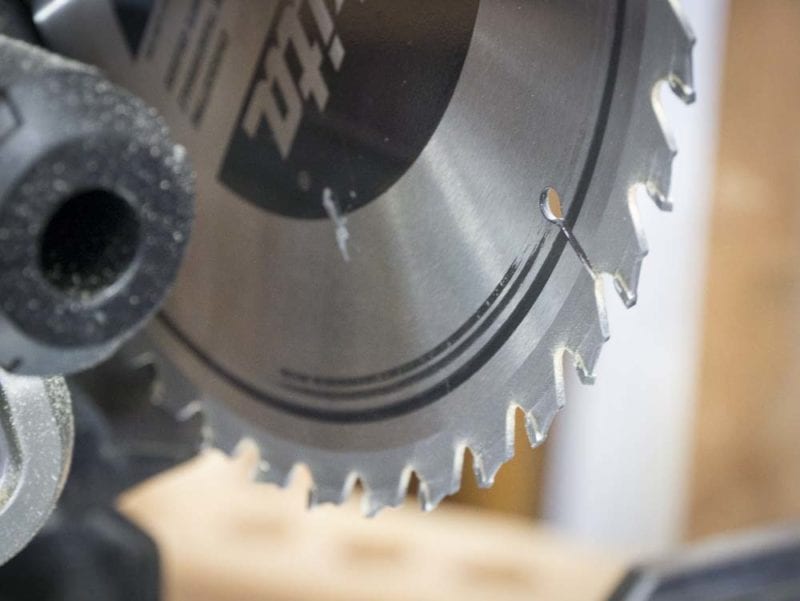 Consider a blade with a higher TPI (Teeth Per Inch) for cuts in hardwoods or clean finished cuts in any material. The higher the tooth count, the finer the finish. No matter what you choose, make sure to replace the blade when it dulls – it's safer and much easier on the saw's motor.
Pro Tip: High tooth count blades cost more than low tooth count, but the best can eliminate the need to sand the edges of your wood.
Buying a Miter Saw with the Right Detents & Capacity
There's some variability in the maximum miter and bevel ranges but all saws will be able to cut 45°. You'll find some compound saws with a 48° range and some dual compound saws with asymmetric ranges like 50° to the left and 62° to the right. There are some tricks of the trade for cutting odd angles, but that's beyond our scope here. For nearly all intents and purposes, except for some odd angles for skilled carpenters, any miter saw will have the necessary angle ranges.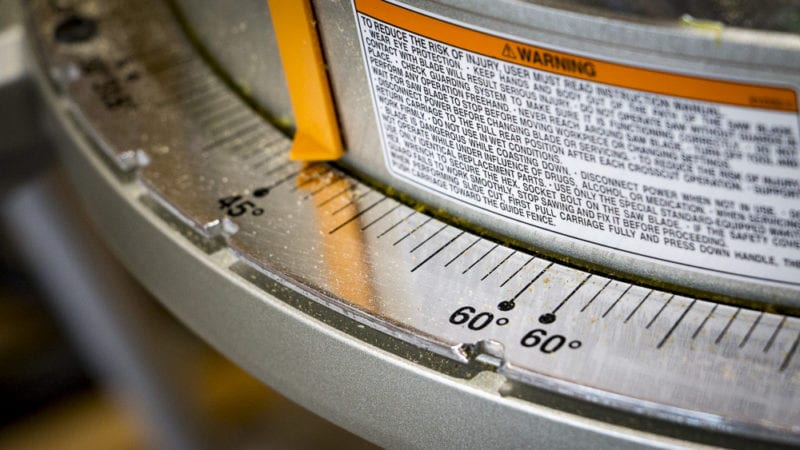 We recommend saws with positive stop detents – which is almost a standard feature, anyway. A detent is a mechanical catch that locks a machine's movement until it's released. In this way, there's no guesswork about accurate angles. Miter saws should have detents at the most common angles: 90°, 45°, and 22.5° at least. Look for a saw with an easy, smooth detent override that allows you to move the saw without the detent engaging each positive stop along the way and back. Saws will likely have fewer bevel detents (and some have none), but it's nice to have them at least at 0° and 45°.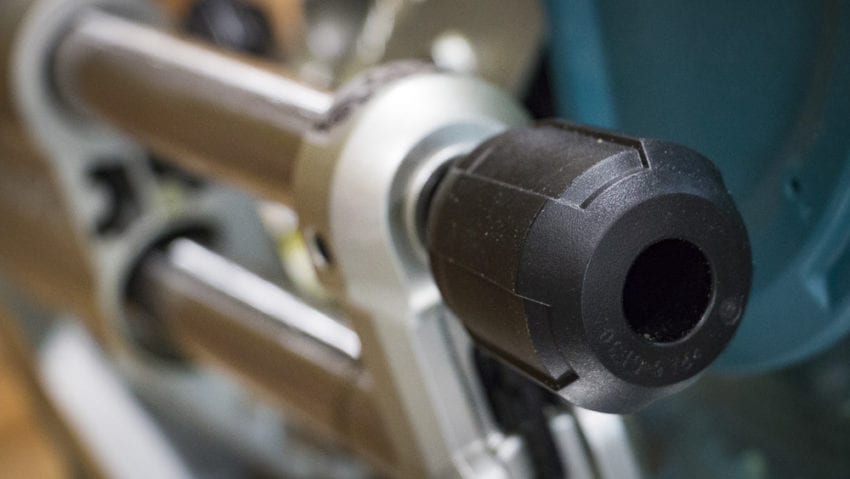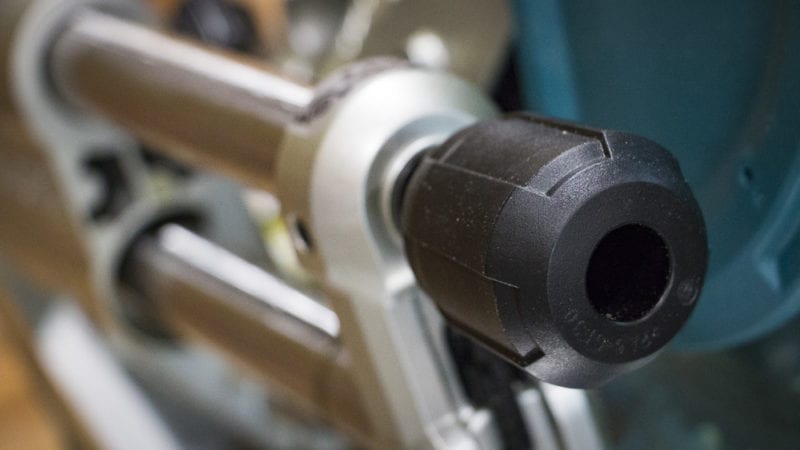 Pro Tip: More miter saws are moving to front-mounted bevel adjustments. They're much more convenient than reaching around to the back.
Laser or LED Shadow Cut Guide
For years, miter saws have used a laser beam to mark the blade's path across the material. It's a premium feature, to be sure, so not every saw has it. Although they work reasonably well, they certainly don't make accurate cuts foolproof. First, the red laser diode isn't tied to the blade, so it's possible it can be off by a hair. We've had saws that would leave our cuts 1/8-inch short if we didn't know the blade cuts to the right of the laser line.
Of course, the diode can just malfunction and not shine. But perhaps the biggest drawback is the one we associate with red laser levels in bright light – they are quite hard to see. And the miter saw often sits outside, seriously diminishing the cut line's usefulness. It's the reason some premium laser levels now use green diodes – they are easier to see – but they are much more expensive than red diodes.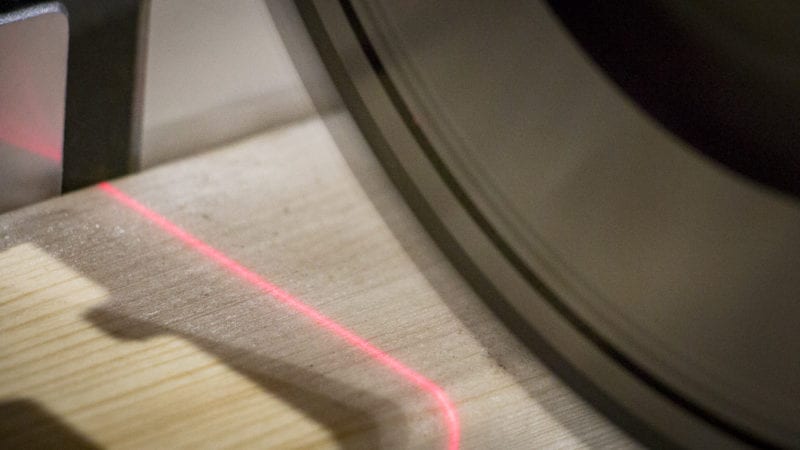 So is there a solution? Well, yes, and perhaps ironically, it's a lot less sophisticated than a laser. Several saws now are using an LED light to cast the blade's shadow onto the material. Since the blade creates the shadow, it's always accurate. Although the LED could go out, it's easy to see a shadow even on the brightest of days.
Fences and Material Supports
The miter saw's fence keeps the wood secure during the cut. Always, always be sure the material is firmly pressed up against the fence. Failure to do so is quite dangerous as the saw blade grabs the material and violently jerks it toward the fence. We've seen smaller stock go airborne with less experienced users.
Fences come in different heights and some even slide out to extend support for longer pieces. If you plan to cut tall crown molding or other tall stock, opt for taller fences for maximum support. And speaking of support, material supports on either side of the table are helpful for flimsy stock. But they are limited compared to the extension supports found on devices like the Milwaukee folding miter saw stand, which we'll discuss in a moment.
Did we mention that the stock should always be firmly against the fence?
Don't Forget Dust Extraction!
You'll rarely—if ever—see a dust extractor (vacuum) attached to a miter saw during the framing process. Rough cuts, likely made outside, throw sawdust out of the dust shoot and into the dirt. It's not particularly neat and tidy—but it doesn't need to be.
But miter saw cuts indoors—in your shop, garage, or a customer's place require a dust extractor. It's not just for the mess a dust extractor prevents—it's for the safety of anyone who will breathe the air. Besides being immediately unpleasant, inhaled particles are hazardous to the lungs over time. Oh, and have you ever noticed that sawdust is slippery? Weird, we know. But it's best to keep it off the floor and out of the air.
Notable Features and Accessories
Any miter saw in the running for your next tool should have an arm lock that immobilizes the up-and-down action of the blade, nesting it in the table's blade channel. The arm lock makes the saw a little more compact and safe. Coupled with a handle somewhere on the top of the saw makes it a little easier to move around. As we mentioned, the relatively new battery-powered miters are built for the greatest portability.
Most miter saws have material clamps built-in. How many perfect cuts were never made because the material wasn't secure? We may never know. If you lose one, it's smart to get an aftermarket clamp.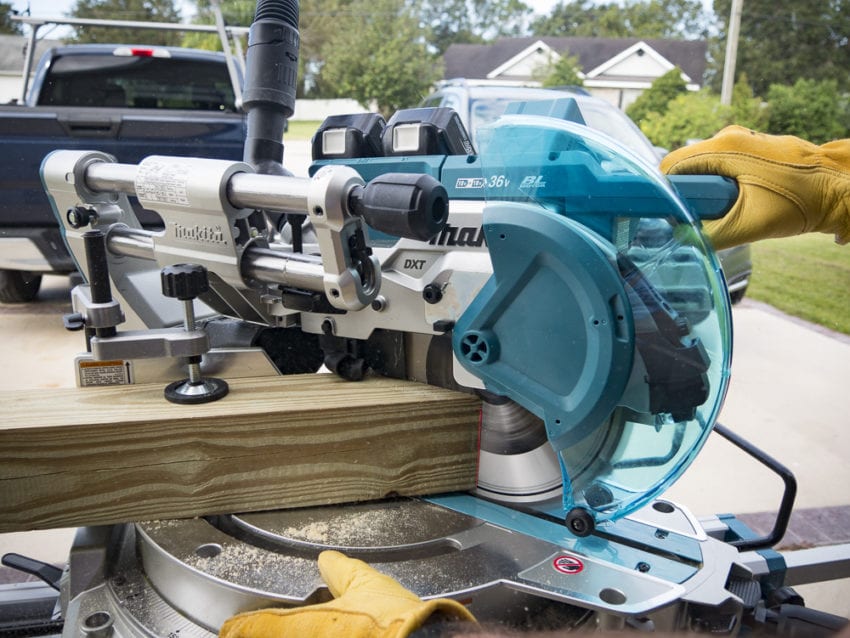 The handiest accessory for a miter saw is a stand. Not only does it hold the saw securely which limits vibration, but it has extendable material supports for cutting long stock. Some even have material stops which eliminate the need to mark multiple boards for the same cut – just set the stop and cut. We recommend springing for the miter saw stand if you can.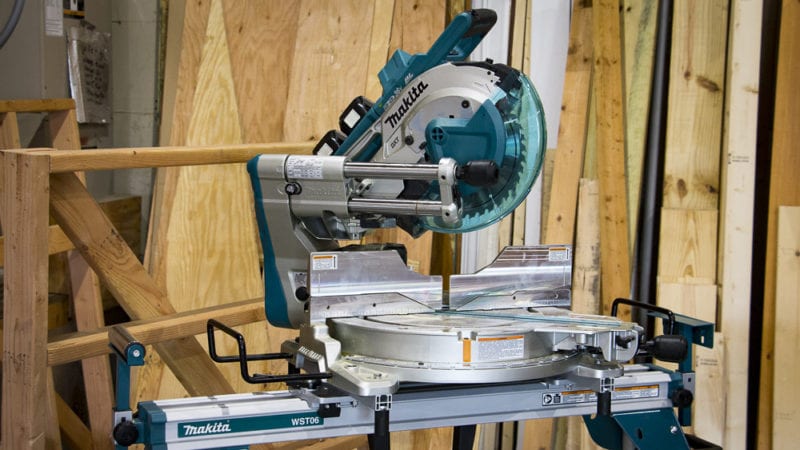 Pro Tip: The best miter saws stands include gravity-rise stands which roll easily and setup quickly.
We've never let the things that go without saying get in the way of talking about them! So safety, safety, safety when it comes to any tool, especially those like the miter saw with an exposed, spinning blade. Always wear eye protection and hearing protection. If you're working indoors without a dust extractor, it's wise to wear some sort of mask, too.
Be sure that the saw's blade brake is working. Once you release the trigger, the blade brake should stop the blade within a few seconds – ideally a lot sooner than that. It's a safety issue, but if you have to wait for the blade to stop spinning before removing material, it can really eat up some time. It's also a good idea to work with the miter saw's articulating blade guard in place. It protects you from the blade as it exposes enough of it to make the cut.
Pro Tip: Wait for the blade to stop spinning before you let it back up.
Hopefully, you find some good tips here if you're buying a miter saw. Once you decide what to get, be sure you how to calibrate the miter saw before anything else. What do you look for when you're buying a miter saw? Tell us about it in the comments below!
We used the Makita 18V X2 LXT Brushless 10″ Miter Saw for the majority of the photography in this article. Also featured is the Milwaukee M18 Fuel 10″ Miter Saw and the Makita VC4710 HEPA dust extractor.
Why You Can Trust Pro Tool Reviews
Ever check out a "review" site and you can't tell if they actually tested the tools or if they're just "recommending" the Amazon top sellers? That's not us. We won't recommend anything unless we'd actually use it ourselves and we don't really care who the primary retailer is. It's all about giving you a legitimate recommendation and our honest opinion of each product.
We've been in business since 2008 covering tools, writing reviews, and reporting on industry news in the construction, automotive, and lawn care industries. Our Pro reviewers work in the trades and have the skills and experience to know whether tools can perform well in the field.
Each year, we bring in and review more than 350 individual products. Our team will put our hands on hundreds of additional tools at media events and trade shows throughout the year.
We consult with innovators in the technology and design of tools to gain a broader grasp of where these products fit and how they work.
We work with more than two dozen professional contractors around the United States who review products for us on real job sites and consult with us on testing methods, categories, and weighting.
The end result is information you can trust because of the editorial, scientific, and real-world professional experience we collectively utilize each and every time we pick up and test a tool.