DeWalt 12V Brushless Reciprocating Saw Moves Into the Top 3
Following the launch of the Atomic one-hand reciprocating saw, the DeWalt DCS312 12V brushless reciprocating saw has a nearly identical design. We put it through a series of tests to see how these two saws compare and what improvements there are over the previous DCS310 12V saw.
Pros
New design includes a brushless motor
Improved cutting speed
Improved vibration control
Cons
Cutting Speed
Our team primarily uses one-hand reciprocating saws to cut pipe or conduit in tight spaces, along with PVC for irrigation or plumbing. We'll use 18V/20V Max models with a pruning blade for landscaping, but that's not something we turn to the 12V models for.
With that in mind, we hit two basic cutting speed tests that both the brushed 12V model and the 20V Max Atomic also completed. The first was cutting 3/4-inch EMT. With its 2800 SPM and 5/8-inch stroke length, the DeWalt 12V brushless reciprocating saw averaged 5.38 seconds.
It's a surprising result that was actually a little slower than the brushed model's 5.29-second average from our best reciprocating saw comparison. However, it was a little faster than the Atomic at 6.04 seconds. What a quirky start!
Things improved in our 3-inch PVC cutting test, though. The brushless model melted through in just 11.49 seconds – less than a second away from Hilti's class-leading time of 10.67 seconds. Again, the Atomic was a little slower, needing an average of 12.77 seconds to make the same cut.
The combined scores of our cutting speed tests put DeWalt in third place. It's a big improvement over the brushed model's rating, but there's still a pretty decent gap to Milwaukee M12 FUEL HackZall and Hilti 12V recip saw in the lead. It's a very capable cutter, though, and I wouldn't be disappointed to have this model in my tool bag.
Vibration Control
Whatever DeWalt changed from the original brushed design to the brushless model made a world of difference in vibration control. The DeWalt DCS312 ranks near the top with Milwaukee and Hilti with a pretty big gap to the rest of the field. It's a characteristic this model shares with the Atomic.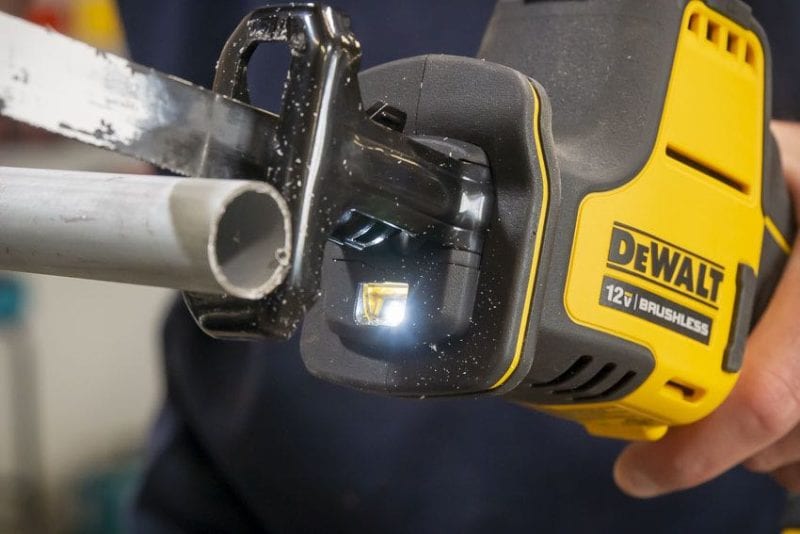 That's a big deal considering we're talking about a one-hand design. When you can put two hands on a reciprocating saw, you can press the shoe against the material you're cutting and really mitigate a lot of the vibration that's there. It's tough with a one-hand model when you come across cuts where you might not be able to use the shoe as effectively.
Feature Set
The big changes in the feature set are the design shift from a pivoting style to one hand and the addition of a brushless motor. The rest of the feature set is pretty basic with an LED light and a shaft-mounted twist blade lock.
Even though the 12V class isn't exactly feature-rich, I was hoping we'd see the same shoe as the Atomic. It pivots and has a claw on the back to act as a rafter hook. However, the DeWalt 12V brushless reciprocating saw has a basic fixed shoe.
Missing Features
Orbital action (not found on any 12V saws currently)
Variable speed dial (not found on any 12V saws currently)
Adjustable, pivoting shoe
Lever-action blade release (previous DCS310 has it)
Rafter hook/belt hook (not found on any 12V saws currently)
Active blade ejection
Smart controls (only found on the Milwaukee M18 Fuel Sawzall with One-Key)
Size and Weight
With the new design, the Dewalt DCS312 12V brushless reciprocating saw is a little bulkier than the previous model. In the pistol-grip position, the brushed model was one of the smallest – just 10.3 inches long. The brushless model is 12.1 inches, but still nearly 2 inches shorter than the Makita RJ03.
Compared to the Atomic, the DCS312 is just a touch shorter by 0.3 inches.
There's a little bit of weight gain to go along with the design as well. Bare, the saw weight right at 3.0 pounds and the 3.0Ah battery brings it up to 3.5 pounds. That's 0.4 pounds heavier than the last model, but more than a pound lighter than the Atomic with its 5.0Ah battery.
Price
With its initial launch, it's not a big surprise to see the pricing structure on the higher side. You can pick up the DeWalt 12V brushless reciprocating saw for $149 bare or $179 with a 3.0Ah battery and charger.
That's might be a bit high if you're on the fence between brands considering the higher-performing Milwaukee M12 Fuel Hackzall is $159 as a kit with a 4.0Ah battery.
There are some other considerations as well, mainly with DeWalt's 12V line depth. Right now, DeWalt is focusing on a pretty small group of 12V tools, though it's expanding. Realistically, not many brands have particularly deep 12V lines. The exceptions are Milwaukee on the Pro side and Skil hitting the entry-level Pro and Prosumer markets.
Dewalt DCS312 Bottom Line
The DeWalt 12V brushless reciprocating saw offers some real improvement over the previous brushed model and moves into 3rd place overall in the 12V class. While its performance isn't quite up there with Milwaukee and Hilti, it does several things well, including out-performing its 20V Max Atomic cousin in our tests.
Buy it if you're enjoying DeWalt's other 12V brushless tools and want something to cut thinner materials in tight spaces. Pass if you're looking for the fastest cutting or a higher value rating.
Dewalt DCS312 12V Brushless Reciprocating Saw Specifications