DR Power Battery-Powered Zero Turn Mower Boasts Higher Quality Construction
From the moment our local dealer rolled the DR Power ZT5E electric battery-powered zero-turn mower off the trailer, we could tell it was different than most of the battery ZTs we've reviewed. The longer we used it, the more it proved it's in a different class.
DR Power Zero-Turn Lawn Mower Cutting Performance
Controls
When you press the power button on the driver's left side, there's a click, and then the control panel on the right kicks on. Before you can use the mower, there's a passcode you need to enter. There will be a default one from the dealer and you can reset it to whatever you like.
The control panel is a touchscreen and the primary settings you'll use are for the blade and drive speeds. We mowed with both settings in high, but if you're mowing particularly bumpy ground or need to extend your runtime, you may want to change them.
Additionally, you have control over the screen brightness, a section to view any faults the computer detects, the position of the lap bars, and the presence of an operator in the seat.
Once you have the mower on and you disengage the parking brake, the mower operates almost exactly like a gas ZT with lap bars and pull-up blade engagement button. The steering and acceleration are very natural and responsive.
Cutting Power and Quality
The combination of the rainy season and a teenager who wasn't exactly motivated to get the mowing done left us with plenty of high grass testing areas. When we first started cutting, we were prepared to baby the mower a bit the way we normally do with battery ZTs when the grass gets this high, but it wasn't necessary. The mower was able to handle more than we expected.
We did find some patches where we were able to stall the blades, though. When that happens, you need to shut off and restart the mower. One thing we noticed is that when you hit thick patches that begin to slow the blade RPMs down, the drive wheels seem to slow in response as well.
The side discharge throw wasn't as far considering how strong the cutting was, though it was certainly effective. The three direct drive brushless motors run the blades at tip speeds up to 14.9 fpm, and it seems that they're dialed in to give you the best cutting power by trading off a little bit of clipping throw compared to a gas mower.
On the other hand, the evenness of the cut was excellent. If you happen to experience an uneven cut, DR has instructions in the manual to get it back to that fresh from the factory quality.
ZT5E Runtime
DR Power uses suitcase-style 48V batteries to run its zero-turn mowers. Each one has a 2.5kWh capacity (2500Wh) and you can put up to three of them in both mower versions. Our test model was the 48-inch and DR told us to expect 45 minutes out of one pack, 1 hour and 30 minutes from two packs, or 2 hours and 15 minutes from three packs.
We actually got a little more than those estimates. We started with two batteries, cut the lawn down to 5 inches, and then cut it a second time down to 3 inches. By the time we were done, we ran for 1 hour and 50 minutes on those two batteries—20 minutes longer than DR's estimate.
Based on our testing, we believe DR's estimate of 5 acres max with three batteries is on the conservative side. Your specific conditions have an effect on how fast you can mow, of course, but given you're mowing maintained lawn, you can get between 6 and 7 acres in optimal scenarios.
It's really nice to have equipment exceed your expectations.
Charging
Charging isn't quite as simple as "plug it in and let it go" but once you know the process, it's not too bad. First of all, charging happens onboard, so there's no reason to lug those big battery packs around.
Start by turning the mower on (yes, that sounds counterintuitive). Plug the charger into the mower next and then plug the charger into a 110V wall outlet.
There's a "No Charger Power Detected" message that comes on the display briefly. Once the charger finishes powering up, it goes away.
Especially if you're using the three-battery configuration, plan on letting the charger run overnight. And don't plug your Tesla into the same circuit. Also, avoid using an extension cord. The charger's full cord length is generous and you don't want to starve it by using too small of an extension cord gauge.
DR Power Zero-Turn Lawn Mower Design
Build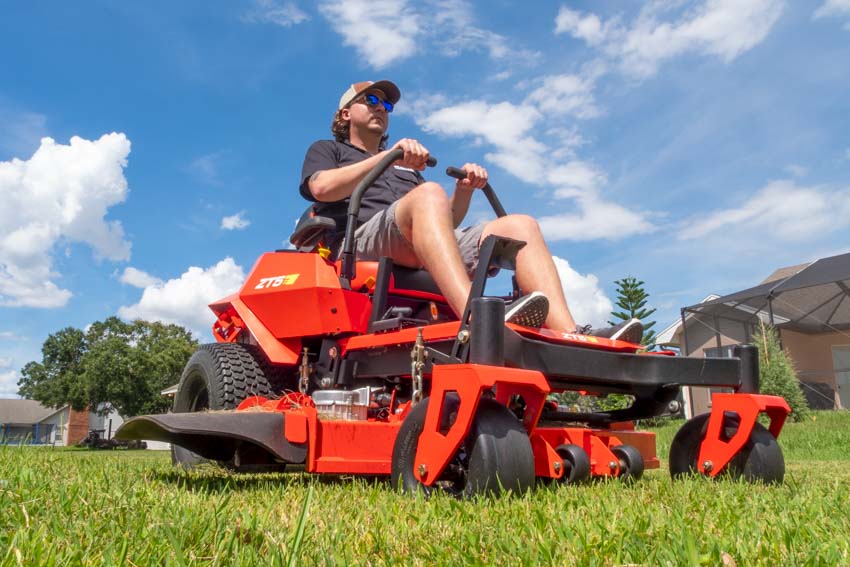 On top of the cutting power, another major difference we noticed about DR's build is how sturdy the mower feels when you're on it. The beefiness of the overall build feels like DR took a gas mower and swapped out the engine for brushless motors and batteries. With its solid frame and 12-gauge steel deck, it doesn't feel as stripped down for weight as most of the residential ZTs do.
Seat Comfort
The DR Power zero-turn mower has a very comfortable seat. There's a tensioning knob to help you find the right amount of spring support for your weight and it has a generous amount of front-to-back adjustment. The only catch it the seat adjustment lever is somewhat easy to bend out of shape if you try to push it in the wrong direction.
Additional Highlights
8 MPH top forward speed, 3 MPH reverse
1/4-inch deck height adjustment from 1 1/2 to 5 inches
HydroGear EZTe transaxles
2 x anti-scalp wheels

20 x 9.5-inch drive wheels

11 x 5-inch front caster wheels
Adjustable lap bars
2 x USB charging ports
2 x cup holders (one on each side)
Phone holder
DR Power Zero-Turn Lawn Mower Price
You can get the DR Power ZT5E as the 48-inch model we tested or with a 60-inch deck. The 48-inch retails for $12,699.99 and the 60-inch is $13,799.99. However, both mowers were on sale at the time of writing with $1200 off on the 48-inch and $1300 off on the 60-inch.
Batteries are sold separately and run $1599.99 each.
For residential customers, there is a 3-year/500-hour warranty on the mower and 5-year/1000-hour warranty on the batteries.
The Bottom Line
The DR Power electric battery-powered zero-turn lawn mower is clearly a step or two up from any of the pure residential options out there. From the build to the performance, DR finds itself creating a Prosumer class for electric ZTs, filling the gap between residential and more expensive professional models. It does its best work on larger lawns and properties with 1 – 6 acres of mowing for owners that demand higher quality than entry-level mowers offer.
Discover more outdoor power equipment at DR Power's website.