When you compare Makita vs DeWalt, there's no simple answer. As with most of our comparisons, so much boils down to your personal preferences or needs. Still, there's plenty to learn about these two power tool giants that can help you decide where to spend your hard-earned money, or perhaps just come away more knowledgeable.
A Brief History of Makita and DeWalt
Makita Corporation History
Makita traces its roots back to 1915 when it specialized in motor sales and repair. Mosaburo Makita started the company in Nagoya City, Japan.
In 1958, Makita released its first power tool—a portable electric planer. A portable groove cutter came later that same year before its first circular saw and electric drill arrived in 1962.
Fast forward to 1978 (disturbingly close to the year I was born), and we see Makita's first cordless tool. The 7.2V cordless drill took 10 years to develop and the line boasted 15 compatible tools by 1987. A more powerful 9.6V line had 10 tools.
In 1985, Makita Corporation of America opened up a manufacturing and assembly plant in Buford, Georgia.
After the turn of the new millennium, Makita developed its first brushless motor fastening tool for the defense and aerospace industries in 2004. In 2009, Makita had the first brushless impact driver and in 2015, the 18V LXT welcomed its 100th compatible tool.
DeWalt History
After inventing the radial arm saw, Raymond DeWalt formed DeWalt Products Company in Leola, Pennsylvania in 1924 (some sources state 1923). His first product was the "Wonder Worker"—a saw that you could configure in 9 different ways. He also had a dedicated mortiser and jointer.
American Machine Foundry acquired DeWalt in 1949 and it was sold to Black and Decker in 1960.
In 1992, DeWalt introduced its initial series of portable electric power tools targeting residential contractors and professional woodworkers. 2 years later, they launched 30 cordless tools and moved ahead in the power game at 14.4V. During this launch, DeWalt also laid claim to the first combination drill/driver/hammer drill.
In 2000, DeWalt acquired Momentum Laser, Inc. and Emglo Compressor Company. In 2010, they launched their first 12V max tools and shifted to 20V max lithium-ion tools a year later.
Brushless motor joined the lineup in 2013 along with DeWalt's initiative to shift manufacturing back to the US while still using global materials.
DeWalt Tool Connect came online in 2015 with FlexVolt multiple voltage technology on its heels in 2016. Several years later, we saw the introduction of DeWalt FlexVolt Advantage tools which allow 20V tools to have more speed and torque when paired with FlexVolt batteries.
Makita Vs DeWalt Ownership
Who Owns Makita?
In short, Makita owns Makita. That's who they are. Makita acquired Dolmar back in 1991, and they have now completely wrapped it into the Makita brand name.
Makita stock is traded on the OTC Markets.
Who Owns DeWalt?
DeWalt is part of SBD—the Stanley Black and Decker Group. They have a pretty broad portfolio of brands:
Black and Decker
Bostitch
CAM (Consolidated Aerospace Manufacturing)
Craftsman
DeWalt
Facom
Irwin
Lenox
Lista
Mac Tools
Paladin
Pengo
Porter-Cable
Powers Fasteners (now under the DeWalt brand name)
Proto
Sonitrol
Vidmar
Stanley (separate divisions for tools, Engineered Fastening, Healthcare, and Infrastructure
They also own a 20% stake in MTD Products. Stanley Black and Decker is listed on the New York Stock Exchange.
Makita VS DeWalt Locations
Makita US and Global Sites
Makita's global headquarters is in Anjo in Japan. Makita Corporation of America is located in Buford, Georgia and its Head Office is in La Miranda, California.
They also have a site in Mt. Prospect, Illinois along with Dallas and Wilmer in Texas.
All told, Makita has 10 plants in 8 different countries, including Brazil, China, Mexico, Romania, the United Kingdom, Germany, Dubai, Thailand, and the United States.
DeWalt US and Global Sites
Stanley Black and Decker, and by extension, DeWalt, is headquartered in Baltimore, Maryland.
There are 7 US-based manufacturing facilities:
New Britain, Connecticut
Hampstead, Maryland
Shelbyville, Kentucky
Greenfield, Indiana
Cheraw, South Carolina
Charlotte, North Caroline
Jackson, Tennessee
Globally, they use parts manufactured in Brazil, China, the Czech Republic, Italy, Mexico, the United Kingdom, and the United States.
Makita Vs DeWalt Tools, Prices, and Warranties
Makita and DeWalt are both major brands in the power tool industry. It would be impossible in the space we have to compare Makita vs DeWalt across every tool category, so we'll take a sampling of the most popular categories.
In general, Makita has a reputation for being a step up in quality compared to DeWalt with a higher price tag to go along with it. However, both brands are considered to be professional-level tools across the board.
Both brands offer a 3-year warranty on their cordless tools, with DeWalt adding on a 90-day money-back guarantee and a 1-year service agreement. Both back their batteries for 3 years.
Check out DeWalt's full warranty details here and Makita's here.
Makita Vs DeWalt Hammer Drill
Both Makita and DeWalt have deep drill lineups with excellent options in both 18V/20V Max and 12V classes. DeWalt tends to perform better in our head-to-head testing of the best cordless drills.
That said, we haven't tested Makita's XPH14 yet, so there's more to come! Here's how each brand's flagship model stacks up:
DeWalt 20V Max FlexVolt
Advantage DCD999
Makita 18V LXT
XPH14
Max Speed
2250 RPM
2100 RPM
Max Torque
1219 UWO*
1250 in-lbs
Blow Rate
38,250 BPM
31,500 BPM
Length
8.4 in
7 in
Weight w/ Battery
5.9 lbs
6 lbs
*DeWalt uses Unit Watts Out as a measure of power rather than torque
On the feature side, the DeWalt DCD999 is Tool Connect ready—you just need to add the chip if you want the capability. It's also a 3-speed drill compared to Makita's 2 speeds. One thing to keep in mind is that you only get the best performance when you use a FlexVolt battery, and those are pretty beefy. If you want lower weight, you're going to have to give up some performance.
Be sure to also check out our article on the Best DeWalt Drill
Comparatively, Makita's XPH14 is primarily a boost in performance over its last model while keeping the same basic feature set and quality design. If you decide to use a smaller 2.0Ah battery, you won't see the performance drop as drastically as the FlexVolt Advantage.
The table flips around in impact drivers with Makita having the edge. Their flagship impact drivers tend to be more compact, lighter, and outperform DeWalt in our tests.
In terms of intelligence, it's a matter of preference. DeWalt draws in the app-based Tool Connect system to customize control, track, and view diagnostics. Makita builds in several assist modes that don't require an app to use.
DeWalt 20V Max
Tool Connect DCF888
Makita 18V LXT
XDT16
Max Speed
3250 RPM
3600 RPM
Max Torque
1825 in-lbs
1600 in-lbs
Impact Rate
3600 IPM
3800 IPM
Length
5.3 in
4.6 in
Weight
2.0 lbs
1.9 lbs
Breaking down the feature set, both of these are 4-speed models with electronic controls. DeWalt's Tool Connect lets you customize each of those settings and offers "last seen" tracking through the app along with a host of diagnostic information.
Makita keeps its intelligence on board with two self-tapping screw modes and a slow start assist mode. There's also a reverse rotation auto-stop mode. A button just below the LED light is programmable to switch between your two favorite modes quickly. If you choose not to program it, it simply cycles through the four standard modes.
Makita Vs DeWalt Impact Wrench
Makita has developed their cordless impact wrench line a bit more than DeWalt, though DeWalt covers a similar range. Even though Makita doesn't have any pneumatic impact wrenches, DeWalt maintains a minimal line.
Makita's cordless offering runs from compact all the way to a 3/4-inch, 1250 ft-lbs beast and has a 7/16-inch hex for utility workers.
DeWalt also runs compact to 3/4-inch but stops a little short at 1200 ft-lbs on their biggest model. Like Makita, they have a 7/16-inch hex more for utility work.
For smart controls, DeWalt has a mid-torque model that's Tool Connect enabled, while Makita extends its assist mode technology across several options.
Here's a quick comparison of each brand's most advanced mid-torque models:
DeWalt 20V Max
Tool Connect DCF896
Makita 18V LXT
XWT17
Max Speed
2000 RPM
2200 RPM
Fastening Torque
330 ft-lbs
520 ft-lbs
Breakaway Torque
600 ft-lbs
740 ft-lbs
Impact Rate
3100 IPM
2700 IPM
Length
6.95 in
6.70 in
Weight
3.45 lbs
4.60 lbs
Like we saw with the Tool Connect impact driver, DeWalt's smart impact wrench has customizable settings (3 instead of 4 this time), tracking, and diagnostics. Precision Wrench and Precision Tap assist modes help with control and cutting threads.
Makita has 4 standard speed modes to go with 3 assist modes in forward and 3 in reverse.
Makita Vs DeWalt Circular Saw
Both Makita and DeWalt have deep lines of cordless circular saws to choose from with both rear-handle and sidewinder styles at the top level. They also have some of the most popular corded models.
In addition to those, both brands offer corded and cordless track saws. Makita goes a little deeper with a rail-compatible sidewinder if you don't need a full-out track saw.
Thanks to FlexVolt, DeWalt's latest generation of cordless circular saws has been cutting faster than Makita's 18V X2 in our tests. That performance comes at a cost, though, with Makita enjoying lower weight and performance that's certainly no slouch.
Makita saws also tend to have a smoother operation than DeWalt and their Max Efficiency blades make for a better stock blade. If you need more capacity, Makita has a 9 1/4-inch cordless model and a 10 1/4-inch corded one.
Smart Saw Tech
DeWalt has a couple of smart saws. Their Power Detect model delivers more power with a 20V Max, 8.0Ah battery and their FlexVolt Advantage does the same when you use a FlexVolt battery. There are also Tool Connect ready saws coming out.
Makita pioneered AWS—Auto-start Wireless System. With compatible cordless tools and vacs, pulling the tool trigger automatically kicks on the vacuum so you don't have to hit it manually.
DeWalt has a remote control-based system for their cordless FlexVolt vacuum and a Wireless Tool Control system, though there aren't any circular saws enabled for it currently.
Here's a look at how the best cordless sidewinder saws stack up:
DeWalt 60V Max
FlexVolt DCS578
Makita 18V X2
XSH07
Blade Speed
5800 RPM
6000 RPM
Max 90º Depth
2 9/16 in
2 5/8 in
Bare Weight
8.2 lbs
7.7 lbs
Brake
Yes
Yes
Dust Port
Yes
Yes
While DeWalt is coming out with Tool Connect ready cordless circular saws, the DCS578 model isn't one of them. The FlexVolt Advantage model does, though.
On the other hand, the XSH07 is Makita's AWS sidewinder if dust control is a big deal for you. There's also a non-AWS model (XSH06) if you don't need the function.
Makita Vs DeWalt Miter Saw
DeWalt miter saws are some of the most popular around and they were the first to give us a full 12-inch cordless model on their FlexVolt line. From basic all the way to dual-bevel sliding compound miter saws, DeWalt's lineup is impressive.
Makita also has an impressive line of both corded and cordless options. What characterizes it is a direct drive system that operates more smoothly than belt-driven saws, such as DeWalt's (and nearly everyone else's).
Let's take a glance at the two flagship cordless miter saws:
DeWalt 120V Max
FlexVolt DHS790
Makita 18V X2 LXT
XSL08
Blade Speed
3800 RPM
4400 RPM
90° Max Cut Length
16 in
15 in
45º Max Cut Length
12 in
10 1/2 in
Nested Crown Capacity
7 1/2 in
8 in
Vertical Base Capacity
6 3/4 in
6 3/4 in
Cutline Indicator
LED Shadow
Laser
DeWalt has an advantage in that they make a 120V adapter to run their saw on AC power if you like.
Makita includes AWS on this model along with Automatic Speed Change to help keep a consistent blade speed.
Makita Vs DeWalt Air Compressor
DeWalt has a wide range of compressors from 1-gallon trim models all the way to an 80-gallon stationary unit with a lot of choices in between. They also have a 2-gallon cordless FlexVolt model that's one of the best cordless compressors available.
Makita's air compressor line isn't as deep, but what they have is really well-developed. Their flagship 5.5 HP Big Bore wheelbarrow model features a V-twin pump design and they have some of the best quiet compressors out there for interior work.
Makita Vs DeWalt Lawn Care
OPE is big business and both Makita and DeWalt are heavily invested in it. Stanley Black and Decker has a wider range on the Craftsman line, but DeWalt has 20V Max tools for contractors and small lawns along with a more confident FlexVolt 60V Max line. They had a 40V Max range for a few years, but that seems to have been left behind in favor of FlexVolt.
Of all the major power tool brands, Makita is the most competent and comprehensive in OPE. They have a very wide range of tools on both the 18V and 18V X2 platforms along with professional-level gas equipment that features their MM4 4-stroke technology.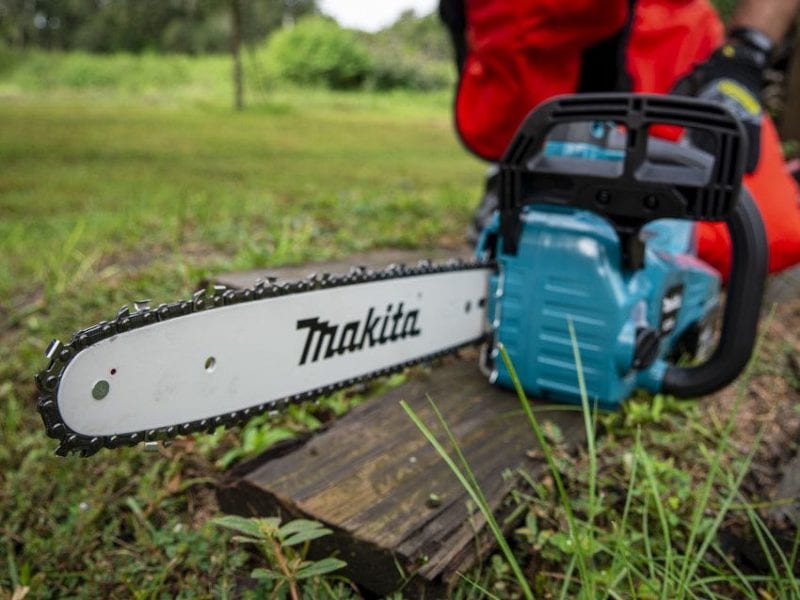 What makes Makita's cordless OPE so impressive is the intentional way they bracket the market. For example, they have more mowers and string trimmers than most. The goal is to provide a solution for every user from someone taking care of a small lawn to a commercial lawn care crew.
Makita Vs DeWalt Batteries and Chargers
Makita Batteries
There's a decent line of Makita 12V tools but their biggest focus is on 18V. They have 2.0Ah, 3.0Ah, 4.0Ah, 5.0Ah, and 6.0Ah batteries in the line, with the 2.0Ah and 5.0Ah taking the lead in most kits.
Makita steps up their power with the 18V X2 line. Using two 18V batteries and connecting them in series on the tool, they produce 36V power without having to buy into another battery system. So far, Makita is still sticking with 18650 cells in their batteries and hasn't followed the crowd to larger 21700 cells.
For larger outdoor power equipment and heavy-duty tools, Makita launched their XGT 40V Max tools. This new line already has around 50 tools as of 2022 and should grow quickly.
Makita tends to pack their 18V kits with a Rapid Optimum Charger. These fan-cooled chargers bring a 5.0Ah battery from dead to full in just 45 minutes and come in both single and dual-port varieties.
DeWalt Batteries
DeWalt has an emerging 12V line that was recently revitalized with brushless motors. However, their main thrusts are the 20V Max and 60V Max FlexVolt lines. DeWalt also has its Atomic line of tools that boast compact sizes, but for some reason don't always match the compact nature of their 12V Xtreme tools.
20V Max batteries come in 1.5Ah, 2.0Ah, 4.0Ah, 5.0Ah, 6.0Ah 8.0Ah, and 10Ah varieties. 2.0Ah and 5.0Ah packs dominate kits while the 8.0Ah battery highlights the 20V Max Power Detect line and the 10.0Ah packs are showing up with lawn care products.
FlexVolt batteries can switch between 20V Max and 60V Max based on the tool you insert them on. They come in 2.0/6.0Ah, 3.0/9.0Ah, and 4.0/12.0Ah sizes. They're required to run FlexVolt tools while FlexVolt Advantage tools get a major boost from them.
Most kits come with a standard single-port charger. Available upgrades include a dual-port standard charger, a couple of single-port fast chargers, and a four-port fast charger. DeWalt also has a four-port power station that charges batteries when you plug it in.
18V or 20V Max and 40V Max vs 60V FlexVolt?
While there's a lot of debate on the forums out there, 18V and 20V Max batteries are exactly the same—they just get marketed differently. A fully charged battery registers 20 volts. When you start using it, the voltage quickly drops to its nominal 18-volt reading. (Similarly, 12V batteries are 12 maximum volts and 10.8 volts once they drop to their nominal state.)
For this reason, the voltage used by DeWalt and Makita batteries matches exactly for their 18V and 20V Max tools. When it comes to larger products that all changes.
Makita needed a way to handle larger power tools and equipment similar to DeWalt FLexVolt. Their response came in the form of the XGT platform and 40V Max tools. XGT also has the capability to run two batteries for 80V Max power when needed (think cordless power cutters and 2″ SDS-Max rotary hammers).
Watch a video on 18V vs 20V Max here.
Makita Vs DeWalt: What's Your Call?
The Makita vs DeWalt debate is certainly an interesting one and there are good reasons to choose either. So what's it going to be?
Let us know which brand you think is better and why in the comments below.