When approached by people—be they tradesmen or simply online readers—about the Milwaukee vs DeWalt question, we realized the answer is more complex than most might guess. Are you asking about who makes the best tools? Or are you inquiring about the larger company itself? To provide an answer, we felt the need to delve into the history of both Milwaukee and DeWalt, including their size, number of employees, and parent companies.
We also needed to look at what tools each company makes—and even look at where they are made. Their general reputation and core tools would also play a part in answering the question. It's important to understand where each manufacturer leads the industry and what tools and technologies they've pioneered. Finally, we look at battery technology as well as the depth of their tool and accessory lines.
In short—when comparing Milwaukee vs DeWalt we had our work cut out for us. Here goes nothing…
Look for some DeWalt vs Milwaukee Head-to-Head Action? Check out these reviews!
Company Histories of Milwaukee Tool and DeWalt
Milwaukee Electric Tool Corporation History
Milwaukee Tool (The Milwaukee Electric Tool Corporation) started as an American power tool manufacturer prior to 1924 based out of Milwaukee, Wisconsin. The company has a rich history of manufacturing power tools in America for the tradesman. Since 2005, it has operated as a subsidiary of Techtronic Industries (TTI), a Hong Kong company founded in 1985.
TTI brands include RIDGID, AEG, and Ryobi (licensed), Hart Tools, Empire, Hoover, Dirt Devil, Oreck, and others. As you may imagine, Milwaukee Tool manufactures both corded and cordless power tools. They also make hand tools as well as accessories like saw blades and drill/driver bits.
As early as 1918, Milwaukee Tool introduced its relatively lightweight Hole-Shooter which was, according to the company, "the first lightweight portable, one-handed 1/4-inch capacity drill". They further expanded in the 1930's and through World War II manufacturing tools to the U.S. Navy standard. Milwaukee Tool has always had a reputation for quality and this, presumably, had something to do with initiating and then solidifying that reputation.
1951 saw the introduction of the Sawzall reciprocating saw. As recent as 2005, the company kicked off a revolution of lithium-ion batteries—even holding several key patents in that arena. Following that, it did a lot to pioneer Bluetooth tool technology with Milwaukee One-Key. The company has most recently moved into the realm of cordless power equipment with its MX FUEL line of battery-powered tools.
DeWalt Company History
DeWalt is an American company that represents a worldwide brand of power tools for the construction, manufacturing, and woodworking industries. The DeWalt brand actually falls under the umbrella of Stanley Black & Decker. This parent company also owns Irwin Tools, Craftsman, Lenox, Porter-Cable, Proto, Bostitch, Vidmar, and several others.
DeWalt was officially formed in 1923 by Raymond E. DeWalt (who invented the radial arm saw). Eventually, the company was sold to Black & Decker in 1960. Nothing too exciting happened until 2004 when Black and Decker bought Porter-Cable and combined it with DeWalt in Jackson, Tennessee.
DeWalt expanded into the production of hand tools in 2011, and in 2013 they added mechanics' tools. Three years later, in 2016, DeWalt debuted FlexVolt, the construction industry's first hybrid voltage battery pack. It runs at either 60V Max (series) or 20V Max (parallel) mode depending upon whether it is placed into a 60V FlexVolt or 20V Max tool.
Milwaukee vs DeWalt Main Locations
Milwaukee Tool Manufacturing
It may come as no surprise that Milwaukee Tool has a rich history of Made in the USA manufacturing. The company conducts most of its research and development in its Brookfield, Wisconsin offices. Milwaukee Tool and its parent, TTI, manufactures both tools and accessories globally, however—primarily in Asia, Mexico, Europe, and the USA.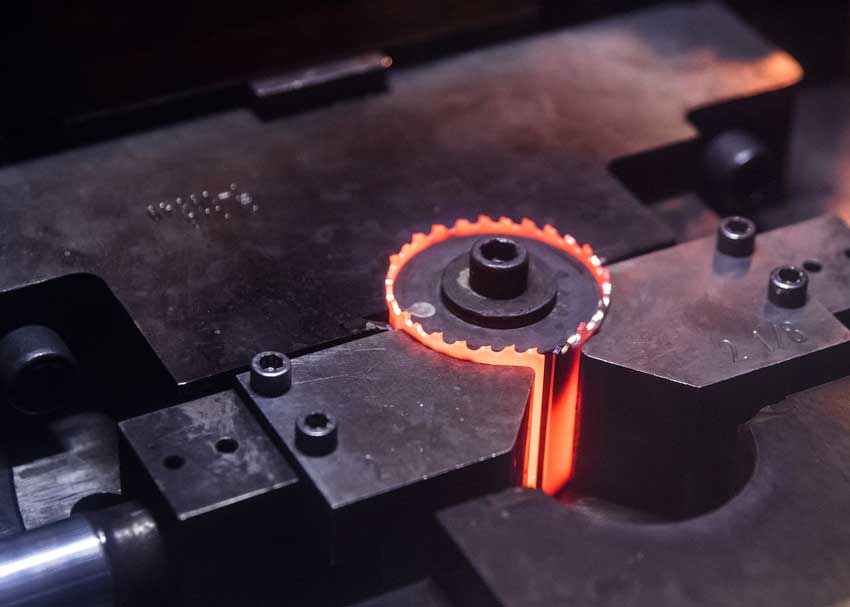 Many of its popular accessories, including reciprocating saw blades and hole saws, are made in Mississippi facilities located in Greenwood, Jackson, and Olive Branch. Milwaukee Tool also has three Wisconsin manufacturing facilities in Mukwonago, West Bend, and Sun Prairie. Together, these represent critical components of their global manufacturing footprint for their power tool, power tool accessory, and hand tool businesses.
In January 2020, Milwaukee Tool announced it was building a $26 million facility in West Bend, Wisconsin to manufacture hand tools for electricians and linemen. The facility opened in 2022. They also plan to expand with a location in Cookeville, Tennessee as well. Just in 2020 alone, the company planned to invest over $100 million and create 350 new jobs in the United States.
Milwaukee Tool USA-Manufactured Products
Here's a quick summary of products Milwaukee Tool currently manufactures in the United States:
Electrician hand tools (pliers, cutters, screwdrivers, and more)
Step Bits
MX FUEL Rocket Tower Light and MX FUEL Drain Machine
Corded Sawzalls
Large Drills
Sawzall Blades
Hole Saws
Bandsaw Blades
Oscillating Multitool Blades (Imperial)
Empire I-Beam Levels; Torpedo Levels; and Rafter, Combination, and Framing Squares
Empire Caution Tape
Milwaukee Rafter Squares and Framing Squares
Internationally, Milwaukee Tool and its parent company TTI manufacture many of its cordless power tools and battery-powered products overseas in factories located in China, Vietnam, Mexico, Germany, and the Czech Republic.
DeWalt Manufacturing
Like most power tool companies, DeWalt manufactures much of its inventory overseas. However, the company has made some recent strides to bring more of its manufacturing back to the USA—at least in part. In December 2013, DeWalt announced it would be assembling certain products domestically from globally sourced parts imported from Brazil, China, the Czech Republic, Italy, Mexico, the UK, and here in the States. You may have already seen or used some of those products bearing the label "Built in the USA with global materials."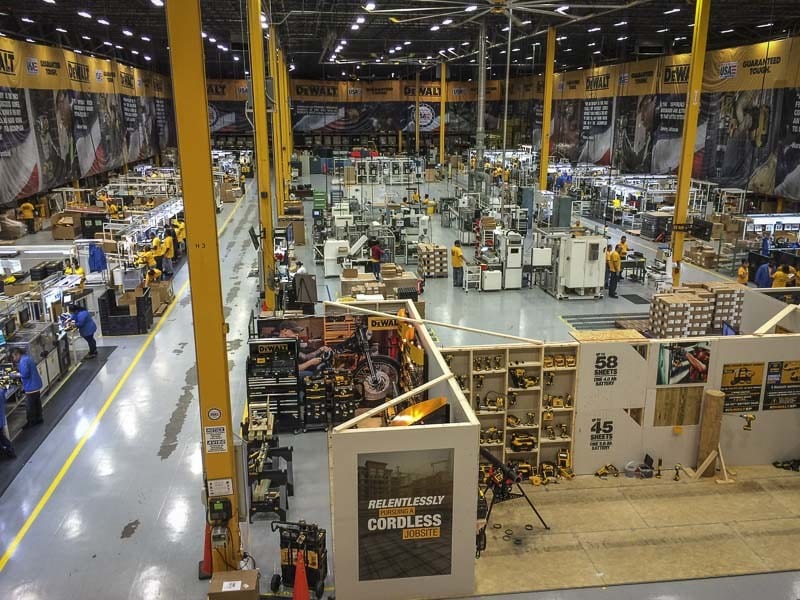 Fast forward to 2015 and DeWalt operated seven domestic manufacturing facilities to build DeWalt tools and products. These facilities are located in New Britain, Connecticut; Hampstead, Maryland; Shelbyville, Kentucky; Greenfield, Indiana; Cheraw, South Carolina; Charlotte, North Carolina; and Jackson, Tennessee.
If you back up to parent company Stanley Black & Decker, USA-based manufacturing occurs on a much wider scale, claiming 48 U.S. manufacturing facilities. The company maintains these facilities across two dozen or so states.
Overseas manufacturing, which still dominates the majority of DeWalt power tools, occurs largely in Brazil, China, the Czech Republic, Italy, Mexico, and the United Kingdom.
DeWalt vs Milwaukee in Number of Employees
With companies owned by parent organizations, it can be difficult to estimate size. DeWalt claims over 10,000 employees across all of its facilities on its LinkedIn page. Since all of the Stanley Black & Decker brands employ a number about 6X greater than that, 10,000 seems to be a relatively believable figure.
Milwaukee Electric Tool Corporation currently employs more than 5,500 people just in the United States. In 2020 Milwaukee Tool invested more than $100 million into its West Bend, Wisconsin facility and others and created 350 new jobs in the USA. Worldwide, Milwaukee's parent company TTI employs more than 22,000 people.
What Parent Companies are Behind Milwaukee and DeWalt?
Techtronic Industries (TTI)
The parent company behind Milwaukee Tool is Techtronic Industries (TTI). Founded in Hong Kong in 1985, TTI includes the following brands:
Milwaukee Electric Tool Corp.
AEG
Empire
Ridgid (licensed)
Ryobi (licensed)
Hart Tools
Imperial Blades
Stiletto
Homelite
Hoover US
Oreck
Vax
Dirt Devil
TTI designs, manufactures, and markets everything from power tools and outdoor power equipment to layout and measurement tools, appliances, and even floor care products. The brands under TTI make products used by tradesmen, consumers, and industrial users across the home, construction, maintenance, and industrial markets.
TTI is listed under the Hong Kong Stock Exchange as Techtronic Industries Co. Ltd. (0669) and was valued at around HK$87.84 ($11.19 USD) per share on April 3, 2023, with a market cap of HK$158.49B or $20.2 billion USD. In 2022, TTI saw revenues of $7.0 billion with a gross profit margin of 39.1%, attributing its success to the development of new products and expansion across all categories.
Stanley Black & Decker, Inc. (SBD)
Behind DeWalt stands Stanley Black & Decker, Inc. SBD includes the following brands (among others):
Stanley
DeWalt
Black + Decker
Craftsman
Irwin Tools
Porter-Cable
Facom
Lenox
Lista
Mac Tools
Vidmar
Bostitch
Sonitrol
Proto
Paladin
Pengo
Previously known as The Stanley Works, SBD is a Fortune 500 company based in the United States. They manufacture tools, accessories, and fasteners for the industrial, construction, home improvement, and outdoor power equipment markets and also supply security products. Headquartered in New Britain, Connecticut, Stanley Black & Decker arose when Stanley Works and Black & Decker merged in 2010.
As of 2019, Stanley Black & Decker employed around 61,000 people across 60 different countries. Stanley Black & Decker is listed under the New York Stock Exchange as SWK and was valued at $90.41 per share on February 8, 2023 with a market cap of $13.38 billion USD. The company saw $16.9 billion in revenues with an operating margin rate of 13.9%. It attributed its latest growth chiefly to successes in the areas of tools & storage as well as industrial acquisitions.
Milwaukee vs DeWalt Depth of Line
When comparing the general cost of tools between Milwaukee vs DeWalt you quickly realize that both companies make a lot of tools. Milwaukee Tool has over 200 tools in its M18 line alone, with another 100 or more under the M12 (12V) line. That doesn't include their newest MX FUEL line of cordless power equipment (13 products and counting) or their well-regarded corded power tools and Packout Modular storage system.
DeWalt boasts more than 200 products in its 20V Max line before adding in their new FlexVolt line of tools (dozens in this category so far) or their corded products.
Clearly, both brands have a large commitment to making tools for professional contractors, tradesmen, and serious DIYers. Both brands also cover a host of accessories—from blades and bits to hole saws and specialty fasteners.
DeWalt carries a clear edge in the fasteners category, its parent company acquired both Powers Fasteners and Infastech in 2012.
Milwaukee vs DeWalt General Cost of Tools
In general, having reviewed and used literally hundreds of tools from both companies, we find Milwaukee Tools to average out just slightly higher in price overall. This mostly has to do with its focus on specialty trade tools. They also tend to include higher-capacity, advanced batteries in their cordless tool kits. When you realize the volume of very trade-specific tools, the pricing skews upward a bit. DeWalt may provide just a bit more options for tools falling into those lower price points. That's not to say that both companies don't make high-end tools, nor does it imply that you can't find entry-level tools for budget-minded users. Overall, we don't see enough of a difference here as to really draw a major distinction.
Key Milwaukee vs DeWalt pricing examples:
DeWalt vs Milwaukee Warranty & Service
Milwaukee Warranty
Milwaukee Tool includes a 5-year warranty with most of its cordless power tools. Some specialty tools include different warranties—but the company notes that upfront. In particular, Milwaukee hand tools and their RedStick levels carry a limited lifetime warranty. Most of their cordless outdoor power equipment carries a 3-year warranty. Tools need not be registered for warranty service, but the company will use the date of manufacture in lieu of a receipt. To get the most out of your warranty, we always recommend registering the tool and/or keeping your receipts.
The Milwaukee battery warranty period ranges in length from one to three years depending on the pack. Get more Milwaukee service and warranty information here.
DeWalt Warranty
DeWalt includes a 3-year limited warranty on most cordless power tools with a 1-year free service contract and a 90-day money-back guarantee. We also want to note that DeWalt covers its Mechanics Tools with a full lifetime warranty. That means that if any DeWalt mechanics tool fails for any reason, the company will replace it—even without proof of purchase. Other DeWalt hand tools carry a limited lifetime warranty against defects. Finally, a few select DeWalt pneumatic tools carry a 7-year warranty with a 1-year service agreement and a 3-day money-back guarantee.
Using a local dealer when buying tools almost always results in quicker and more expedient repairs and service. This goes for DeWalt or Milwaukee Tool.
Check here for more DeWalt warranty information.
Milwaukee vs DeWalt – General Tool Reputation
So let's look at brand reputation. Both Milwaukee and DeWalt have a stellar reputation in the industry for making exceptional tools. We find it difficult to determine which company has a better reputation for reliability or quality. 10-years ago, we would have told you that DeWalt led the industry in brand awareness. Yellow-and-black had significant recognition as the premier Pro-level tool brand for general construction. Indeed, you saw yellow and black tools everywhere.
Once Milwaukee started down the path to lithium-ion power tools, however—starting heavily in 2008—things began to change. Big Red exploded into the market with M18 Lithium-ion batteries—followed soon after by their M12 line. Trade-focused tools like copper cutters hit the market. Soon, DeWalt found itself about 2-years behind the times. Desperate to make a move to lithium-ion, the company had a false start with its 18V XRP stem-packs. It eventually switched to slide-packs, but by that time, Milwaukee had truly become a force to be reckoned with.
DeWalt had lost its "solo" position as the top tool brand and allowed Milwaukee to compete for Pro dominance. Now, DeWalt seems to have caught up, even making some impressive moves with respect to its FlexVolt line of 60V tools. These two brands represent only a couple of the key Pro brands on the market. However, they definitely seem to go back and forth making some of the most innovative tools for the construction trade industry.
DeWalt Brushless vs Milwaukee Brushless Tools and Technology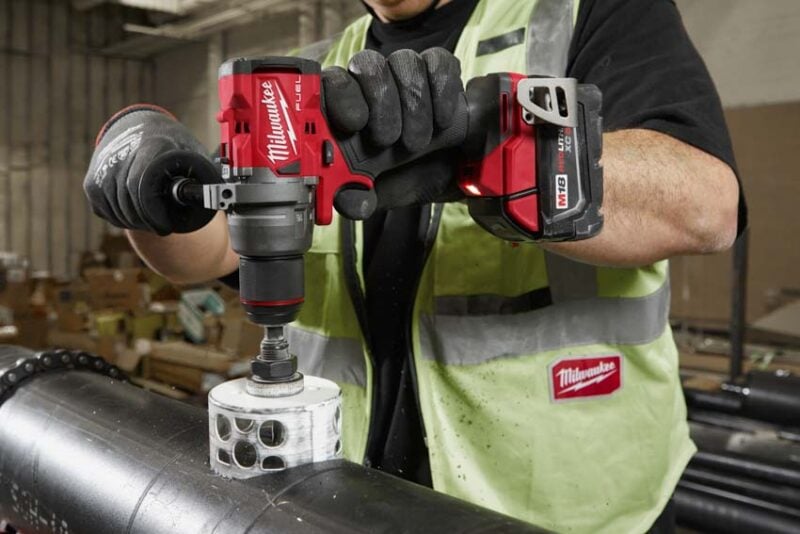 Both DeWalt and Milwaukee have long employed brushless tool technology. Milwaukee rolled out their brushless tools first, immediately taking advantage of the ability to better control drill and driver speed through electronics. DeWalt followed a couple of years later.
When comparing Milwaukee ONE-KEY to DeWalt Tool Connect, differences appear rather quickly. Milwaukee ONE-KEY offers far more sophistication, maturity, integration, and features vs DeWalt Tool Connect. If tool tracking, inventory, and tool control top your list, Milwaukee handily wins this area, though DeWalt continues to improve.
When comparing DeWalt brushless vs Milwaukee brushless tools, both employ smart electronics to better control the speed and power of their tools while cutting, drilling, driving, or sawing. Milwaukee RedLink Plus handles these duties for Big Red, but DeWalt opts for simply referring to their "brushless motor" technology in a more generic sense.
Between the two, we have to say that both do an excellent job of providing speed modes, tool control, and protection. We don't really see an advantage from one to the other except that Milwaukee Tool tends towards smaller brushless motors that take up less space. Because of this, they often produce smaller tools while providing at least similar amounts of power.
DeWalt versus Milwaukee Core Tools Compared
DeWalt vs Milwaukee Drills
In what would arguably occupy the foremost position in the debate, the question of DeWalt vs Milwaukee drills comes down to several factors. First off, the DeWalt FlexVolt Advantage DCD999 demonstrated quite a bit more soft torque than the capable 4th-generation Milwaukee M18 FUEL 2904 hammer drill with AutoStop technology. It also holds up well under load, meaning it slows down very little once you give it a job to do. The DeWalt also drilled more quickly in concrete.
Be sure to also check out our articles on the Best DeWalt Drill and the Best Milwaukee Drill.
The Milwaukee 2904-20, however, comes uniquely optimized for high-speed drilling. It is one of only a few tools that will successfully drive a 2-9/16″ self-feed bit through 2X material at High speed. Even the best cordless drills need to drop into Low speed for that kind of work (including the DeWalt above). This could seriously improve workflow for plumbers and electricians.
Milwaukee vs DeWalt Hammer Drill Size Differences
Milwaukee also makes a much smaller hammer drill—measuring around an inch less in length than the DeWalt! Weight between the two almost matches. The 2904 hammer drill weighs just 4.9 pounds loaded with an XC5.0 Ah battery. The DeWalt DCD999 just edges over that by about an ounce or so with a 5Ah battery.
What About Compact or 12V Models?
When you look at compact and 12V models, the field changes somewhat. The Milwaukee M12 line of tools far surpasses any other in the industry. If you want to get onto a 12V platform, Milwaukee makes the most sense.
For compact 18/20V tools, we also feel Milwaukee edges out DeWalt. The new DeWalt Atomic line of tools promises compactness and affordability, but it doesn't seem to go far enough in saving weight.
Milwaukee vs DeWalt Impact Drivers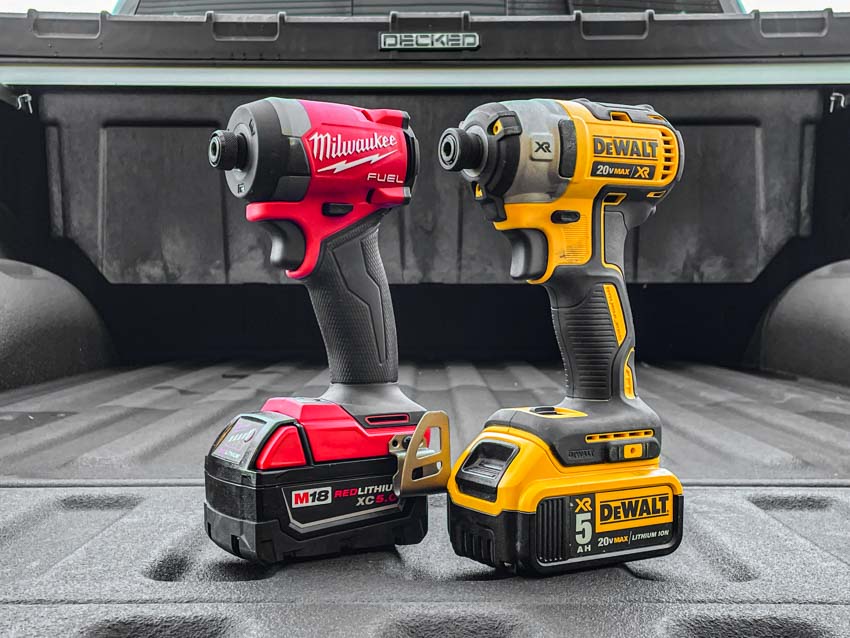 If the above hammer drill comparison indicates anything, it's that these tools remain fiercely competitive. When comparing the Milwaukee vs DeWalt impact driver, two things immediately jumped out. From our best impact driver comparison, we know that the Milwaukee 2953 impact driver shaves around an inch off the length of the DeWalt DCF887. We also know that Milwaukee has significant advantages in both speed and torque.
We do like the chuck-based LED light DeWalt uses—it illuminates the work area much more clearly. DeWalt also has a nice bit ejection feature that Milwaukee lacks.
In the end, however, if you consider the flagship models, this one seems like much less of a contest than the cordless hammer drills.
Milwaukee vs DeWalt Impact Wrenches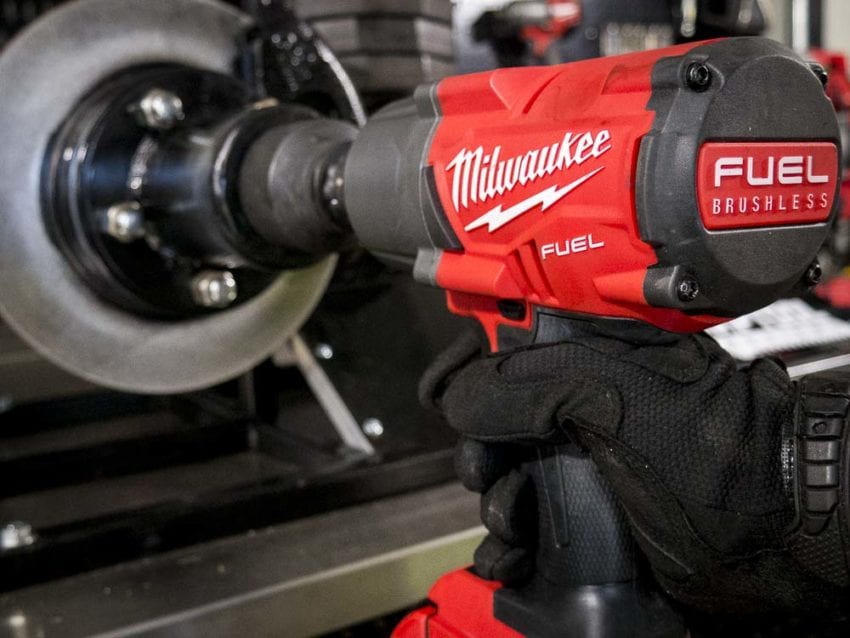 The Milwaukee impact wrenches include some of the most versatile cordless models we've tested. Still, their M18 FUEL 2863 provides slightly less fastening torque than the DeWalt DCF900 impact wrench.
Let's consider some other Milwaukee vs DeWalt impact wrench factors, though. First, you now have access to the Milwaukee 1-inch D-handle impact wrench and the 1″ 2867 pistol grip model. DeWalt, on the other hand, lacks a 1-inch model. Its largest tool is the DCF897 3/4″ impact wrench. No matter how you slice it, Milwaukee provides more and better options for maximum impact wrench power.
Switching to the mid-torque, the Milwaukee mid-torque impact wrenches provide up to 550 foot-pounds of fastening torque. Compare that to the 330 foot-pounds on the DeWalt DCF896 1/2″ impact wrench. If you don't need the extra torque,m those tools provide a compact solution. If you need a bit more, DeWalt does have the DCF891 impact wrench with 600 ft-lbs of fastening torque.
Milwaukee also adds more options in the area of compact "stubby" models and premium brushless 12V impact drivers. No matter how you slice it, Milwaukee takes the entire impact wrench segment in our opinion.
DeWalt vs Milwaukee Circular Saws
If ever two companies sparred over a single tool for dominance, it would be the question of buying a DeWalt vs Milwaukee circular saw. First off, the Milwaukee M18 and DeWalt FlexVolt 60V rear handle and sidewinder saws share many physical similarities.
DeWalt vs Milwaukee Sidewinder Saws
On the sidewinder side, the price for the tools almost matches as well as their physical traits. The DeWalt FlexVolt DCS578 saw shaves nearly a pound off the weight, however, making for a lighter tool overall. The Milwaukee 2732 circular saw has less friction on its magnesium shoe and handles 45-degree compound cuts much more easily (the guard on the DeWalt actually gets in the way). We also liked the guard a tad bit better and felt it had better sight lines.
On the DeWalt side, we felt it has a better (and larger) forward handle design. It also has slightly better tracking to keep it straight during the cut. As we said from the outset—this one really feels like a toss-up, but if we had to choose, we'd likely pick the Milwaukee 2732.
DeWalt vs Milwaukee Rear Handle Saws
Like the sidewinders, the DeWalt FlexVolt vs Milwaukee rear handle saw dilemma suffers from the similarity of these tools. Both saws eject dust very well without a vacuum attached, and the DeWalt might fill up your tool belt if you're not careful! Both rear-handle saws have tremendous cutting power.
The base on the Milwaukee 2830 rear-handle saw feels smoother, so it glides across lumber during cross and rip cuts. It also maintains slightly better sight lines. The DeWalt DCS577 worm-drive style saw has a nicer, larger handle that angles forward. It gives you a solid grip and excellent control while cutting. Both saws track really well and don't tend to deviate easily from cutting a straight line.
If cutting sheet goods takes up a lot of your time, either of these saws aims to please. We really find it difficult to recommend one over the other. Pick one and know that it will give you tons of power and runtime.
DeWalt vs Milwaukee Track Saws
Until recently, this decision would have been easy. Then, the release of the Milwaukee track saw (model 2831) changed everything. Possibly the company's most anticipated tool, this track saw has all of the features we could want in a tool like this. You get a 6 1/2-inch blade diameter that maintains up to 5600 RPM to cut through hardwoods like 2-inch oak or walnut without bogging the blade down. Milwaukee also has a wide variety of blades for cutting through various materials. They provide 31, 55, and 106-inch guide rails options with connectors to create custom lengths.
The capable DeWalt FlexVolt DCS520 track saw offers up to 4000 RPM and cuts a bit more deliberately through tougher materials. DeWalt offers tracks in lengths up to 102 inches. You also have the DeWalt DWS520 if you prefer a corded solution.
Bare tool pricing matches up almost exactly, but DeWalt tends to beat out Milwaukee on kit pricing. Both brands also include one of their premier storage cases with these tools (Packout for Milwaukee and Tough System for DeWalt).
Milwaukee Miter Saw vs Dewalt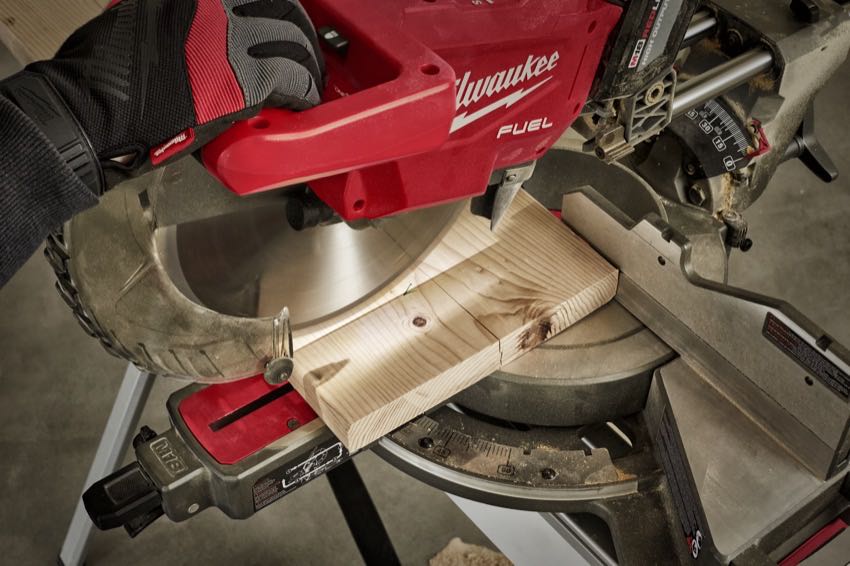 In our opinion, Milwaukee has one of the best corded miter saws on the market. It hasn't changed in years, but the features and the build quality still dominate those not looking for portability. In the Milwaukee miter saw vs DeWalt miter saw debate, first decide what kind of tool you need.
When we wrote up our best 12-inch miter saws article, we quickly noted models that had excellent fence clearance and above-average capacity. The DeWalt DWS716XPS miter saw remains a favorite of ours. We love the LED cutline that lets you see your cut—even in broad daylight. This saw also cuts 6-1/2 in. vertical base and 6-5/8 in. of vertically nested crown molding.
What About Cordless Miter Saws?
Glad you asked! On the cordless side, we love the Milwaukee cordless 12-inch sliding miter saw. It's 3/4 the weight of their corded saw and cuts almost as well.
The DeWalt FlexVolt DHS790 compares well. Built on the platform of the well-regarded DWS780 miter saw, this tool packs plenty of power and has an available adapter to let you run it off AC power when needed. You can also get the single-battery DeWalt DCS781 FlexVolt 12″ miter saw which lacks the optional corded 120V adapter.
Finally, if you want a compact model, it's hard to beat the cordless DeWalt DCS361B which packs the ability to cut over 175 2x4s using a single 4Ah 20V Max battery. Milwaukee also has a more compact 2733 7-1/4″ dual bevel miter saw. DeWalt beats Milwaukee's pricing on the smaller saw by $100 or more.
Wrapping it All Up
OK, so we covered company history, dynamics, technology, and products. After that, it really comes down to doing some of your own research in terms of who you want to get behind with your hard-earned dollars. The Milwaukee vs DeWalt debate can get heated at times. From our perspective, however, we see two companies helping to make the industry a better place to work. Competition breeds tool innovation—and that almost always helps make things better for consumers.